What's Inside
This template allows you to load your HR details by including such things as:
Employee Name
Employee Position
Location & Department
Annual Wage
Start & End Date
This is meant to be used to load Salary Budget & Forecast, alongside your Headcount details.
Each period you can compare your headcount salary vs. budget and forecast looking at trends and comparisons to revenue and profit.
Use with Cube
This is an Excel template. You don't need to be a Cube customer to use it!
But if you are a Cube user, you can start using this template in under two minutes. Here's how.
Step 1: Open the template in Excel or Sheets.
Step 2: Customize the row and column headers to match your Cube's dimensions and filters.
Step 3: Select the range where you want to fetch your data.
Step 4: Fetch your data.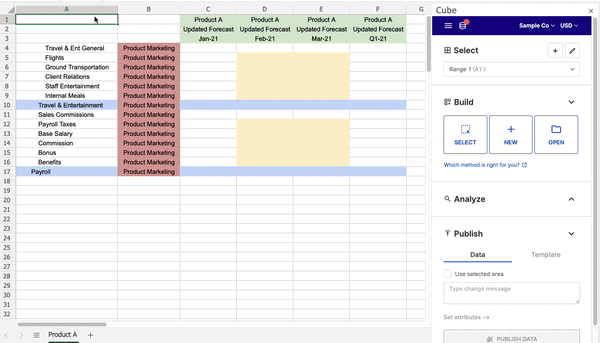 All About Headcount Planning
Analyzing your profit & loss with regards to headcount is one of the most important steps in headcount planning.
Human capital is the biggest asset that any company has, and employee costs typically represent the biggest expense category. Getting the whole company aligned on vision and strategy, and then linking that to the hiring plan, is one of the most important activities of any FP&A professional.
One Cube user, Stephanie McVey at SmugMug + Flickr, created an innovative way to use this template with her department heads to remove bias from the headcount planning process.
Since SmugMug + Flickr also has a unique business model, it helped made the headcount planning—and overall budgeting process—more practical and streamlined.
Read the story for more details and download this template to follow along.