What's Inside
This template combines three key reports:
Income statement: One of the most important financial statements—it reveals the business's ability to make a profit (and the extent of that profit).
Balance sheet: When paired with the profit and loss statement, the balance sheet shows how much cash or investment you need to support the sales and profits on the income statement.
Net income from the income statement flows into the balance sheet as change in retained earnings (adjusted for payment of dividends).
Cash flow: This statement displays the change in cash over a period along with both the beginning and ending balances for that period in cash.
Your cash flow statement takes net income and adjusts it for any non-cash expenses. From there, you can reference changes in the balance sheet to find cash usage and receipt patterns.
Use with Cube
This is an Excel template. You don't need to be a Cube customer to use it!
But if you are a Cube user, you can start using this template in under two minutes. Here's how.
Step 1: Open the template in Excel or Sheets.
Step 2: Customize the row and column headers to match your Cube's dimensions and filters.
Step 3: Select the range where you want to fetch your data.
Step 4: Fetch your data.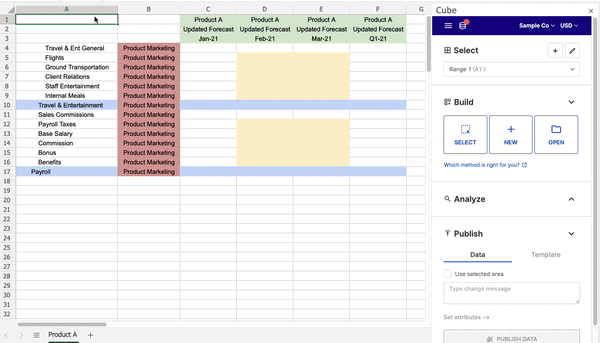 All About the Basic 3-Statement Model
A three-way forecast, also known as the three-statement model, uses assumptions, drivers, and information relevant to a modeler's business to quickly produce a single consolidated forecast with projections for all three financial statements.
It links your profit & loss (income statement), balance sheet and cash flow projections together so you can forecast your future cash position and financial health.
Because your cashflow forecast is driven by the real-time data in your balance sheet and profit and loss statements, the report has accounting integrity.
For this reason, a three-statement model is the best way to provide granular financial forecasts that explain the future perspective of your business from multiple angles (Revenue growth, profitability, capital needs, cash burn).