Financial management software plays an integral role within any organization. If you're not using modern financial management software, you simply do not have the most complete and accurate view of your organization's financial health in real-time.
The goal of this article is to help you better understand why financial management software is so important, as well as how you can easily implement an effective software solution within your business.
To do this, we've also profiled several software vendors across different categories in the finance tech stack to give you more comprehensive insight into the modern finance tech stack.
To start with, we need to explain the difference between the two main types of financial management software:
Enterprise Resource Planning Software (ERP), and
Financial Planning and Analysis Software (FP&A)
Both ERP and FP&A software are vital to streamlining and supporting the financial health and strategic goals within a business and each plays a role in supporting the other. They are complementary products that work together to make up the foundation of the financial technology stack.
Contents
Enterprise Resource Planning Software (ERP)
ERP software is the accounting system that is used to manage financial day-to-day business activities such as accounting, bookkeeping, project management, supply chain operations, and so on.
This makes it easy for financial teams to see a snapshot of how a business is performing and keeps track of all a company's historical financial data.
Financial Planning and Analysis Software (FP&A)
FP&A software is a financial planning, analysis, and reporting solution. It helps combine the historical data of your ERP with the forward-looking data of your plans, budgets, and forecasts.
This enables finance teams to bring together an entire financial picture so detailed analysis can be performed to understand what happened in the past, what's happening right now, and what we are planning to happen in the future.
Why Should You Use Financial Management Software?
Software helps us accomplish things faster and more efficiently by automating otherwise tedious and repetitive tasks.
Let's be honest, as much as you may enjoy working in finance – there are a lot of repetitive and "number crunching" tasks that consume the majority of your time.
Using software to handle all of the integrations, calculations, sorting, and presenting of data frees up more of your time to analyze the data and advise the business.
Not only that, the structure and control of software applications reduces errors and improves the quality of data along with speeding up cycle times.
Here are some of the main benefits of using financial management software:
Automating Repetitive, Manual Tasks
The benefits of taking mundane tasks from employees and automating them with software go far beyond just saving time.
Automating repetitive and administrative tasks frees up employee time to work on more important things, increases productivity, and improves morale.
Streamlining Workflows
Streamlining workflows shares similar benefits. By simplifying how finance teams are working, you increase productivity, save time, and find ways to continually improve business processes.
Financial management software integrates with other tools, removes or handles complicated or unnecessary steps, and does so in a fraction of the time it would take a person to do.
Reducing the Chance of Error
Finance professionals are great at what they do. They're detailed-oriented and meticulous by nature. They pride themselves on making sure their work is error-free. In fact, this is where FP&A teams spend most of their time – checking and rechecking formulas, spreadsheet links, and subtotals for accuracy. But at the end of the day, they're still human, and sometimes mistakes happen and errors get missed.
Financial management software provides automation, structure, and control that eliminates many of the core causes of errors in spreadsheets.
Not only does this save FP&A teams countless hours ticking and tying data, it also provides the team with confidence and peace of mind that the numbers are always right, based on a single source of truth.
Detailed and Complex Reporting
Decision-makers in businesses rely heavily on detailed financial reports to help them make informed decisions, report company performance, prepare forecasts, and more.
This is where financial management software really impresses. You can produce real-time reports with the exact financial data you want to see with just a few clicks.
With all of this in mind, here is a look at 8 of the best financial management software tools on the market:
The 6 Best Financial Management Software Tools for Businesses
FP&A Software

Cube is a real-time financial planning and analysis software that embraces your spreadsheet. Cube provides a full platform of tools for data management, reporting & analysis, and planning & modeling. It improves collaboration, reduces errors, and integrates seamlessly into users' workflows.
What separates Cube from other FP&A software is that it meets you where you are in the spreadsheet experience that you know and love. The founder and CEO, Christina Ross, wanted a better solution for empowering finance teams to work faster and smarter, so she created Cube.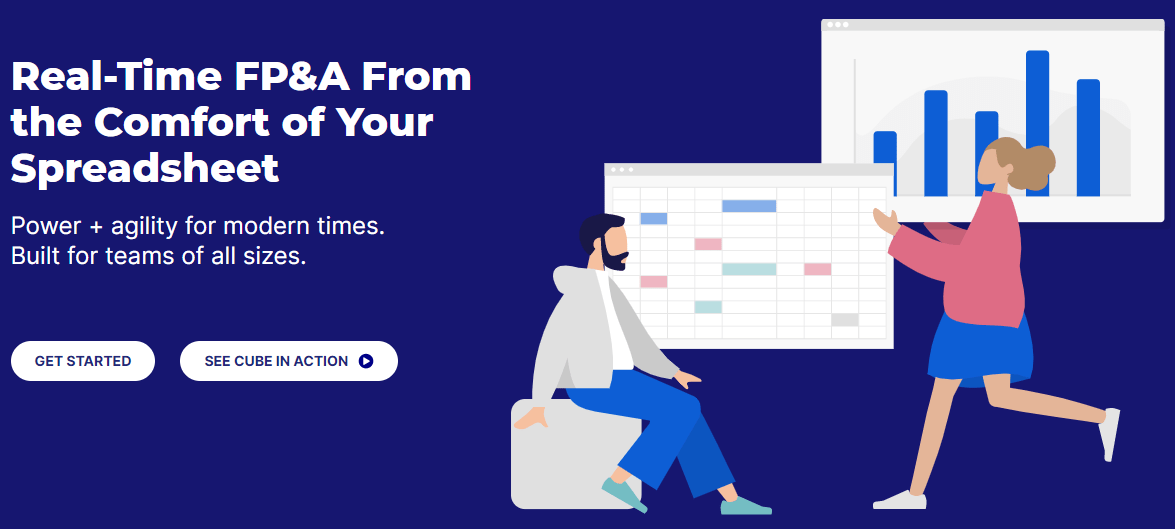 What it is:
Cube is an FP&A platform that facilities better data collection, consolidation, planning and analysis. It enables you to centralize data from your entire financial tech stack into one central source of truth for financial reporting, planning & analysis.
Who it's for:
Cube is for FP&A and Finance teams of all sizes. The intelligent spreadsheet reader and range of tools that help streamline workflows and reduce manual work will scale with any size organization.
Key features:
Fully compatible with Excel & Google Sheets on PC and Mac
Intelligent spreadsheet reader reads and ingests your existing reports and models in seconds.
Centralized formulas and calculations
Single source of truth
What-if scenario modeling & analysis
Shareable reports & templates
Trusted security & controls
Pricing:
Pricing ranges from $850/mo and up, depending on the number of features and capacity you require.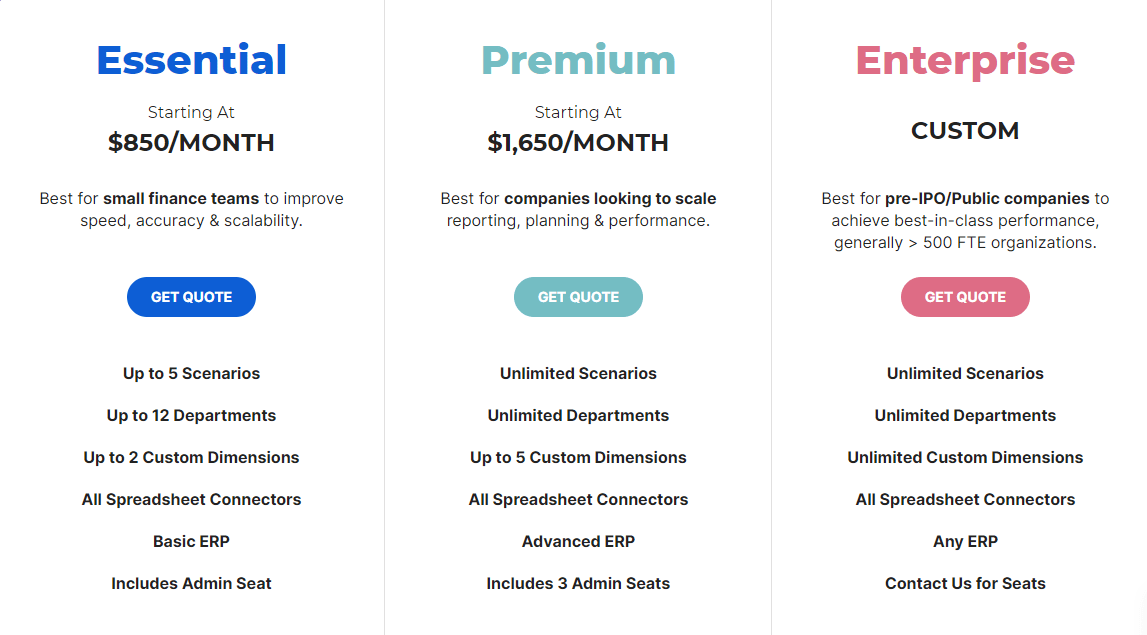 Workday Adaptive Planning is a financial planning and analysis solution used by some of the world's largest global brands.
This software enables users to prepare cash flows, carry out expense management, revenue management, workforce modeling, capital management, financial close, and more.
Workday Adaptive Planning is cloud-based, mobile-ready, and uses a combination of visuals, color-coding, and a clean and intuitive UI to deliver a great user experience.

What it is:
Workday Adaptive Planning is a FP&A software that helps finance teams streamline their workflows and improve how they manage and work with their financial data.
Who it's for:
This software is ideal for medium to large enterprise businesses. Workday Adaptive Planning has the tools and flexibility to scale with growing businesses and offers a complete solution to all the financial requirements of a business.
Key features:
The interface is well organized and user-friendly.
Easy to create and share custom reports internally and externally.
It has a lot of tools to help automate and streamline repetitive tasks.
Strong planning and forecasting tools help drive business growth.
Pricing:
You will need to reach out to Workday Adaptive Planning for pricing, and they'll give you a custom quote.
Read our complete Workday Adaptive Planning Review.
ERP Software

Sage is one of the longest tenured financial software companies in the space and has a number of market-leading products in its portfolio.
Sage Intacct is their ERP solution. It's an AICPA-endorsed cloud-based financial management software, and is used by CFOs around the world to automate complex processes, consolidate data, and drive better financial decisions.
This software comes with a good deal of customizability. You can use business object frameworks, connect it with Office 365 apps and Web APIs, and build a platform that meets your finance department's needs.

What it is:
Sage Intacct is a cloud-based ERP software that helps businesses of all sizes manage their day-to-day finance-related activities. It simplifies and facilitates a wide range of bookkeeping, accounting, and financial tasks. Enabling users to work faster, more reliable, and smarter.
Who it's for:
Sage is designed for teams between 10 to 200 in size. It's also most suitable for distribution, manufacturing, and professional services. Although, finance teams in most industries can customize the software to meet their needs.
Key features:
Clean UI is easy to use and makes finding data quick.
Capable of handling complex costing and other manufacturing requirements.
Cloud-based, no need to download files locally and can be accessed from anywhere.
Easy to integrate with third-party apps and tools.
Pricing:
Sage Intacct does not have any set pricing plans. They do offer a 30-day free trial, however, so you can test their software before making a decision.

Oracle Netsuite is a financial management and business system designed to help finance teams of any size better organize their data.
This software enables you to see real-time business insights at a click of a button and uses business intelligence to help with forecasting and scenario planning.
It's one of the more comprehensive financial management solutions on the market and provides a deep pool of tools and features.
What it is:
Oracle Netsuite is a complete all-in-one business management solution. This software gives financial teams and people in FP&A and CFO roles better insights into their business's financial performance.
Who it's for:
This software is better suited to medium to large organizations with complex financial planning requirements. Smaller businesses will fully utilize the tools and may find it overwhelming.
Key features:
The central dashboard provides all the key information you need at a glance.
Create a single source of truth.
Assign permissions and seamlessly collaborate with team members.
Lots of customizable options to help tailor the software to your needs.
Pricing:
You will need to book a demo or reach out to Netsuite's customer support for a quote.

QuickBooks is a cloud-based, all-in-one accounting and financial management solution for small businesses.
This software helps finance teams gain better control over their financial data. You can monitor KPIs, gain deeper insights into performance, collaborate with team members, and drill down into data via an interactive interface.
QuickBooks has a powerful suite of reporting and analytical tools on the backend. Making it easy to produce real-time performance reports and keep a close eye on metrics that matter.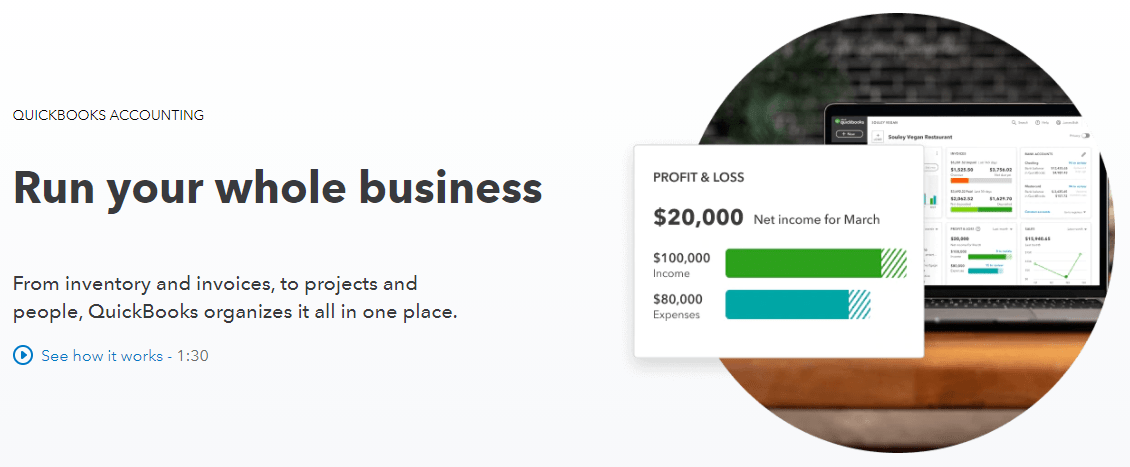 What it is:
QuickBooks is a financial management and accounting software designed to help small to medium-sized businesses streamline and refine their financial work processes. This software enables teams to manage any number of data flows through one central management dashboard.
Who it's for:
This software is designed for small to medium-sized businesses. It helps finance teams better collaborate, automate repetitive tasks, and streamline all aspects of a business's finances.
Key features:
Intuitive UI and incredibly easy to use with no prior experience with similar software.
Strong financial reporting tools.
It uses visuals like graphs and charts well to make viewing data at a glance easy.
It enables you to channel all of your financial data into a single source of truth.
Pricing:
QuickBooks has flexible pricing. Ranging from $7.50/mo for freelancers to $75/mo for their Advanced plan. There are also some additional add-ons for payroll or assistance setting up the software.


Freshbooks is a cloud-based accounting and financial management platform designed for small businesses.
This intuitive and easy-to-use software makes it easy to keep all of your financial data organized and produce reports based on real-time information.
If you manage financials for clients, you can seamlessly invite them to log in and view the data you want to give them access to within FreshBooks.

What it is:
FreshBooks is a web-based accounting and financial planning software. It offers a complete accounting solution for small businesses and self-employed individuals.
Who it's for:
This software is better suited to smaller businesses and businesses that handle financials for clients. It has some excellent collaboration and communication tools and is very easy to pick up and use.
Key features:
The mobile app has all the functionality you need to manage your data remotely.
You can create projects and invite team members of clients to view the data.
Time tracking tools enable you to track how productive team members are.
It makes it easy to manage all of your financial records in one place.
Pricing:
FreshBooks has three monthly plans running from $4.50/mo to $15/mo, depending on your requirements.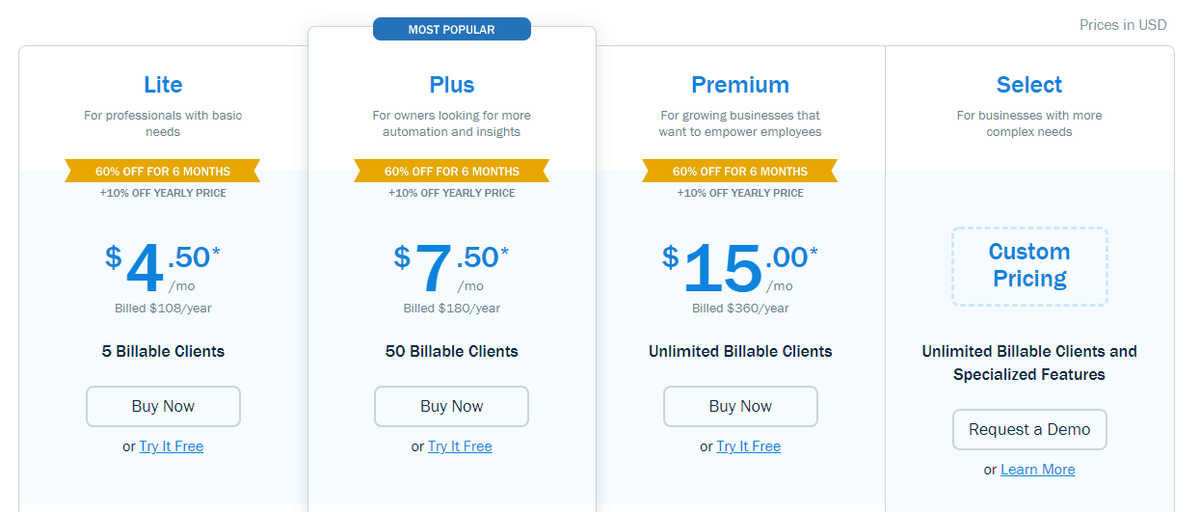 Conclusion
Financial management software plays a key role in managing and optimizing the financial health and performance of your organization.
There is never a one-size-fits-all when it comes to financial software. Take the time to understand the strengths and weaknesses of each, and how they line up with your requirements and goals.
If you're looking for a complete, flexible financial management solution, we recommend starting by booking a demo and seeing Cube in action before making a decision.