Financial management software can offer the most complete and accurate view of your organization's financial health in real-time.
But in order to get this benefit (and many others), you need to choose the right solution for your business.
So, we put together this comprehensive guide on what financial management software is, the different types, and the benefits of using them.
And of course, we'll review the best financial management tools available on the market today.
Let's get started.
Contents
What is financial management software?
Financial management software plays an integral role within any organization. The platforms are comprised of tools that are used to manage an organization's income, assets, and expenses. This software solution helps reduce computation errors, maintain audit trails, and ensure compliance with accounting standards.
There are two main types of financial management software: ERPs & FP&A solutions.
Enterprise Resource Planning Software (ERP)
ERP software is the accounting system that is used to manage financial day-to-day business activities such as accounting, bookkeeping, project management, supply chain operations, and so on.
This makes it easy for financial teams to see a snapshot of how a business is performing and keeps track of all a company's historical financial data.
Financial Planning and Analysis Software (FP&A)
FP&A software is a financial planning, analysis, and reporting solution. It helps combine the historical data of your ERP with the forward-looking data of your plans, budgets, and forecasts.
This enables finance teams to bring together an entire financial picture so detailed analysis can be performed to understand what happened in the past, what's happening right now, and what we're planning for the future.
15 Best Financial Management Software Tools
We've profiled several software vendors across different categories to give you more comprehensive insight into the modern finance tech stack. We've designated them as either ERP or FP&A solutions.
And yes, we've started with Cube. We're proud of our financial management solution and how much our customers of all sizes love the planning and analysis support. Let's take a look.
1. Cube
Cube is the first spreadsheet-native FP&A platform that empowers teams to drive better planning and performance without changing how they work. Our cloud-based FP&A software platform helps finance teams work anywhere—we integrate natively with both Excel and Google Sheets—so that they can plan, analyze, and collaborate with the ultimate speed and confidence.
There are many companies (like Masterworks and SmugMug) that use Cube for nearly all of their company's financial operations.
Automate manual workflows, reduce errors, and improve collaboration so you can make smarter business decisions in a fraction of the time.
Cube offers faster time to value (most companies are finished onboarding within two weeks) and is competitively priced.
What it is: An FP&A software
Who it's for: Mid-size and enterprise FP&A teams looking to save time and grow. Cube also works for hypergrowth SMBs who want a solution that will scale with their organization's complexity.
Key Features:
Automated data consolidation: Connect data from numerous sources for automated rollups and drill-downs.
Multi-scenario analysis: Allows you to model how changes to key assumptions affect overall outputs seamlessly.
Endless integrations: Integrations for spreadsheets (Google and Excel), accounting & finance, HR, ATS, billing & operations, sales & marketing, and business intelligence.
Customizable dashboards: Gives you full ability to build and share customizable dashboards.
Native Excel and Google Sheets integration: Compatible and bi-directional with any spreadsheet
Multi-currency support: Evaluate your financials in both your local and reporting currencies.
User-based controls: User controls, validations, and an audit trail ensure that the right data goes to the right people at the right time.
Centralized formulas and KPIs: Store all your calculations in a central location and manage from a single source of truth.
Drilldown and audit trail: Get straight to the transactions and history behind a single cell of data in just one click.
Pricing:
2. Vena
Vena Solutions is a cloud-based predictive analytics and business intelligence tool that automatically generates forecasts and insights from data.
Vena also automates variance analysis, identifies discrepancies, and builds ad-hoc reports for your business
What it is: FP&A software
Who it's for: Vena is good for companies that need the rigid process and planning controls of pre-built FP&A processes or that want to customize a pre-built solution for their unique needs.
Key Features:
Financial planning
Financial reporting automation
Incentive compensation management
Regulatory compliance
Financial consolidation
Pricing:
Pricing is not available on their website.
3. Workday Adaptive Planning

Workday Adaptive Planning is a financial planning and analysis solution used by some of the world's largest brands.
This software enables users to manage cash flow, carry out expense management, revenue management, workforce modeling, capital management, financial close, and more.
Workday Adaptive Planning is cloud-based, mobile-ready, and uses a combination of visuals, color coding, and a clean and intuitive UI to deliver a great user experience.
What it is: FP&A software
Who it's for: This software is ideal for medium to large businesses. Workday Adaptive Planning has the tools and flexibility to scale with growing businesses and offers a complete solution to all the financial requirements of a business.
Key features:
Shareable custom reports
Automate and streamlines repetitive tasks
Payroll and workforce management
Planning and forecasting tools
Pricing:
You will need to reach out to Workday Adaptive Planning for pricing.
Read our complete Workday Adaptive Planning Review.
4. Anaplan
Anaplan is a web-based planning and forecasting application designed to help organizations make decisions by giving them real-time access to data. The application offers the ability to create and manage models, share data across teams, and collaborate on projects.
Anaplan works to help businesses make decisions by evaluating options and trade-offs in the current environment in real time. It also offers signal analysis to uncover insights and adapt to continually changing conditions and markets.
What it is: FP&A software
Who it's for: Anaplan is a good choice for larger enterprises that have a strong IT team to support implementation.
Key Features:
Planning and modeling
Predictive insights
Enterprise scale
Security
Connected planning
Pricing:
Pricing is not listed on their website.
Read our full review of Anaplan.
5. Prophix
Prophix is an FP&A solution with a focus on corporate performance management. Prophix uses AI and a virtual financial analyst to simplify the repetitive jobs required to keep your business running smoothly. Their automated budgeting software will help save time and increase efficiency for your business.
What it is: FP&A
Who it's for: Prophix works for businesses that need workflow automation.
Key Features:
Budgeting and planning
Forecasting
Reporting and analytics
Financial consolidation and close
Workflow and automation
Pricing:
Pricing is not listed on their website.
6. Oracle Essbase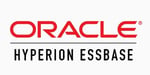 Oracle Essbase is a business analytics solution designed to drive smarter decisions with the ability to quickly test and model complex business assumptions in the cloud or on-premises. Businesses develop and manage analytic applications by using business drivers to model multiple what-if scenarios.
You can interact with Essbase through a web or Microsoft Office interface to analyze, model, collaborate, and report.
What it is: FP&A
Who it's for: Oracle Essbase is ideal for very large enterprises with deep IT resources that already have a robust FP&A solution in place, have analysis teams seeking targeted analytics and modeling tools, and are already invested in Oracle back-office solutions.
Key Features:
Scenario modeling
Simple workflows
Multidimensional expressions
Analytics
Real-time reporting
Pricing:
Professional: $16 per user per month
Enterprise: $80 per user per month
7. Xero

Xero is an accounting software solution that provides an easy-to-use platform for all of your business accounting needs. You can pay bills, claim expenses, accept payments, track projects, and connect with all of your banks with Xero.
You will have a full financial picture of your business, making tasks such as end-of-year tax returns easy. Automate tasks like invoicing and reporting to keep your business running smoothly.
What it is: ERP software for accounting
Who it's for: Xero is for small to mid-market businesses.
Key Features:
Pay bills and claim expenses
Bank connections
Track projects
Manage payroll with Gusto
Inventory and analytics
Pricing:
Early: $12/month
Growing: $34/month
Established: $65/month
8. Zoho Finance Plus
ZOHO Finance Plus is an integrated finance suite for businesses that offers a unified platform for all of your back-office needs. All of the ZOHO apps are integrated so any data you input in one app will immediately be reflected in the others, helping keep your data updated and accurate at all times.
What it is: ERP
Who it's for: ZOHO Finance Plus is for small to mid-market businesses.
Key Features:
Financial reports
Subscription management
Invoicing and expense reporting
Order and warehouse management
Pricing:
9. Acumatica Cloud ERP
Acumatica is a cloud-based ERP solution that helps scale growing businesses. Providing easy integrations with all applications currently being used. AI-powered automation makes every aspect of your business more efficient.
Acumatica can be tailored to any industry for an in-depth suite of tools to help grow your business.
What it is: ERP
Who it's for: Acumatica is for mid-market businesses.
Key Features:
Financial management
Warehouse management system
Accounting
CRM
Payroll
Construction management
Manufacturing management
Pricing:
Acumatica does not list pricing online.
10. Sage Intacct

Sage is one of the oldest financial software companies in the space and has a number of market-leading products in its portfolio.
Sage Intacct is their ERP solution. It's an AICPA-endorsed cloud-based financial management software, and is used by CFOs around the world to automate complex processes, consolidate data, and drive better financial decisions.
This software comes with a good deal of customizability. You can use business object frameworks, connect it with Office 365 apps and Web APIs, and build a platform that meets your finance department's needs.
What it is: ERP solution
Who it's for: Sage is designed for teams between 10 to 200 in size. It's also most suitable for distribution, manufacturing, and professional services. Although, finance teams in most industries can customize the software to meet their needs.
Key features:
Clean UI is easy to use and makes finding data quick.
Capable of handling complex costing and other manufacturing requirements.
Cloud-based, no need to download files locally and can be accessed from anywhere.
Easy to integrate with third-party apps and tools.
Pricing:
You'll have to request a demo for Sage Intacct.
11. Oracle NetSuite
Oracle NetSuite is a financial management and business system designed to help finance teams of any size better organize their data.
NetSuite lets you see real-time business insights at a click of a button and uses business intelligence to help with forecasting and scenario planning.
It's one of the more comprehensive financial management solutions on the market and provides a deep pool of tools and features.
What it is: Oracle NetSuite is a complete all-in-one business management and ERP solution.
Who it's for: This software is better suited to medium to large organizations with complex financial planning requirements. Smaller businesses may find it overwhelming.
Key features:
The central dashboard provides all the key information you need at a glance.
Create a single source of truth.
Assign permissions and seamlessly collaborate with team members.
Lots of customizable options to help tailor the software to your needs.
Pricing:
You need to book a demo or reach out to NetSuite's customer support for a quote.
12. QuickBooks
QuickBooks is a cloud-based, all-in-one accounting and financial management solution for small businesses.
This software helps finance teams gain better control over their financial data. You can monitor KPIs, gain deeper insights into performance, collaborate with team members, and drill down into data via an interactive interface.
QuickBooks has a robust suite of reporting and analytical tools on the backend, making it easy to produce real-time performance reports and keep a close eye on metrics that matter.
What it is: ERP financial management and accounting software
Who it's for:
This software is designed for small to medium-sized businesses. It helps finance teams better collaborate, automate repetitive tasks, and streamline all aspects of a business's finances.
Key features:
Intuitive UI and incredibly easy to use with no prior experience with similar software.
Strong financial reporting tools.
It uses visuals like graphs and charts well to easily view data at a glance.
It enables you to channel your financial data into a single source of truth.
Pricing:
QuickBooks has pricing plans ranging from $30/month to $200/month.
13. FreshBooks
Freshbooks is a cloud-based accounting and financial management platform designed for small businesses.
This intuitive and easy-to-use software makes it easy to keep your financial data organized and produce reports based on real-time information.
If you manage financials for clients, you can seamlessly invite them to log in and view the data you want to give them access to within FreshBooks.
What it is: Accounting and financial planning ERP software
Who it's for: This software is better suited to smaller businesses and businesses that handle financials for clients. It has excellent collaboration and communication tools and is easy to pick up and use.
Key features:
The mobile app has all the functionality you need to manage your data remotely.
You can create projects and invite clients' team members to view the data.
Time-tracking tools enable you to track how productive team members are.
It makes it easy to manage your financial records in one place.
Pricing:
FreshBooks has three monthly plans running from $4.50/mo to $15/mo, depending on your requirements.
14. SAP Business One
SAP Business One is an ERP solution offering an affordable way to manage any small business. You can drive profitable growth by streamlining key processes, gaining more significant insights into your business, and making decisions on real-time information.
SAP Business One is a complete ERP software solution powered by AI and analytics.
What it is: ERP
Who it's for: SAP Business One is best for small businesses.
Key Features:
Financial management
Sales and customer management
Purchasing and inventory control
Business intelligence
Analytics and Reporting
In-memory platform
SAP applications and APIs
Pricing:
Pricing is not listed on their website.
15. Multiview ERP
Multiview ERP offers a team of client support specialists on top of their powerful, data-centric financial ERP software. This software helps break down data silos, automate accounting processes and provide more access to information through industry-leading dynamic reporting solutions.
What it is: ERP
Who it's for: Multiview is best for mid-market and enterprise companies.
Key Features:
General ledger
Business intelligence
Accounts payable
Accounts receivable
Fixed assets management
Budgeting and forecasting
Pricing:
Pricing is not listed on their website.
Benefits of Using Financial Management Software
FP&A analysts deal with many repetitive, manual, error-prone tasks that consume most of their time.
Using software to handle all of the integrations, calculations, sorting, and presenting of data frees up more of your time to analyze the data and advise the business.
Not only that, the structure and control of software applications reduces errors and improves data quality along with speeding up cycle times.
Here are some of the main benefits of using financial management software:
Automating Repetitive, Manual Tasks
The benefits of taking mundane tasks from employees and automating them with software go far beyond saving time.
Automating repetitive and administrative tasks frees employee time to work on more important things, increases productivity, and improves morale.
Streamlining Workflows
Streamlining workflows shares similar benefits. By simplifying how finance teams work, you find ways to continually improve business processes.
Financial management software integrates with other tools, removes or handles complicated or unnecessary steps – and does so in a fraction of the time it would take a person to do.
Reducing the Chance of Error
Finance professionals are great at what they do. They're detailed-oriented and meticulous by nature, and they pride themselves on ensuring their work is error-free.
This is where FP&A teams spend most of their time—checking and rechecking formulas, spreadsheet links, and subtotals for accuracy. But at the end of the day, they're still human; sometimes mistakes happen and errors get missed.
Financial management software provides automation, structure, and control that eliminates many of the core causes of errors in spreadsheets.
Not only does this save FP&A teams countless hours ticking and tying data, but it also provides them with confidence and peace of mind that the numbers are always correct, based on a single source of truth.
Detailed and Complex Reporting
Decision-makers in businesses rely heavily on detailed financial reports to help them make informed decisions, report company performance, prepare forecasts, and more.
This is where financial management software impresses. With just a few clicks, you can produce real-time reports with the exact financial data you want.
Plus, the Best Financial Management Software for…
Every company is different and has unique needs and circumstances that are considered when choosing the right financial management software. Some software solutions work better than others depending on certain factors such as the size of the company or the integrations required.
Best Financial Management Software for Small Businesses
When it comes to mid-market and enterprise businesses, Cube stands out above the competition.
Cube is also an excellent fit for hyper-growth SMBs that want a solution that will scale with their organization's complexity.

Best Free Personal Finance Software
For personal finance software, there are many free and paid options. If you want the best free finance software solution out there, read our complete guide to the best financial software for businesses and personal needs.
Sneak preview: we discuss Mint by Intuit, Quicken, Moneydance, YNAB, and Turbotax.
Best Personal Finance Software for Mac
If you're a Mac user and looking for the best personal finance software supported by your device, Moneydance is the way to go.
Monydance provides online banking and bill payment, account management, budgeting, investment tracking, multi-currency, and detailed graphs and reports.
Choose the Best Financial Management Software Tool
Financial management software plays a crucial role in managing and optimizing your organization's financial health and performance.
But these platforms aren't always "one-size-fits-all." Take the time to understand the strengths and weaknesses of each, and how they line up with your requirements and goals.
And if you're looking for a complete, flexible financial management solution, we recommend seeing Cube in action.
Cube provides automated data consolidation, sharable planning templates, customizable dashboards and reports, scenario planning and analysis, bidirectional Excel and Google Sheet integration, approval workflow, drill-throughs, audit trails, user-based controls, and centralized formulas and KPIs.
These FP&A software features translate to easier reporting and KPIs, more accurate forecasting and budgeting, faster close and consolidation cycles, and collaborative teamwork for more control and fewer mistakes.