Oracle Essbase, formerly known as Hyperion Essbase, is a business analytics solution that uses a financial planning and analysis architecture for analysis, reporting, and collaboration.
Oracle Essbase's biggest strength is its multi-use database and vast integration options. However, some businesses seek a more robust platform with faster processing speeds and better system reliability.
This article reviews some of the best Oracle Essbase alternatives for current customers or finance teams looking for a new FP&A solution.
Keep reading.
Key takeaways:
Oracle Essbase is a business analytics platform for enterprise performance management.
Users might need an Oracle Essbase alternative if they are looking for a platform with a better interface/experience, faster processing speed, and better system reliability
Cube is a strong FP&A alternative to Oracle Essbase because it integrates natively with both Excel and Google Sheets, making it easy for finance teams to visualize, analyze and share data anyplace, anywhere, in the fastest possible time.
Contents
Oracle Essbase Review
Oracle Essbase is an Online Analytical Processing (OLAP) database that collects and analyzes data pulled from files and spreadsheets. It's employed to build analytic applications and can operate via a web browser interface or Microsoft Office.
The platform is used for enterprise performance management (EPM) and offers real-time forecasting, variance analysis, root cause identification, scenario planning, cross-dimensional queries, and more.
Features & Benefits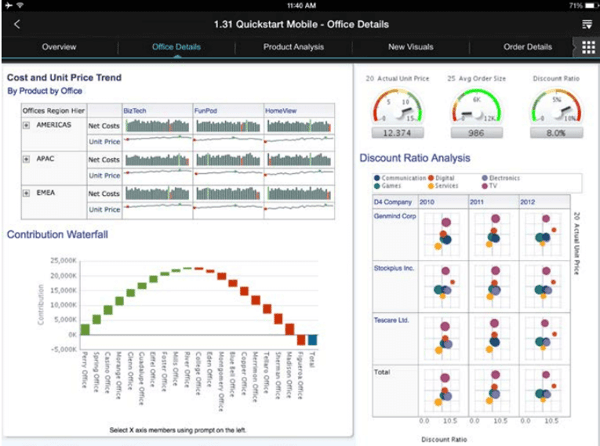 Real-time data analysis: Analyzes and interprets data in real-time to help teams make decisions based on the insights gained from the analysis
Integration with Microsoft Office: Users can import financial data into an Excel spreadsheet to calculate and analyze data
Forecasting and scenario planning: Helps users predict future financial performance and resource needs, and develops plans to optimize the use of financial resources
Visual interfaces: Includes features for creating charts and graphs to visualize data, and also enable teams to collaborate
BI analysis software capabilities: Essbase is full of business intelligence analysis software capabilities to help analysts and data scientists perform faster data-related tasks
Oracle Essbase Cons
While customers appreciate Oracle Essbase's business insights, others find the platform limited. Some typical customer issues include:
Slow processing speed: Oracle Essbase can take a long time to import, analyze, and model data which does nothing to solve a major pain point for users.
Software-specific jargon: Users often have difficulty understanding error messages so must contact customer support.
Complexity in user experience: Several users have found issues with the complex software interface and the formatting problems when integrating with other tools.
System crashes: The system sometimes shuts down in the middle of work, leaving users frustrated.
Unreliable technical support: Customer support agents aren't always available to help users.
Oracle Essbase Pricing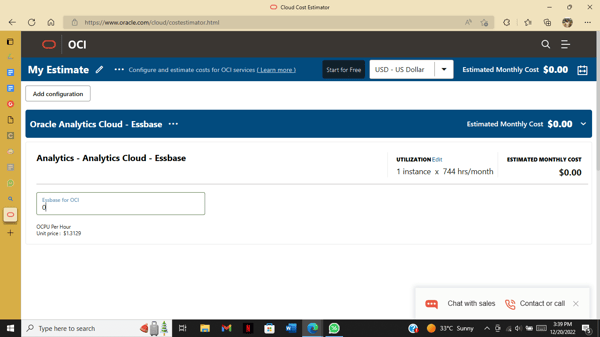 Oracle Essbase does not have straightforward pricing plans. Pricing is based on the custom needs of the user and varies by unit price.
Best Oracle Essbase Alternatives and Competitors
If you've been using Oracle Essbase and looking for an alternative–or are just conducting thorough FP&A software research–here are some of the best platform options to consider.
1. Cube: financial planning and analysis OLAP software
Cube is a comprehensive FP&A solution that helps businesses drive efficiency and accuracy in their financial forecasting, budgeting, and financial consolidation operations. The spreadsheet-native platform assists finance teams in analyzing, planning, and collaborating in real time. FP&A teams can make smarter business decisions by automating laborious manual processes while reducing errors. Put another way, Cube helps you automate complex data analysis in Excel.
Cube further empowers accounting teams to streamline audit processes and acquire meaningful data insights through robust reporting alongside seamless integrations with other HR, CRM, and ERP tools.
Like Oracle Essbase, Cube is also an OLAP database. To oversimplify, you can think of it as a faster, more modern take on the legacy software from Oracle.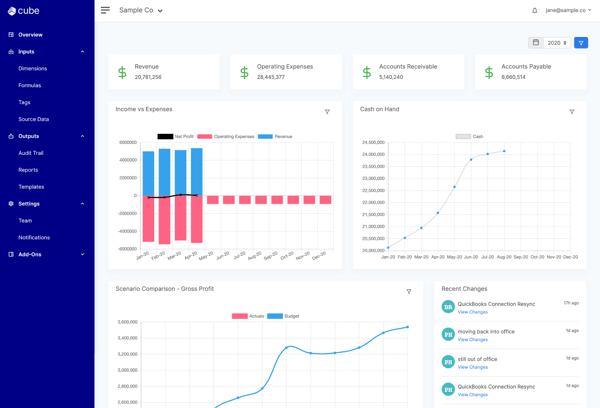 Features & Benefits:
Forecasting & budgeting: Cube helps organizations plan for short-term and long-term financial goals by collecting and calculating data that help them make informed decisions about allocating their resources.
Automation: Cube automates accounting operations to help organizations save time, reduce the risk of errors, and eliminate the cost of manual processes.
Integration: Cube works seamlessly with established data analysis software like Google Sheets and Excel and business intelligence solutions like Sage Intacct, NetSuite, Xero, and more.
Data analysis, visualization, and reporting: Cube helps businesses examine financial data to identify trends and patterns, and provides customizable dashboards and templates to represent and communicate data in a way that is easy to understand.
Collaboration: Enables finance and accounting teams to work on projects together and share visually appealing, and easily digestible reports from anywhere.
Central source of truth: Because Cube is a database and lets you integrate multiple data sources, it doubles as data management software for all your business data.
Pricing:
Essentials: Starting at $1,250/month
Premium: Starting at $2,450/month
Enterprise: Starting at $3,750/month
See detailed pricing for customizable plans
2. Oracle Analytics Cloud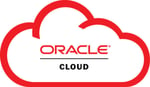 Oracle Analytics Cloud allows businesses to infuse AI and machine learning capabilities into integrated applications. The platform offers data insights from different sources in the cloud, offline, or hybrid implementation. It empowers businesses and data professionals to aggregate and analyze data, model scenarios, and make informed decisions.
Features & Benefits:
Complex data analysis modeling blending: Integrates data from different sources and structures the data to enable analysis and visualization
Data visualization: Presents data through charts, tables, and graphs for stakeholders
Data collaboration: Enables multiple users to access and work with shared data sets through cloud-based data storage
Data connectivity: Accesses and retrieves data from various sources such as databases and files; both within and outside the organization
Pricing:
Oracle Analytics Cloud has seven pricing levels in its Analytics suite:
Enterprise: $80 Per User Per Month
Professional: $16 Per User Per Month
Enterprise: $2.1506 OCPU Per Hour
Professional: $1.0753 OCPU Per Hour
Enterprise-BYOL: $0.3226 OCPU Per Hour
Professional-BYOL: $0.3226 OCPU Per Hour
Server for Cloud Infrastructure: $1.75 OCPU per hour
3. Oracle Database

Oracle Database is a cloud service that provides a central database engine using blockchain to run analytics and implement machine learning. Oracle's platform also offers MySQL and NoSQL features to process heavy workloads using cloud applications.
The Oracle Database software allows businesses to run hardware and local NVMe storage on a low-latency platform. The portfolio of data services includes Oracle Data Safe, a control center for risk detection, user activity tracking, and security compliance implementation.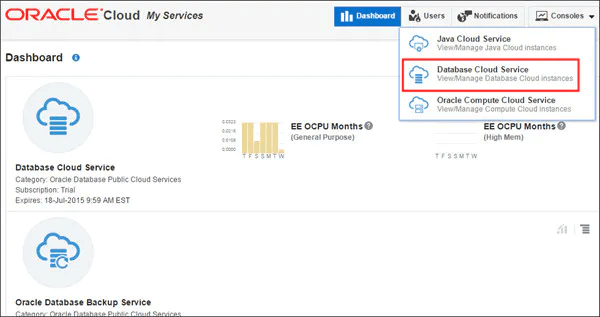 Features & Benefits:
Data Schema: Enable users to access data and to use it to support decision-making and other business processes
Access Control: Protects systems, applications, and data from unauthorized access
Query Language: Enables users to perform tasks such as filtering and sorting data, and joining data from multiple sources
ETL-Extract/Transfer/Load: Integrates and manages data from multiple sources
Reporting/Analytics: Analyzes data from multiple sources to create dashboards and reports
Pricing:
Oracle Database's pricing depends on the licensing model the users need, so specific details are not available online.
4. Anaplan

Anaplan is a cloud-based platform that provides businesses with tools to manage and analyze their data. It's designed to help businesses plan, budget, and forecast their operations and connect and align their plans across departments and functions.
Anaplan offers a range of features including financial planning, sales forecasting, supply chain management, and workforce planning. It's used by various businesses and organizations, including financial institutions, retail companies, and manufacturing firms.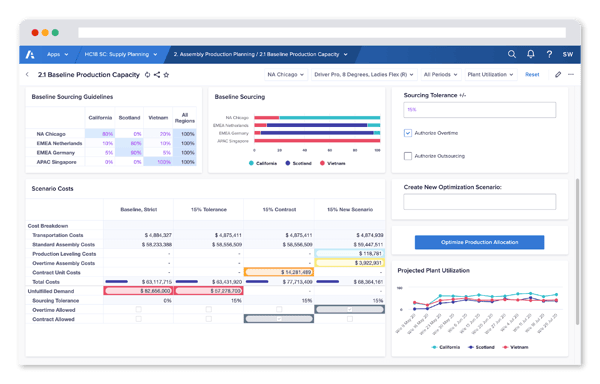 Features & Benefits:
Collaborative planning: Enables multiple teams to work together to implement a strategy.
Data modeling: Stores and organizes financial data in a database.
Predictive analysis: Helps organizations identify potential risks and opportunities, enabling them to make more informed decisions.
Customization features: Enables users to customize reports and dashboards from available templates.
Integrations: Works with other CRM and business systems.
Pricing:
Anaplan's pricing suite has three levels: Basic, Professional, and Enterprise. While exact prices aren't listed on their website, sources put the figure between $30,000 and $50,000.
5. Vena Solutions
Vena Solutions is a software platform that provides process automation for Corporate Performance Management, accounting and budgeting, regulatory and compliance support, and other finance-related processes.
Vena Solutions's interface displays projects assigned to users and offers a review pane for monitoring. It also includes a workspace for sharing instructions and documentation.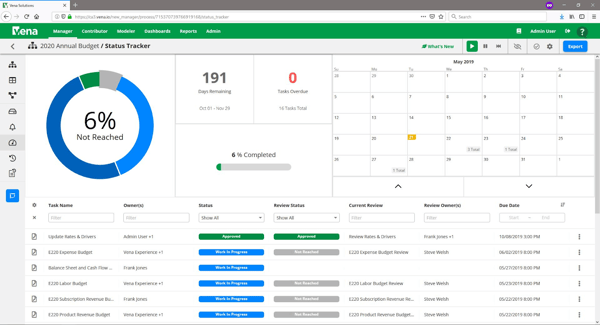 Features & Benefits:
Budgeting, planning, and forecasting: Leverages data from budgeting and forecasting processes to help corporations make decisions.
Version control: Reflects updates in real time while recording historical data.
Integration: Integrates with Excel.
Access control and security: Protects user information.
Report output and scheduling: Provide several types of reports in specified timeframes.
Pricing:
Vena Solutions's pricing isn't available on its website but sources note it's more than the average market price.
6. Jirav
Jirav is a financial planning and analysis platform that helps businesses create and manage financial models, budgets, and forecasts. The tool was designed for finance professionals including CFOs, controllers, analysts, and business owners and executives.
Jirav can build and update financial models, collaborate with team members in real time and integrate with other business tools like QuickBooks and NetSuite.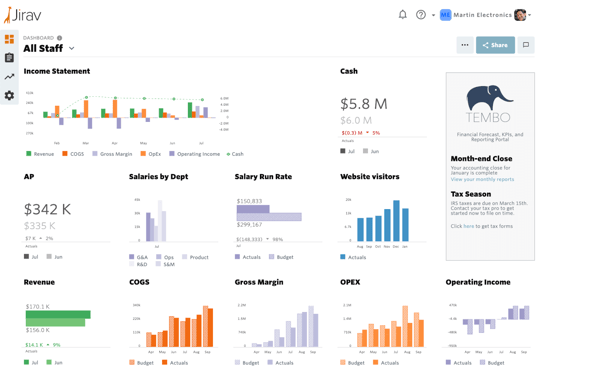 Features & Benefits:
Scenario analysis: Creates and runs "what-if" scenario modeling to inform business decisions.
Forecasts comparison: Enables users to compare the three financial statements—Income Statement, Balance Sheet, and Cash Flow—for different periods.
Cross-departmental budgeting: Enables multiple departments in an organization to work together.
Cash flow forecasting: Uses historical data to forecast future income and expenses.
Variance analysis: Analyzes internal and external business drivers.
Pricing:
Jirav offers two pricing tiers:
Starter: $250 per month
Pro: $750 per month (billed annually)
7. Jedox

Jedox is a planning and performance management platform for finance, sales, and operations. Jedox uses artificial intelligence to offer integrated business planning. Jedox enables users to create financial models, budgeting solutions, and forecasting models.
It was designed to help organizations assess performance and make decisions on how to optimize operations.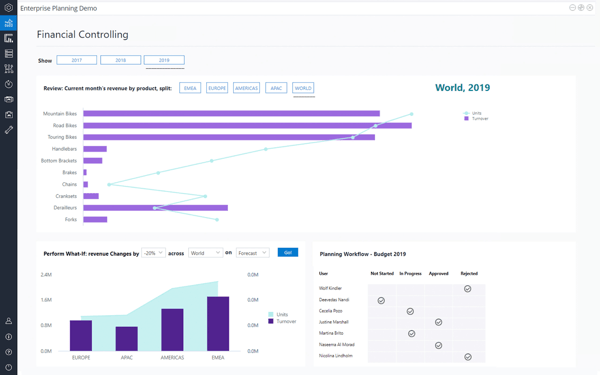 Features & Benefits:
BI standard reporting: Uses predefined reports to monitor and analyze KPIs.
Consolidation and close: Combines financial statements of multiple units into a single place and helps identify and resolve discrepancies.
Integrations: Integrates data from multiple sources.
Custom KPIs: Enables users to modify standard KPIs and metrics.
Ad-hoc reporting: Generate reports that meet users' requirements.
Pricing:
Jedox's price list is unavailable on its website but sources estimate that a basic plan costs $160/month.
8. Limelight

Limelight is a cloud-based FP&A software that automates budgeting. It eliminates manual processes for finance teams to enable them to focus on analyzing data. Limelight integrates with other ERPs to sync and update data in real time. It also offers drill-down and roll-up features in data analysis that enable teams to make decisions.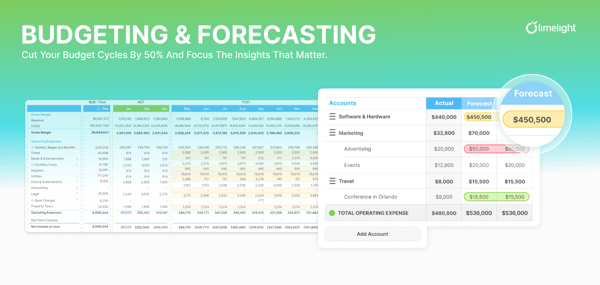 Features & Benefits:
Automated Budgeting and Forecasting: Removes manual financial and accounting processes to enable users to save time.
Reporting: Creates templates for users to report data.
Workflow Management: Users can customize and visualize processes within the software.
Integrations: Integrates with ERP systems to centralize data.
Asset Lifecycle Management: Manages assets throughout the lifecycle to optimize profit.
Pricing:
Limelight software operates on a quote-based pricing model and wants users to contact them directly for a quote.
9. Phocas Software
Phocas Software is a platform that aggregates, analyzes, and presents organizations' data for finance, sales, and operations. Phocas pulls data from spreadsheets, ERPs, and third-party systems and presents them in dashboards and reports for greater visibility.
Users can track and create reports on KPIs and metrics which they customize their reports using various templates.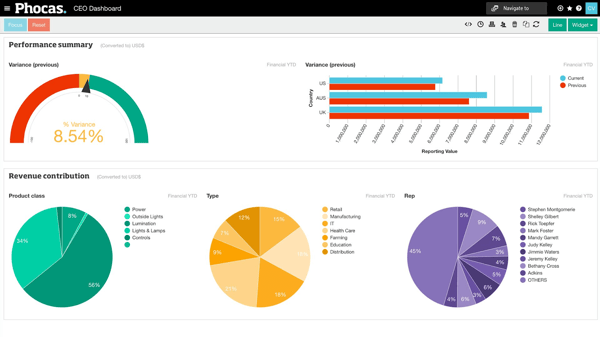 Features & Benefits:
Online Analytical Processing (OLAP): Provides features to support data analysis; including the ability to slice data, pivot data, and perform calculations
Data Connectors: Connects to other ERP software.
Report formatting templates: Provides several templates for users to utilize for reports.
Predictive analytics: Makes predictions about an organization's financial future.
Pricing:
Phocas Software wants users to contact them for a custom quote, but sources say the tool costs more than the average market price.
10. Causal

Causal allows users to build financial models and share them through visual dashboards. Users can build models out of variables that they can report in plain language for a non-technical audience.
Causal helps users include scenario analysis, sensitivity analysis, and uncertainty parameters in their calculations. It also combines data sources from other spreadsheet software like Sheets and Excel into accounting platforms like Xero and Quickbooks.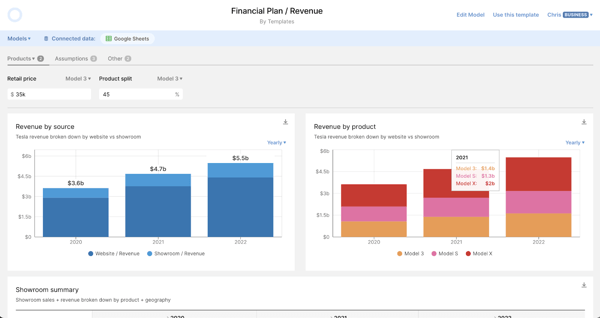 Features & Benefits:
Data modeling: Stores data in a database for subsequent analysis and presentation.
Dashboards: Customizable to present data for stakeholders.
Variance analysis: Provides tools to compare financial results to a projected budget or forecast at the beginning of a period.
Integrations: It integrates with Google Sheets, Excel, Xero, and Quickbooks.
Pricing:
Casual offers a free trial for users and a $250 Starter plan. Business plans come with a custom price.
11. Fathom

Fathom is a management reporting and financial analysis tool that helps businesses assess performance, monitor trends, and identify areas for improvement. It provides financial insights (profitability, cash flow, growth), analysis, forecasts, and reporting.
Fathom also integrates with business and accounting tools like QuickBooks, Xero, and MYOB.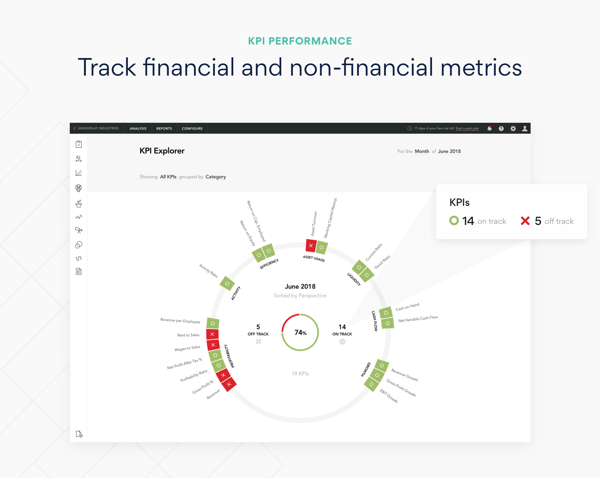 Features & Benefits:
Reports and dashboards: Users create dashboards to present to clients, make bank reports and update management.
Benchmarking: Users can compare, rank, and benchmark companies, clients, and franchises.
Group tracking and monitoring: Tracks and monitors company performance.
Alert monitoring: Set alerts for companies or clients and monitor when metrics miss or exceed targets.
Consolidated reporting: Allows users to group related companies to create consolidated reports for an organization.
Pricing:
Fathom offers six pricing levels:
Starter: $48
Silver: $250
Gold: $360
Platinum: $650
Enterprise: for large companies (100+), Fathom offers a custom quote
Conclusion: Choose the best Oracle Essbase alternative
Oracle Essbase works for large enterprises with deep IT resources that already have a robust FP&A solution, have analysis teams seeking targeted analytics and modeling tools, and are already invested in Oracle back-office solutions.
But for FP&A teams looking for an easily implemented and scalable solution, look no further than Cube.
Cube is an easy-to-use tool that offers lightning-fast processing speeds, reliable system performance, and native integrations with Excel and Google Sheets. The platform is an excellent fit for all sizes of businesses from growing SMBs to large enterprises.