If you've reached this page, you might be considering Anaplan as an FP&A solution. Or, you're a current Anaplan user looking for a better fit.
Anaplan could be a good option if you need a large-scale (and expensive) enterprise tool.
But if you prefer a purpose-built platform where you can seamlessly plan and collaborate…then there are some better FP&A software alternatives to consider.
Which is the right one for you?
Let's find out.
Contents
1. The best Anaplan alternatives and competitors
Anaplan is a planning, forecasting, and performance management platform for finance and FP&A teams. It's an expensive enterprise solution that's most commonly marketed toward large companies.
Anaplan helps businesses move faster and make complex decisions with input and visibility for all stakeholders.
But, it has some disadvantages. Anaplan:
Doesn't have native Excel integration
Only offers downloadable PDF reports (no real-time reporting)
Can be difficult to learn and adopt
Plus, its users aren't overly impressed: respondents to a 2021 survey by Battery Ventures seem to hate Anaplan, giving it an NPS of -38.
This is why we've reviewed the best alternatives to Anaplan for you!
Yes, we've started with Cube. We're proud of how well it helps FP&A teams at companies of all sizes plan, analyze, and collaborate so they can scale their companies quickly and sustainably.
1. Cube
Cube is the first spreadsheet-native FP&A platform for the finance world. Our cloud-based software helps finance teams work anywhere—we integrate natively with both Excel and Google Sheets—so that they can plan, analyze, and collaborate with the ultimate speed and confidence.
There are many companies (like Masterworks and SmugMug) that use Cube for nearly all of their company's financial operations.
Automate manual workflows, reduce errors, and improve collaboration so you can make smarter business decisions in a fraction of the time.
Cube offers faster time to value (most companies are finished onboarding within two weeks) and is competitively priced.
Key Features:
"What-if" and Multi-Scenario Analysis: Cube offers specific forecasts with easily adjustable models — see how outputs change with more hires, productivity lags, and more.
Customizable dashboards: Use, adjust, and share reusable templates and dashboards.
Abundant integrations: Link Cube with endless HR, accounting, sales, or business intelligence software, like Salesforce or ADP — and of course, it's compatible with any spreadsheet.
Multi-currency support: Create rich reports with local and foreign currencies, perfect for North American companies with international clients.
Centralized formulas and KPIs: Can't find a calculation? Cube hosts all of them in one place for easy access and knowledge sharing.
Pros:
Quick deployment: Most businesses only need two weeks to implement Cube, while other software can eat up months of onboarding time.
Quick and specific analysis: Extensive, quick data collection, quality assurance, and laser-sharp analysis without human error are possible with Cube. Forecasting is easily customizable to answer your business's unique, burning questions about the future.
Intuitive and comfortable: Finance teams don't have to abandon the spreadsheets they use. Cube lets you pull and push spreadsheet data while speeding up analysis.
Expert support: Connect with Cube's team of finance professionals, including its former-CFO founder, to make the most of the software.
Cons:
Not suitable for personal finance: Cube works best for mid-sized businesses.
Not yet global: Cube accommodates foreign currency reports but only offers software to Canada and the US (but is working on changing that)!
Pricing:
$1,250+/month for lean finance teams
$2,450+ /month for companies looking to scale
See detailed pricing for customizable plans
2. Workday Adaptive Planning

Workday Adaptive Planning is an enterprise performance management software offering collaborative financial tools for sales, finance, and workforce planning.
The software enables users to prepare cash flows, carry out expense management, revenue management, workforce modeling, capital management, financial close, and more.
However, its enterprise focus makes it more suitable for larger companies looking for an FP&A rehaul. Adaptive's pricing packages might also be too much for small businesses.
Key Features:
Financial planning and budgeting
Data consolidation
Audit trails
Pros:
Cloud-based
Automated budgeting
Easy drag-and-drop reports
Cons:
Limited performance for larger datasets
Not suitable for smaller companies
Few training and onboarding resources
Pricing:
Sources report packages starting at $250/month
Also read: Anaplan vs. Adaptive vs. Planful vs. Vena vs. Datarails vs. Cube
3. Planful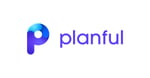 Planful is an FP&A software that helps companies minimize costs and save time. It allows users to see real-time data, identify issues, and take action to improve performance and productivity.
While some customers cite satisfaction with the company's responsive customer support and regular improvements, others are frustrated with the slow analysis of large data volumes and even data inaccuracies.
Key Features:
Scenario planning
Data consolidation
Risk analysis
Pros:
Dedicated technical experts
Builds collaborative financial plans that align company-wide resources
User-friendly interface and reporting
Cons:
Limited ability to automate workflows
Restrictive hierarchies
Slower speeds for large datasets
Pricing:
Planful keeps a tight lid on pricing and wants potential customers to contact them for a demo and a quote. However, sources cite the platform to be more expensive than alternatives.
4. IBM Planning & Analytics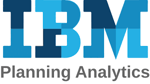 IBM Planning & Analytics is an AI-powered software that bridges department silos to help businesses manage their finances. You can create multiple forecasts in the customizable workspace to improve business performance.
Key Features:
Performance tracking
Test scenarios
Forecasting
Balance sheet and cash flow analysis
Pros:
Free trial
Cloud-based, on-premises, or IBM Cloud Pak
Cons:
Code management required, either by on-staff developers or a third party
Pricing:
Digital Pack starts at $1,250/month
Enterprise Pack price not listed
5. Oracle Cloud EPM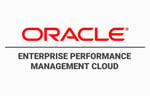 Oracle Fusion Cloud Enterprise Performance Management (EPM) helps users model and plan across finance, HR, supply chain, and sales. The platform is designed to streamline the financial close process, drive better decisions, simplify administration, and create a more cohesive user experience.
Key Features:
Scenario modeling, long-range planning, budgeting, and more
Profitability and cost management support
Account reconciliation and transaction matching
Pros:
Offers a "Freeform" plan where you can customize capabilities
The enterprise data management product provides data visualization and hierarchy management
Consolidates corporate financial reporting
Cons:
Can be very complex to learn and use, leading to a longer implementation time
Not a very intuitive interface
Poor customer support
Pricing:
While pricing isn't listed on their site, sources report packages range between $250 and $500 a month.
6. Finmark

Finmark is financial modeling software dedicated to startups. New founders can use it to consolidate and analyze data, even during uncertain beginnings.
Customers find the software easy to use and affordable, though it lacks some of the integrations found in other software.
Key Features:
Multi-scenario planning
Revenue tracking
Data consolidation
Customizable financial modeling
Fundraiser planning
Pros
Free trial
Data visualization and dashboards
Cons:
Pricing:
Pricing depends on the company's annual revenue, i.e., it's $100/month for companies with $500,000 revenue, but $250/month for companies with $1,000,000 revenue.
7. ClicData

ClicData is a business intelligence platform that helps companies understand customer behaviors and communications. The software uses machine learning algorithms and automation to create insights for growth.
A favorite feature is the drag-and-drop, customizable dashboards. You can create these in minutes to impressively visualize data for investors. However, some users complain of slow load times and bugs.
Key Features:
Data management and consolidation
Interactive dashboards
Regression analysis
Time-series regression for forecasting
Pros:
Flexible pricing for individuals and organizations of all sizes
Cons:
Limited layouts
Slower loading on large dataset analysis
Pricing:
Personal: $79/month
Team: $269/month
Business: $525/month
Enterprise: Custom
8. Jedox

Jedox is an enterprise performance management solution that uses AI and automation to provide forecasting, reporting, and planning functions. The software preserves Excel spreadsheets and unifies financial tasks in one space.
Unfortunately, users find that the software has a high learning curve and often hire external consultants just to implement the platform. Additionally, you won't find as many data visualization options as other platforms like Cube.
Key Features:
Automated reporting
Forecasting and budgeting
Legal and financial consolidation
Multidimensional data modeling
Pros:
Suitable for businesses of all sizes
Excel compatibility
Cons:
Relatively low security standards compared to other FP&A software
Limited scaling ability
Pricing:
Sources report that their base plan starts at $160/month.
9. Vena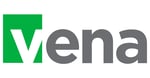 Vena is an FP&A solution that automates business processes to improve productivity and data accuracy. A native Excel Complete Planning platform, it promotes intuitive workflows and advanced modeling to support business growth.
Key Features:
Data consolidation
Forecasting
Audit trails
Scenario planning
Data visualization
Statistical analysis
Performance metrics
Pros:
Excel-based
Training support
What-if scenario planning
Cons:
Limited integrations
Expensive
Pricing:
While prices are not listed on the company website, review sites show that the expensive cost of Vena is a major con for customers.
10. Board
Board combines business intelligence, performance management, and predictive analysis in one comprehensive planning platform. It includes dashboard management, multi-dimensional analysis, ad-hoc queries, and reporting. Users can plan, budget, and predict possible corporate financial outcomes.
Key Features:
Dashboards
What-if scenarios
Data integrity and security
Data visualization
Audit trails
Budgeting and forecasting
Pros:
Flexible and customizable
Granular security
Drag-and-drop dashboards
Embedded chat and collaboration
Cons:
High learning curve
Limited performance with large datasets
Pricing:
The Board pricing structure is not listed because it's based on size of the business, the number of user licenses, and whether any customization is needed. However, sources report that Board is less expensive than the industry average.
11. Planning Maestro by Centage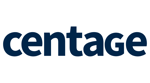 Owned by Centage, Planning Maestro is an enterprise-level business intelligence platform for SMBs. It offers 40 pre-built, customizable compliant reports with export capabilities. You can connect your data sources, build budgets and forecasting, and collaborate in real time with colleagues across the organization.
Key Features:
Data visualization
Financial forecasting
Budget comparisons
Scenario planning
Pros:
Cons:
Slow reporting on desktop
Rocky implementation and high learning curve
Not available on desktops or mobile devices
Pricing:
Standard, professional, and enterprise pricing plans are available, with sources reporting that plans start at $10,000/year.
12. Prophix

Prophix is a corporate performance management solution specializing in workflow automation. Team members can draft budgets, create plans, and make more informed forecasts through automated tools.
The platform emphasizes productivity and legal adherence while migrating users away from Excel. This can lead to longer implementation times and is risky if Prophix isn't a good fit.
Key Features:
Budgeting and planning
Workflow automation
Anomaly detection
Data visualization
Pros:
Virtual Financial Analyst
Quick learning curve
User-friendly
Cons:
Slow load time
Limited customization for dashboards
Pricing:
Pricing is unique to each customer, so no prices are listed online. However, sources report that the total cost of ownership is low.
13. Hyperion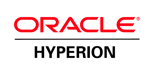 Offered by Oracle, Hyperion is an expensive FP&A software with a Microsoft Office-based user interface. Organizations can deploy the software through Oracle or a third-party data center to optimize planning, budgeting, and forecasting.
You'll likely need a skilled Oracle consultant to implement Hyperion, so it's best for companies that already use other Oracle solutions.
Key Features:
KPI analysis
Audit trails
Forecasting
Budgeting
Pros:
Packaged regulatory reporting functionality
Easy sharing and collaboration
Cons:
Better for large organizations than SMBs
Basic visualization capabilities
Expensive
Pricing:
Customers cite that plans range from $1,000 to $2,500 per month.
14. Sisense

Sisense uses data and business intelligence to inform workflow automation. It builds customized insights for your team and customers and uses drag-and-drop functionality to make your dashboards and templates. Organizations can choose between low-code, no-code, and pro-code tools.
Key Features:
Statistical and predictive analysis
Customizable dashboards
Ad-hoc reporting
Report templates
Drill-down analysis
Pros:
Natural/Plain language narrative
Impressive data visualization
Dashboard templates with customization capabilities
Cons:
Long load times
Limited notifications
Expensive
Pricing:
While Sisense touts "no-surprise pricing," they don't list prices online. Customer reviews indicate that the value for money is satisfactory.
15. OneStream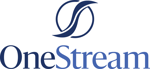 OneStream is an FP&A software that automates financial processes for mid-sized to large organizations. The software offers predictive analysis with pressure-tested assumptions to evaluate how any value driver affects numbers and overall growth.
Key Features:
Forecasting
Budgeting
Agile planning
People planning and cash planning
What-if scenarios
Pros:
Demonstrated time savings
Cloud or on-premises
Quick data consolidation
Cons:
Immense customization potential might feel overwhelming for new users
Limited training documentation
Lots of configurations required
Pricing:
While prices are not listed on their website, sources report that the software is a more expensive solution.
16. SAP Analytics Cloud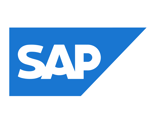 SAP Analytics Cloud is the FP&A branch of SAP Business Technology Platform. It generates financial plans through predictive analysis, automating data-driven insights with machine learning.
However, some users report over-basic planning features despite the platform's formidable analysis capabilities. Compared to Anaplan, SAP offers a more straightforward implementation process at a lower price point.
Key Features:
What-if scenarios
Data visualization
Performance metrics and KPIs
Pros:
Cloud-based
Intuitive
Data cleansing for accuracy
Cons:
Frequent bugs
Errors in real-time analysis
Limited customization in dashboard creation
Pricing:
Trial: Free for 30 days
Business Intelligence: $36/user/month
Planning: Pricing upon request
More about Anaplan
What are users saying about Anaplan, and who are the typical Anaplan customers? Let's take a look.
Anaplan reviews
Capterra users rated Anaplan with an overall score of 4.5. (In comparison, Cube clocks in at a 4.8.)
Reviews are mixed when it comes to how easy it is to use Anaplan. Many people say it's easy to use but others say it's completely unintuitive.
On the positive side, users reporting that Anaplan has:
Solid planning and forecasting tools
Easy implementation
Many features that allow for customization
Excel integration opportunities (though not a native integration)
Some of the issues that users experience are:
Weak reporting tools
The cloud-based system often has outages that disrupt service
Not easy to learn for the average user (long implementation time)
Computing large amounts of data can be problematic and creates buffering issues and delays
Anaplan market share
Anaplan has a 6.33% market share with over 1,000 companies using the software for corporate performance management.
Conclusion: the best Anaplan alternative
Anaplan is a bulky, heavy solution that's only worth considering for large, enterprise organizations.
If you don't have complex computational or multi-scenario modeling needs, you're probably looking for FP&A software with:
A shorter learning curve for fast implementation
Native integrations with Excel and Google Sheets
Stronger customer support
Sounds good, right? Then it's time to try Cube.
Cube is the most efficient FP&A software in every sense. We cater to mid-sized businesses and SMBs who crave innovation without sacrificing Excel spreadsheets. We combine reliable traditions with the much-needed flexibility of today's modern tech stack.
And if it's not a fit—no problem. Cube doesn't rip and replace your back-end logic, so switching off the platform is easy. Especially compared to Anaplan, where the cost (and risk) of switching is too high.