From data collection to reporting to financial management, FP&A and accounting teams have a lot of responsibilities.
One of those responsibilities is reconciling accounts. Account reconciliation processes ensure the total sum leaving an account (or accounts) matches the amount spent. Account reconciliation is critical for accurate reporting and risk management.
While the process can be time-consuming and tedious, there are some great software options to help.
This post will review this year's best account reconciliation software options and the benefits they provide.
So if you're looking for a way to simplify accounting processes, keep reading.
Key takeaways
Account reconciliations are activities conducted by finance and accounting teams that ensure the total sum leaving an account matches the amount spent.
Account reconciliation software automatically verifies the accuracy of account balances by comparing a company's internal records with those in its external accounting system.
The benefits of using account reconciliation software include catching errors, reducing manual work, and maintaining compliance.
Contents
Why is account reconciliation important?
Account reconciliation ensures that a company's transactions match independent third-party reports. It verifies that the total sum leaving an account matches the amount spent and confirms that both accounts balance at the end of the accounting period.
It's most commonly done with the balance sheet, but credit card reconciliation and bank statement reconciliation are common too. Companies with multiple bank accounts and more complex financial close processes must perform reconciliations more often.
This process is necessary for organizations to ensure that their internal account-related records are up-to-date, accurate, and compliant with the applicable laws and regulations.
It enables businesses to proceed with corrective action before any potential losses occur.
What is account reconciliation software?
Account reconciliation software automates the process, including checking for errors or omissions in payments, making entries, and validating account balances.
It verifies the accuracy of account balances by comparing a company's internal records with those in its external accounting system.
Standard account reconciliation software functions
Automatic transaction matching
Automated account balance tracking and reporting
Compare account balances with corresponding account ledgers
Balance sheet reconciliation
When choosing account reconciliation software, consider factors such as scalability, integrations with other systems, user-friendliness, cost, security measures, and customer support.
How do I know if I need account reconciliation software?
There are plenty of ways this type of tool can help you, but two of the biggest red flags are when your financial close process takes too long and when you're having trouble prepping financial statements that match up well.
The root of both of those issues lies in the balance sheet.
If you're closing the books and always chasing down discrepancies on your balance sheet, then a tool like Cube will benefit you.
But let's get into the list.
Best account reconciliation software
1. Cube: financial planning and analysis software for spreadsheet lovers
Cube is the first FP&A software that caters to finance professionals who wish to work within their favored environment—the spreadsheet.
Cube helps finance teams to reconcile and close quickly and seamlessly with robust reporting features and easy collaboration.
Users get all of the benefits of a robust FP&A tool (like scenario analysis, data consolidation, multi-currency support, dynamic user controls, robust source system integrations, and custom reporting) within Excel and Google sheets.
Cube automates all time-consuming FP&A tasks so financial teams can focus on bigger-picture items like strategic analysis, corporate performance, and financial planning.
Features
Data consolidation: Bring essential data from all your sources into one place and automate the reporting process with high accuracy and confidence.
Spreadsheet-driven: Cube offers the best of both worlds: the power of a dynamic financial close platform paired with the familiarity of a spreadsheet. These powerful integrations can help accelerate your reporting process without needing to learn a new system. (We love Excel and Google Sheets as much as you do!)
Audit trail: Dynamic audit tools let you quickly investigate the transactions and cell-level data.
Data management: Import, consolidate, and validate data from multiple systems to create a 360-degree view of your financials.
Report distribution: Develop, approve, and distribute financial packages to all internal and external stakeholders.
Pricing
Cube starts at $1,250/month for lean finance teams and $2,450/month for companies looking to scale.
Book your demo with Cube today.
2. Oracle NetSuite

Oracle NetSuite is a cloud-based accounting software that offers accounts reconciliation, invoicing, and other financial management features.
It has an intuitive interface and comprehensive functionality to reconcile accounts quickly.
NetSuite provides a real-time view of the financial data, enabling users to automate account reconciliations and streamline the entire process from end to end.
It also allows auditors to access historical records of past reconciliations, helping eliminate manual processes and reducing the risk of errors.
Users can view data trends, identify potential risks or fraud areas, and take proactive steps to address them.
Features
Centralized management: Businesses can manage their finances from a single, centralized location.
Financial reporting: Businesses can create custom financial reports to help them track their financial performance.
Multi-currency support: Businesses can operate in various currencies and maintain accurate financial records.
Automated reconciliation: The software reconciles accounts, eliminating the need for manual reconciliation.
Advanced analytics: Businesses can use advanced analytics to better understand their financial performance.
Pricing
NetSuite doesn't provide pricing on its website; organizations must reach out for custom quotes.
However, various sources state that the license costs include a $999/month licensing fee and an additional $99/month for each user.
3. QuickBooks Advanced

Intuit QuickBooks is a financial accounting software program developed by Intuit. QuickBooks offers a range of features for small businesses, including bookkeeping, invoicing, and payments.
There are three different editions of QuickBooks: QuickBooks Basic, QuickBooks Pro, and QuickBooks Premier.
QuickBooks Advanced is an edition of QuickBooks that offers additional features, such as advanced reporting, inventory management, and job costing. It is designed for businesses that have more complex accounting needs.
QuickBooks Advanced also includes account reconciliation features, allowing you to reconcile your bank accounts with QuickBooks.
With the help of QuickBooks Advanced, account reconciliations can be performed quickly and easily. The software can detect discrepancies between the transactions recorded in QuickBooks and those reported by financial institutions. It will then offer recommendations to resolve any issues that are identified.
Features
Income and expenses: Transactions are securely imported and your finances are organized automatically.
Invoice and payments: Get paid faster with QuickBooks Payments by accepting credit cards and bank transactions on your invoices. You'll also get helpful reminders and status updates.
Tax deductions: Share your accounting books or export essential documents.
Powerful reports: Keep an eye on your financials by tracking metrics and building performance-based dashboards.
Receipt capture: Take photos of your receipts and categorize them on the go.
Workflow automation: Automated workflows and reminders help you manage risk while saving time for other tasks.
Pricing
QuickBooks has five different plans to choose from. They offer a 30-day free trial or 50% off the first three months when you purchase a plan.
If you choose 50% off the first three months, you get this pricing for the first three months:
Self-employed: $7.50/month
Simple Start: $15/month
Essentials: $27.50/month
Plus: $42.50/month
Advanced: $100/month
Then, it switches to full pricing:
Self-employed: $15/month
Simple Start: $30/month
Essentials: $55/month
Plus: $85/month
Advanced: $200/month
QuickBooks also offers QuickBooks Enterprise, customized for each user through apps and integrations. Enterprise plans can host 40 users and 1 million customers, and offer more advanced features.
Pricing varies depending on the number of users and plan type.
Desktop Enterprise pricing for one user:
Gold: $1,740/year
Platinum: $2,140/year
Diamond: $4,200/year
Enterprise pricing for one user with core cloud access:
Gold: $199/month
Platinum: $232/month
Diamond: $404/month
Read our NetSuite vs QuickBooks review.
4. Xero

Xero is a cloud-based accounting software that helps businesses manage their finances. It offers features such as invoicing, expense tracking, and bank reconciliation.
The software allows users to easily reconcile accounts from multiple sources, including bank accounts and credit cards. It also helps to streamline processes and save time.
With Xero's automated reconciliation process, the account reconciliation process is faster and more accurate. The software provides accurate reports that help businesses analyze their financial position in real-time and make informed decisions.
Xero can also integrate with third-party applications and online services, including Cube.
This makes it easier for businesses to track their finances across multiple accounts and sources.
Features
Reconciling accounts from multiple sources, including bank accounts and credit cards
Automated reconciliation process for faster and more accurate reconciliations
Real-time financial statement analysis for better decision-making
Integration with other third-party applications and online services
Robust security for safeguarding data
Pricing
Starter (For sole traders, new businesses, and the self-employed): $25/month
Standard (For growing small businesses): $40/month
Premium (For established businesses of all sizes): $54/month
5. Sage Intacct

Sage Intacct is a cloud-based financial management software that helps businesses automate their accounting and financial processes. It offers invoice approvals, automated bank feeds, and revenue recognition.
Sage Intacct integrates with CRM, HR, and eCommerce platforms, making it easier for businesses to manage their finances across different departments.
One of the most important features of Sage Intacct is its account reconciliation capability. Users can compare bank statements, track balances across ledgers, and manage their financial data with account reconciliation.
The software also includes a built-in financial dashboard, allowing users to view their accounts in real time.
Features
Automated account reconciliations
Customizable workflows
Robust reporting capabilities
24/7 customer support
Security features
Pricing
Various sources report that Sage Intacct costs anywhere from $15,000 to $35,000.
6. Multiview ERP

Multiview Financials is an ERP developed, sold, and supported by Multiview Financial Software. This software is designed to help organizations of all sizes with various standard core accounting functions.
These include general ledger, accounts payable, accounts receivable, financial reporting, budgeting, and forecasting.
This ERP platform can accommodate business-specific functions, such as purchase orders, inventory management, workflow, and fixed asset accounting.
The system also has an open API to interface with outside systems and seamlessly integrate into existing business operations.
Multiview ERP offers a variety of reporting options that allow businesses to customize their reports to meet their specific needs.
As a result, businesses can use Multiview ERP to better understand their financial performance and make more informed decisions about the future of their company.
Features
User-friendly interface
Automatic matching of invoices and payments
Historical data of past reconciliations
Customizable reporting
Security and compliance standards
Pricing
While pricing isn't listed on their site, according to sources Multiview ERP costs an average of $150/user.
7. Blackline

Blackline is a cloud-based solution that helps businesses manage account reconciliation, transaction matching, and journal entry management.
It includes intercompany processing, approval workflows, open item tracking, audit trails, and regulatory compliance.
The application streamlines accountants' workflow by allowing them to manage multiple transactions simultaneously, track exceptions, and generate custom reports.
Its task management feature allows managers to provide role-based access to employees, assign jobs, and measure progress within one software solution.
Features
Match transactions and journal entries
Assign deadlines and measure the progress of employees
Cloud-based technology allows for real-time updates
Custom report generation
Pricing
Blackline pricing isn't listed online, but sources note it's a more expensive software option.
8. OneStream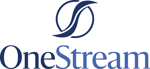 OneStream XF is a market-leading CPM 2.0 solution that allows businesses to streamline and simplify financial consolidation, planning, reporting, analytics, and financial data quality.
With OneStream XF's account reconciliation module, users can easily manage large volumes of transactions.
The built-in analytics provide a comprehensive view of your company's financial health while helping you uncover trends and identify opportunities for improvement.
Features
Drill-to-reconciliation
Trial balance single-sourcing
Risk-based reporting
Intuitive user interface that makes navigation easy and efficient
Security and audit controls that ensure data integrity and accuracy
Pricing
OneStream doesn't offer a free trial.
Companies must request pricing, but according to sources, the starting price for OneStream is $150,000.
Benefits of using account reconciliation software
Some of the top benefits of using account reconciliation software include:
Automation and streamlining
Account reconciliation software eliminates manual processes and streamlines repetitive, tedious tasks.
Business owners can save significant amounts of time while ensuring the accuracy of all their fiscal data, including bank data.
Strategic planning
By eliminating manual processes account reconciliation software allows finance and FP&A teams to drill down on tasks, focus on open entries, and develop strategic initiatives.
Reporting accuracy
Account reconciliation software helps to ensure data accuracy and the reliability of reports by providing a comprehensive overview of all transactions. This can help businesses identify any discrepancies in their accounts and resolve them quickly.
Additionally, account reconciliation software can provide real-time insights into cash flow, enabling business owners to make better-informed financial decisions.
Conclusion: use the best account reconciliation software
Account reconciliation software is a must-have for businesses of all sizes. It helps you track expenses, income, and other financial data to keep your business finances in order.
You'll want to work with Cube if you're looking for an account reconciliation solution that:
Works within your spreadsheets
Allows for collaboration and sharing across departments
Streamlines manual data entry and reduces errors
Automates and actualizes with the click of a button
Supports the rest of your accounting and FP&A needs
While this all sounds great, the best way to learn about Cube is to see it in action.
Schedule a demo today for a personalized look at how Cube can support your FP&A and accounting needs.