A strategic budget is essential for any business to stay financially healthy.
After all, a budget can help you keep track of your expenses, make informed financial decisions, and plan for the future.
But creating and maintaining a budget can be difficult without the right tools.
In this guide, we're going to show you some of the best budgeting software tools on the market right now.
Contents
Key features of budgeting software tools (for businesses and more)
When you're looking for budgeting software, you should keep the following key features in mind:
1. Excel and Google Sheets integrations
The best budgeting software tools will integrate with Excel and Google Sheets. This can make it easier to track expenses and income from multiple sources in one place.
Why?
Because while most budgeting teams prefer to work in Excel, many teams in other parts of the organization prefer Google Sheets.
So collecting data from the teams you need it from becomes much easier when your budgeting tool natively integrates with Google Sheets.
2. Budget planning and forecasting
Obviously, your budgeting software needs to help you create a realistic budget. And forecasting is one of the best ways to check how realistic your proposed budget is.
How does this work?
You take your historical data and input it into the forecast, but change some of the numbers to reflect your proposed budget.
(Need a refresher on the difference between budgeting, planning and forecasting? Head here.)
3. Financial reporting and analysis
Another key feature of budgeting software is the ability to generate financial reports. This can help you track your progress over time and identify areas where you need to make changes.
Some budgeting software also offers analysis tools that can help you understand your financial data and make better-informed decisions about your business.
4. Financial KPI Dashboard
Another helpful feature for businesses is a financial KPI dashboard.
This gives you an "at-a-glance" look at your financial health and helps you track key performance indicators like profitability, cash flow, and more.
5. Nice to haves
The above are pretty essential checklist items, but they only scrape the surface of what possible. Depending on your needs, you might also want to look for:
Unlimited project budgets
Invoicing and professional Services automation
Profitability modeling and optimization
Personnel planning
Or any other features out there.
That said, it's important to evaluate the software as a whole and to fight against the temptation to reduce it to a feature checklist.
Best Budgeting Software Tools & Apps
Because there are so many budgeting software tools out there, we wanted to do the research for you. This post is all about getting you the best information so you can budget and plan for your business in the most effective way.
And yes, we've started with Cube. We're proud of what we've built and our customers of all sizes love the planning and analysis support. Let's take a look.
1. Cube

Cube is the first spreadsheet-native FP&A platform that enables you to plan for the unexpected and stay ahead of changes. Our cloud-based FP&A software platform helps finance teams work anywhere—we integrate natively with both Excel and Google Sheets—so that they can plan, analyze, and collaborate with the ultimate speed and confidence.
But many companies (like SmugMug and Novo) use Cube to budget, too.
FP&A teams already know and love spreadsheets and Cube simplifies many of the headaches of the dysfunctional budgeting process—like collecting actuals from other departments or checking and verifying that your numbers are correct—and lets teams turn their complicated budgeting process into a lean operation.
Cube offers faster time to value (most companies are finished onboarding within two weeks) and is competitive priced.
You don't have to just take our word for it though: check out all of our 5-star reviews on Capterra.
Convinced? Book your demo with us today. Need to see what's still out there? Scroll away.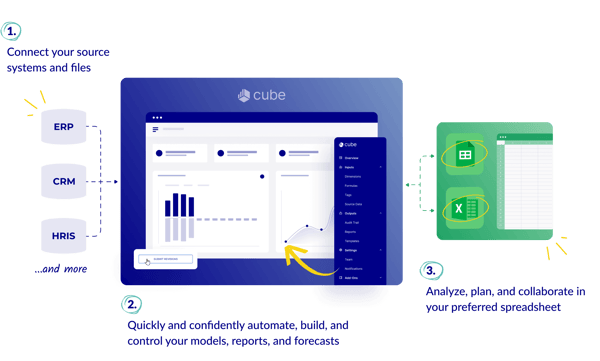 Features:
Automated data consolidation: Connect data from numerous sources for automated rollups and drilldowns.
Multi-scenario analysis: Allows you to model how changes to key assumptions affect overall outputs seamlessly.

Endless integrations

: Integrations for spreadsheets (Google and Excel), accounting & finance, HR, ATS, billing & operations, sales & marketing, and business intelligence.
Customizable dashboards: Gives you full ability to build and share customizable dashboards.
Native Excel and Google Sheets integration: Compatible and bi-directional with any spreadsheet
Multi-currency support: Evaluate your financials in both your local and reporting currencies.
User-based controls: User controls, validations, and an audit trail ensure that the right data goes to the right people at the right time.
Centralized formulas and KPIs: Store all your calculations in a central location and manage from a single source of truth.
Drilldown and audit trail: Get straight to the transactions and history behind a single cell of data in just one click.
➡️ See all of our features here.
Pros:
Powerful reporting and KPIs help automate and analyze important data.
Streamline manual data, reduce errors, and improve collaboration so you can make smarter business decisions in a fraction of the time.
You can easily collaborate with industry-leading FP&A experts and an award-winning support team.
Integrations with dozens of applications
Cons:
Cube works best for mid-sized businesses–it's not a personal finances app.
Cube doesn't sell to companies outside of the US and Canada at this time—we're working hard to change that!
Pricing:
Starting at $1250/month for lean finance teams and $2,450/month for companies looking to scale. See detailed pricing.
Best for: Mid-size and enterprise FP&A teams looking to save time and grow.
2. Planning Maestro by Centage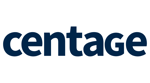 Centage is a cloud-native budgeting and forecasting solution that automates the entire financial planning process, from data collection and consolidation to reporting and analysis. With this software, you can connect your data sources, build budgets and forecasting, and collaborate in real time with colleagues across the organization.
Features:
Forecasting: Allows users to test and predict the impact of various scenarios
Reporting and Analytics: Helps generate actionable reports and dashboards based on accurate data analytics
Pros:
It connects to all your data sources, so you can collect and consolidate data from multiple sources into a single platform.
The drag-and-drop interface makes building comprehensive budgets and forecasts doesn't require coding knowledge
You can share your plans and models with colleagues in real-time
Cons:
Not available on desktops or mobile devices
Has a larger learning curve than other options on this list
No pricing transparency on their site
Report creation can take time
Pricing:
Pricing isn't listed on their site
Best for: Small, mid-market, and enterprise companies
3. Oracle NetSuite

NetSuite is a business management software suite that supports financial, operational, and customer relationship management processes for businesses. In addition to its core accounting, ERP, and CRM functions, NetSuite also offers budgeting, forecasting, and financial planning tools. With NetSuite, you can connect your data sources and automate financial processes.
Features:
Global Business Management: Helps companies manage global operations, including multiple currencies, taxation rules, and reporting requirements, across geographies and subsidiaries.
Inventory Management: Automate the management of your inventory. Keep inventory costs low while meeting customer delivery expectations.
Supply Chain Management: Eases the process of moving goods or materials through an extended supply chain.
Pros:
Inventory Visibility. Monitor inventory levels, minimize carrying costs, and deliver orders on time.
Supply Chain Optimization. Control the flow of goods across the value chain, from suppliers to customers.
Order Management. Error-proof your order management and procurement.
Warehouse Efficiency. Optimize the putaway process and reduce picking errors.
Integrations with Cube and other software
Cons:
Documentation on reporting can be lacking
Managing multiple profiles for end users can be confusing
Pricing can be prohibitive for some organizations
Not many customization capabilities
Pricing:
Pricing isn't listed on their site
Best for: Enterprise companies
4. QuickBooks
QuickBooks is an accounting software that offers a range of features including invoicing, budgeting, and financial reporting. QuickBooks also integrates with several third-party applications.
Features:
Invoicing: Create professional custom invoices, send payment reminders, and match payments to invoices, automatically.
GST & VAT: Easily organize expenses into tax categories and track sales tax on income and expenses, so you know where you stand and how much you owe
Inventory: Stay on top of your orders and quantities while managing your inventory in real-time.
Multi-currency support: Send invoices, record transactions and adjust reports in different currencies and assign currencies to different customers
Pros:
Integrates well with other systems and is flexible with 3rd party applications
Provides good accounting reports
Affordable price point
Easy to access from any device – phone, tablet, and computer (depending on the version)
Integrations with Cube and other software
Cons:
Lack of direct professional support
File-size and transaction limitations
Restrictions on the number of users
Best for small businesses, so if you're a mid-size or enterprise company another solution will be best
Pricing:
Simple Start: $5.10/month
Essentials: $7.80/month
Plus: $10.80/month
Best for

: Small businesses
5. Workday Adaptive Planning
Workday Adaptive Planning, formerly called Adaptive Insights, provides enterprise solutions for planning, modeling, budgeting, and forecasting for financial, workforce, and sales needs. Workday Adaptive Planning also has several built-in templates to help you get started.
Features:
Budgeting: Create budgets with Workday Adaptive Planning's budget templates.
Forecasting: Make informed decisions with Workday Adaptive Planning's forecasting tools.
Reporting: Generate reports to help you track progress and make better business decisions.
Built-in Templates: Workday Adaptive Planning has several built-in templates to help you get started quickly and easily.
Pros:
Straightforward to set up
Built-in templates available
Flexible and scalable
Cloud-based
Integrates with other Workday products
Cons:
It can be challenging to use for complex financial planning
Cloud-based, so not available as a desktop application
No pricing transparency on the site
Limited customization options
Best for larger enterprises
Pricing:
Pricing isn't listed on their website
Best for: Large enterprises
6. Prophix
Prophix is a platform that incorporates forecasting, reporting, and other financial functions into a single budget forecasting software solution. The budgeting software was built as a corporate performance management software solution, so it also comes with smaller tools for managing a business's assets and preparing its budgets.
Features:
Cash Flow Planning: This tool helps manage cash flow and other finances.
Personnel Planning: Built-in tools to organize your staff and workers.
Budgeting and Forecasting: Helps streamline your budget.
Cloud Computing: Prophix Cloud allows users to access your budget from any device through cloud-only innovation called "Prophix AI."
Pros:
It can be accessed from any device
Works with Microsoft Office 365
Cons:
Limited testing features
No pricing transparency available
Not a lot of flexibility or customization options
Pricing:
Pricing isn't listed on the website
Best for: Mid-market and large enterprises
7. Float
Float is cash flow management software that helps you analyze your cash flow data. It's also available for iOS and Android.
Features:
Cash Flow Forecast: Float's cash flow forecast connects to your accounting software and pulls information from your bank accounts.
General Ledger: Float Cash Flow allows financial analysts to import expense accounts and investment products. Then, they can track all their income sources using a single ledger.
Pros:
User-friendly interface
Integrating tools for Xero, QuickBook, and others
Works with third-party plugins
Cons:
Outputs are limited to CSV files
No "Excel-like" chart
Best for smaller businesses
Pricing:
£39/month for the standard plan (3 users) + 14 days of a free trial
Best for: Small to mid-sized businesses
8. OnPlan
OnPlan is a financial management tool created to assist small to mid-sized enterprises in streamlining budgeting and sales forecasting processes using financial models. The software uses synchronization features to integrate Excel formulas during model development and export created forecasts into spreadsheets for sharing with stakeholders. Third-party software such as Xero, Google Analytics, Zapier, Pipedrive, QuickBooks, Microsoft Excel, Salesforce, and Google Sheets can be integrated with OnPlan.
Features:
Permission management: The software allows businesses to arrange content during modeling using dropdowns, long text notes, checkboxes, and formulas.
Predefined dashboards: It also allows administrators to establish roles or permissions, grant read-only or write access, and enhance team member cooperation.
Scenario planning: Users can create reports based on metrics that compare projected to actual spending and what-if scenarios.
Pros:
Third-party integration
Nice user interface
Cons:
It can be prohibitively expensive for some companies
Google slide connections sometimes have errors
Pricing:
OnPlan's pricing plan starts at $12,500/yr
Best for: Small to mid-sized businesses.
9. Budgyt
Budgyt is a cloud-based software tool that offers a solution to replace clunky spreadsheets with an intuitive budgeting tool. It's a budgeting tool that delivers solutions for small-to-medium-sized businesses, non-profits, or larger enterprises with complex needs like cost allocation.
Features:
Dashboards: The intuitive platform with a clean, simple interface makes budgeting multiple P&Ls easy to do without needing Excel
Historical data: Budgyt has tools that can link your historical data
Pros:
Easy-to-use interface
Can eliminate formula and linking errors
Secure
At a more affordable price point
Cons:
The reporting features are lacking
Import from Quickbooks can sometimes take time
Pricing:
Budgyt has three payment plans:
Easy plan: $479/mo
Plus plan: $838/mo
Pro plan: $1,198/mo
Best for: Small-medium sized businesses, non-profits, and larger enterprises/
10. Board
Board enables the creation of a self-service analysis environment that allows users to execute business data modeling, Ad hoc queries, and so on. It's a budgeting and forecasting tool that offers financial consolidation, reporting, and data visualization features. Board is also scalable so it can grow with your business.
Features:
Dashboard: With Board, you can select the model that best suits your company at the time of rollout, with the flexibility to switch to a different model as needed.
In-Memory Server: Board's cutting-edge In-memory Server Cluster architecture enables sharing of server tasks over practically infinite nodes.
Pros:
It's easy to use
The software is equipped with an intuitive drag-and-drop interface
Can create data models without programming skills
Customization options
Cons:
It may be complex for new users
No pricing transparency on the website
Not available on desktop
Not many training options
Pricing:
Pricing isn't listed on the website
Best for: Large and mid-sized companies.
11. Sage Intacct
Sage Intacct is an intuitive cloud planning solution tool that eliminates your reliance on rigid, uncontrolled, and insecure spreadsheets and offers users a single real-time source of financial truth for strong and confident decision-making.
Features:
Direct Team Connectivity: Collaborative to allow teams across the entire organization to contribute
Cloud-Based: Cloud-based tool that meets ever-changing security and compliance standards.
Report Analysis Native Tool: Sage Intacct budgeting and planning use a bidirectional data sync that employs all the reliable dimensions required to understand how a firm is operating.
Pros:
Easy to deploy and maintain
Self-discoverable with functionality that scales with the business
Can handle multi-entity transactions
Integrations with Cube and other software
Cons:
No upfront pricing on the website
It may not be ideal for small or mid-sized businesses
Pricing:
Pricing isn't listed on the website
Best for: Large organizations.
12. Planful
Planful is a financial planning and analysis (FP&A) cloud software platform that delivers a vision of Continuous Planning by accelerating the end-to-end FP&A process and enables business-wide participation in agile planning and decision-making. The budgeting software provides finance software with a complete platform for budgeting, consolidating, reporting, and analytics.
Features:
What-if scenarios: Planful has a simulation tool that handles what-if scenarios
Cash flow forecasting: Predict the flow of cash
Accelerated reporting tools: Make reports faster and easier
Pros:
Fast processing
Planning guide options
Cons:
Difficult to set up
Complex user interface
Individual models are fragile
Best for larger organizations
Pricing:
Pricing isn't listed on the website
Best for: Larger organizations.
13. Jirav
Jirav is a cloud-based financial planning and analysis tool for small- to medium-sized enterprises that want to forecast and increase sales. With Jirav, customers can consolidate all financial data operations with built-in data connectors and forecast financial operations using pre-built templates, customized dashboards, interactive reports, and data visualization.
Features:
Budget Tools: Jirav provides data to create budgets from next year's projected business activity.
Planning Tools: Jirav's driver-based modeling engine creates workforce, sales, and business plans.
Forecast Software: Jirav models the cash impact of important decisions and visualizes cash flows up to 60 months out.
Report Dashboard: The dashboard enables financial teams to connect to various data sources and use graphs to visualize revenue statements, cash flow, and expenses.
Pros:
Offers third-party integration
Simple pricing options
Cons:
It may take time to understand how the software works fully
Best for smaller businesses
May be too expensive for smaller businesses
Pricing:
Plans start at $500/month and grow to $1000/month or beyond
Best for: Small to mid-sized companies
14. PlanGuru
PlanGuru is an on-premise business budgeting and planning and software solution for small businesses and nonprofits. The solution aids accountants in creating financial projections, creating budget analyses, and addressing small business financial limits.
Features:
Forecasting Tools: 20+ forecasting methods
Dashboard: Online dashboard, scorecard, and reporting Tools
In-built finance structure: Pre-built integrated financial statement structure
Pros:
Great support and customer service
Handles revenue generation perfectly
More affordable price-point
Cons:
Can be glitchy
Importing excel spreadsheets can have some problems
Not the best fit for medium or larger businesses
Pricing:
$99/month or $899/year
Additional seats are $29/month per seat
Best for: Small businesses
More on Budgeting Software Tools
Budgeting app vs. budgeting software tools
When it comes to budgeting, there are a few different options available to you. You can use a budgeting app or budgeting software tool. Here is a quick overview of each option:
Budgeting App
A budgeting app helps you track your expenses and create a budget.
Budgeting apps are typically simple and easy to use, making them a good option for beginners. They can also be portable, so you can take them with you on the go.
However, budgeting apps often have limited features, and they may not be able to handle complex financial planning.
Budgeting Software Tool
A budgeting software tool is a more comprehensive solution that can help you with everything from tracking your expenses to creating a budget.
Budgeting software tools are usually more complex and may take some time to learn. However, they typically offer more features than budgeting apps, making them a good option for businesses and individuals who need more robust budgeting capabilities.
...So which option is right for you? It really depends on your needs:
If you need a simple budgeting solution, then a budgeting app may be all you need.
However, if you have more complex budgeting needs, then a budgeting software tool may be a better option for you.
Free budgeting software?
There are a number of free budgeting software options available, but these are primarily for personal finance. The following are free budgeting software that you can use:
Best free budgeting app?
There are several free budgeting applications on the market for personal finance, rather than business budgeting. Check out the following free budgeting apps for personal finance:
Conclusion: Choosing the Best Budgeting Software
When it comes to budgeting software, there isn't necessarily a one-size-fits-all solution. However, many great tools and software options are available that can help you organize your financial data, streamline your workflows, and produce budgets.
We can confidently say that Cube is the best and only budgeting software that provides you with a platform of tools for all your needs, such as Reporting & Analysis, Planning & Modeling–all within your workplace. Whether you already use Excel, Google Sheets, or other spreadsheets, Cube is compatible and bi-directional with any spreadsheet.
Sources