Centage Planning Maestro, previously Centage Budget Maestro, is a budgeting, planning, and forecasting tool used by mid-market finance and accounting teams.
Centage's biggest strength is its core budgeting and forecasting capabilities.
However, some organizations may be looking for alternative software that provides better integration with spreadsheets, more extensive features, and a quicker implementation time.
This guide will highlight the top Centage Planning Maestro alternatives for financial services, SaaS businesses, and other industries.
Let's dive in.
Key takeaways:
Centage Planning Maestro is a budgeting and planning software for finance and accounting teams.
Centage's key features offer budgeting, forecasting, and planning capabilities.
Medium to large-scale companies might need a Centage alternative if they're looking for more features, a quicker onboarding process, and smoother integrations with spreadsheets and other data/workforce management tools.
Contents
Centage Planning Maestro review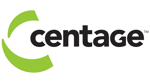 Centage Planning Maestro is a budgeting and planning software with forecasting and financial reporting capabilities.
It was designed to replace error-prone, manual tasks with built-in modeling capabilities without requiring programming or formulas.
The solution integrates with other financial and accounting platforms and a company's general ledger. Businesses can use Centage to synchronize their three financial statements (balance sheets and cash flow statements), drill down into data, and enforce their chart of accounts.
Centage features & benefits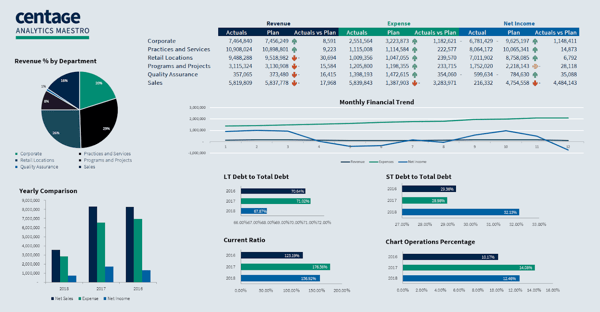 What if/scenario analysis capabilities
Centralized database
Built-in accounting rules and business logic
Role-based access with built-in safeguards
Tracking of overtime, premium time, and shift differentials
Sales performance tracking
Visual reports and web-based dashboards
GAAP-compliant calculations
Centage limitations
Despite the features and services Centage Planning Maestros offer, it still has some limitations as a platform.
Long and expensive implementation process
The onboarding process can be challenging to understand for non-technical users
Data duplication/deletion errors can occur when integrating or updating information
There are limited features that large-scale companies could outgrow
Users experience difficulty generating financial statements, models, and reports
Slow customer support
Data exporting into Microsoft Excel can have some bugs
Centage pricing
The exact prices for each plan are not listed on Centage's website, but sources estimate that plans start at $10,000/year.
Top Centage Planning Maestro alternatives & competitors
Based on Centage Planning Maestro reviews, some businesses need a more seamless and reliable solution.
Here is a list of the market's top Centage Planning Maestro alternatives.
1. Cube
Cube is a comprehensive financial planning and analysis (FP&A) solution that helps businesses streamline and improve their forecasting, budgeting, and analysis processes.
Cube provides valuable insights through robust reporting and seamless integrations with other tools like HR, CRM, ERP, and HRIS systems.
This means that Cube improves your general planning processes (because it's easier than ever to load your numbers and rest easy that they've been reconciled) and that your specialized planning, like workforce planning, becomes significantly easier.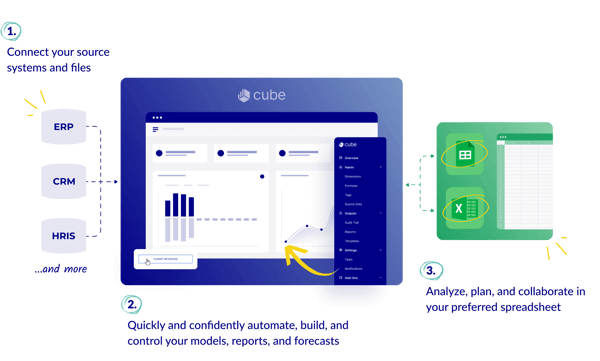 For example, Cube integrates with your HRIS, so you can make plans in Excel (your preferred environment) and share them with People Ops and hiring managers in Google Sheets (their preferred environment).
Unlike Centage Planning Maestro, Cube allows finance teams to work exactly where they're familiar: spreadsheets.
The best part?
Cube natively integrates with Microsoft Excel and Google Sheets, making it easy for anyone to use and adopt.
Cube has plenty of user-friendly features—after all, you already know how to use Excel! So you know how to use Cube, too.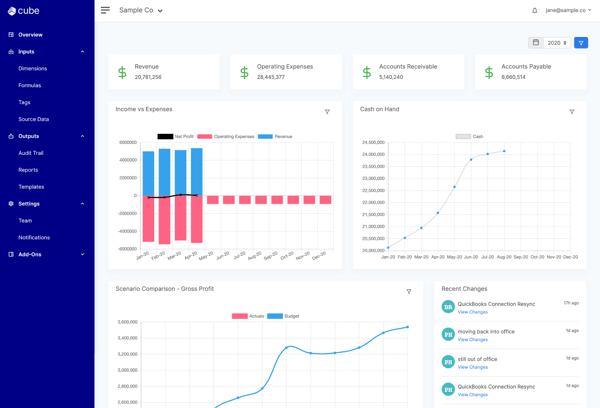 Validations, user controls, and audit trails provide peace of mind that your data is correct, secure, and in the right place.
Features & Benefits
Scenario Analysis: What-if analysis and multi-scenario analysis capabilities allow users to adjust their models based on different scenarios, such as increased hiring or productivity lags.
Customizable dashboards and reports: Dashboards and reports can be customized to display different data types from various sources. This makes it easy to organize and present all the data to internal and external stakeholders.
Integration: Integrates with various HR, accounting, sales, and business intelligence software solutions such as Salesforce and ADP.
Foreign currency support: Supports multiple currencies for North American companies with international customers or clients.
Centralized platform: All calculations are centralized into one platform for easy access and knowledge sharing across an organization's teams.
Bidirectional Excel and Google Sheets integration: Information can easily be imported and exported from and to Excel and Google.
Pricing
$1,250+/month for lean finance teams
$2,450+ /month for companies looking to scale
Check out our pricing structure if you'd prefer to customize your plan. Our in-house implementation team onboards most customers in two weeks.
2. IBM Planning Analytics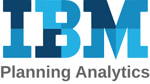 IBM Planning Analytics is an enterprise planning and performance management solution built on the IBM Cognos platform. It offers a comprehensive solution that enables access to data and insights from multiple sources.
IBM Planning Analytics' machine learning, predictive analytics, and artificial intelligence (AI) enable businesses to identify patterns and trends.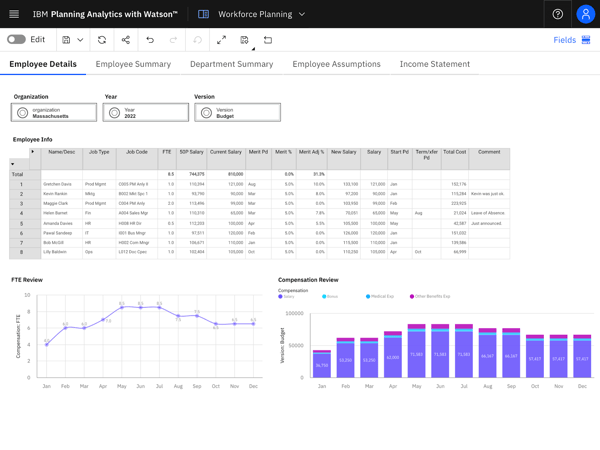 Features & Benefits
Advanced what-if analysis
Automated workflows
Real-time data updates
Customizable dashboards and scorecards
Real-time visibility into financial data
Pricing
Explorer: $70*/user/month
User: $150*/user/month
Modeler: $225*/user/month
3. Oracle Cloud EPM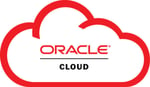 Oracle Cloud EPM (Enterprise Performance Management) is a suite of cloud-based products that allow businesses to manage their financial planning, budgeting, and forecasting processes.
Organizations can improve collaboration between departments, streamline data collection, and identify opportunities for enterprise-wide cost savings.
Oracle Cloud EPM provides predictive analytics capabilities that enable organizations to make informed decisions based on predictive models.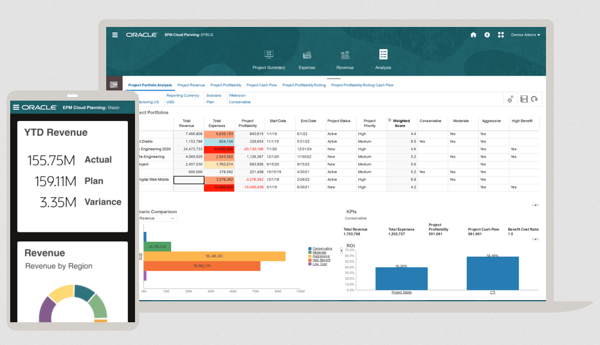 Features & Benefits
Connected planning and budgeting
Risk assessment and response
Automated consolidation and close
Profitability analysis
Dashboard monitoring and reporting
Pricing
Oracle Cloud EPM does not list prices on its website.
Sources say it's $250 per user per month for EPM standard and $500 per user per month for EPM enterprise.
4. SAP Analytics Cloud

SAP Analytics Cloud is a comprehensive business intelligence and data visualization platform that provides users with insights into their business operations.
It integrates Microsoft SQL, Salesforce, and other data sources to provide users with capabilities such as ad hoc reports, planning and forecasting, predictive analytics, digital boardroom management, and KPI monitoring.
Features & Benefits
Real-time data access and visualization
Predictive analytics
Customizable dashboards
Automated insights and alerts
Data Integration
Pricing
SAP Analytics Cloud offers a 30-day free trial with two levels of pricing.
Business: $36 per user/month
Enterprise: Request for custom pricing
5. Prophix

Prophix is a corporate performance management platform that enables companies to track and manage their financial data.
It offers a comprehensive suite of planning, budgeting, forecasting, analysis, and reporting tools.
Prophix provides native integrations with ERP, CRM, and analytics platforms.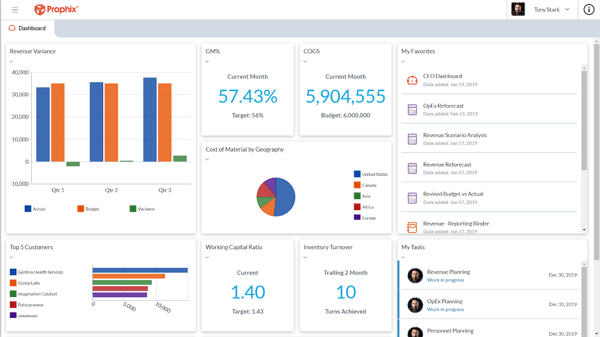 Features & Benefits
Automated budgeting and forecasting
Security and compliance
Task management
Scenario planning
Third-party integrations
Pricing
Prophix's pricing is not publicly available, but sources say it matches the industry average.
6. Planful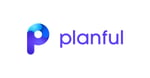 Planful is a cloud-based financial modeling solution that provides data for agile planning, budgeting, consolidation, analytics, performance analysis, and reporting automation.
It enables finance teams to collaborate on budgets and strategically manage their company's finances.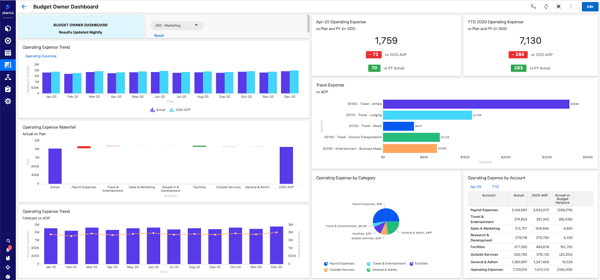 Features & Benefits
Real-time financial planning and forecasting
Scenario planning
Customizable dashboards
Acts as a single, central hub for all the software used within the organization
Pricing
Planful does not publicly share its pricing information. But, sources indicate that it is one of the more costly options.
Like many other business budgeting software solutions, Planful's implementation process is done by a third-party provider, so factor that into your cost.
Also read: Anaplan vs Adaptive vs Planful vs Vena vs Datarails vs Cube
7. Workday Adaptive Planning

Workday Adaptive Planning (sometimes called Adaptive Insights) is a cloud-based planning and analysis tool that offers real-time insights into business performance.
It caters to large enterprises.
Workday Adaptive Planning can be used for budgeting, forecasting, resource planning, reporting & analytics, sales planning & execution, expense management & profitability analysis.
It integrates with other systems such as ERP, salesforce automation (SFA), customer relationship management (CRM), etc.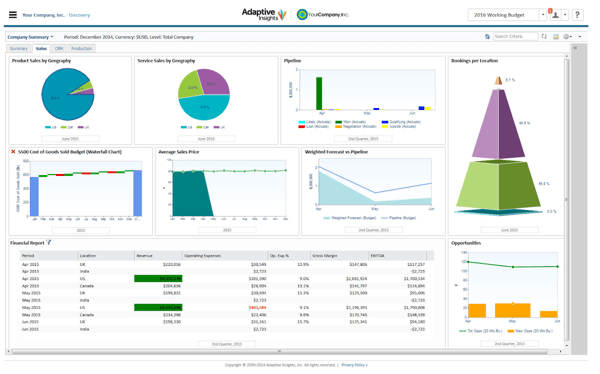 Features & Benefits
Budgeting, business planning, and forecasting
Real-time analytics and visibility into financial data
Data integration capabilities
KPI monitoring
Roadmapping and idea management
Pricing
Pricing information for Workday Adaptive Planning isn't provided on its website, but sources suggest that it starts at $15,000, depending on the business size.
8. Anaplan

Anaplan is a cloud-based software platform that provides businesses such as financial institutions with tools to manage and analyze their data.
The platform enables companies to streamline processes, maximize data visibility, and generate insights.
It provides flexible modeling capabilities which users can use to create financial, operational, and sales plans that account for numerous variables.
Features & Benefits
Real-time forecasting and scenario planning
Data import/export capabilities
Automated insights and visualizations
Third-party integration
Predictive analysis
Pricing
Anaplan's pricing plans come in three tiers - Basic, Professional, and Enterprise. While exact figures aren't listed, industry sources suggest that the cost can range from $30,000 to $50,000.
9. Vena Solutions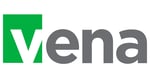 Vena Solutions is a cloud-based financial planning and analysis platform that helps users analyze their financial performance across multiple departments, identify trends and anomalies, manage budgets and forecasts, and generate interactive reports.
Companies can conduct annual budgeting and ongoing performance analysis monthly, quarterly, or yearly.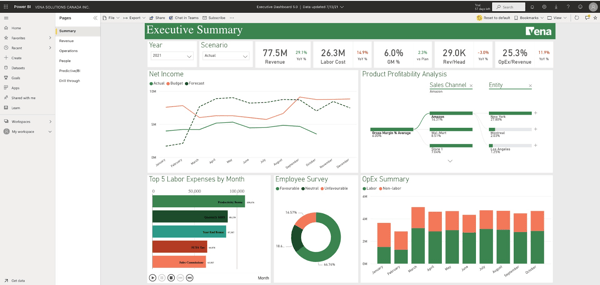 Features & Benefits
Automation and workflow management
Advanced reporting and analytics
Automated data collection and integration
Forecasting and budgeting
KPI tracking and benchmarking
Pricing
Vena Solutions keeps its pricing details confidential, but, according to sources, it costs more than the market average.
10. Board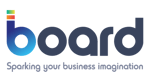 Board is a business intelligence and planning platform that leverages machine learning capabilities and predictive analytics to create financial analysis models.
It offers simulation capabilities so users can test various scenarios and see how they could impact the business. Board also enables users to collaborate with other team members in real time.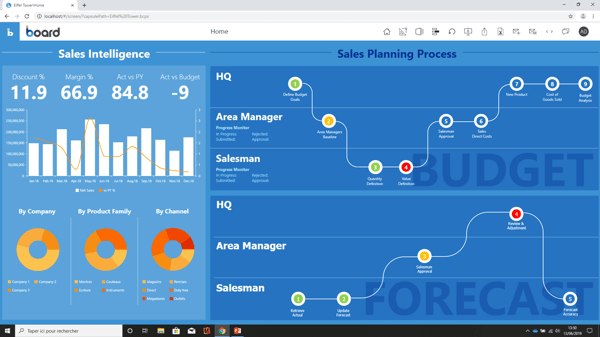 Features & Benefits
Forecasting and budgeting
Comprehensive reporting features
Customizable dashboards
Task management
Extended planning for sales, finance, and HR
Pricing
Board's pricing is determined by the company's size, the licenses required, and any custom needs.
However, sources report that Board costs less than the average market price.
11. Solver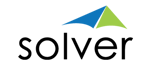 Solver is a hybrid corporate performance management (CPM) solution based on the Microsoft platform.
Solver can be deployed in the cloud or on-premise and caters to businesses of all sizes. Solver integrates with several Enterprise Resource Planning (ERP) systems, enabling users to access up-to-date real-time reports and data warehouse-based reporting.
It also provides both multi-company and multi-currency reporting.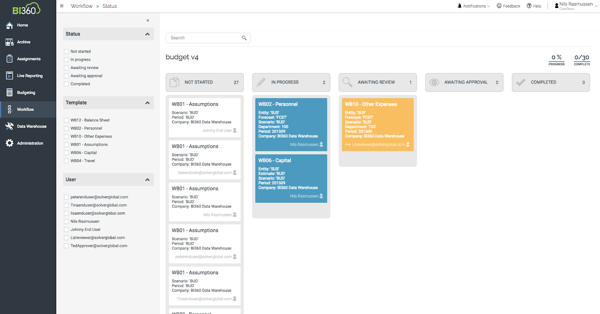 Features & Benefits
Budgeting, forecasting, and modeling
Accessible through web and mobile interface
Microsoft Power BI integration for visualizations
Comprehensive library of templates and tutorials
Collaborative workspace
Pricing
According to various reviews, Solver has a starting price of $6,888 per year.
Conclusion: choose the best Centage Planning Maestro alternative
While Centage Planning Maestro can be a helpful budgeting and planning tool for small businesses, medium to larger-scale companies may need more extensive features and integration opportunities.
If you're looking for a tool with:
Better data analysis, processing, and visualization tools,
Easy collaboration opportunities across finance, accounting, HR, sales, and more systems,
Quicker onboarding and implementation, and
Slick customizable UI and reporting features
…then look no further than Cube. This next-generation platform handles integrating, organizing, and managing financial data.
It makes performing complex analyses easy and provides a clear understanding of the financial health of your business.
Set yourself up for growth this year.