There are many different types of financial planning and analytics software on the market today.
Anaplan, Adaptive, Planful, Vena, Datarails, Cube...
How do you narrow down your choices and learn which one is best to help you scale?
In this blog post, we'll compare Anaplan, Adaptive, Planful, Vena, Datarails, and Cube to help you make the best decision for your company.
Contents
What type of software are Anaplan, Adaptive, Planful, Vena, Datarails, and Cube?
Anaplan, Adaptive, Planful, Vena, Datarails, and Cube are all financial planning and analysis (FP&A) software. This type of software is designed to help companies make better financial decisions by providing insights and tools for planning and budgeting.
They can be used for a variety of purposes, like:
among many other things.
Each of these tools has its own benefits and feature sets, so it's important to choose the one that is best suited for your specific needs.
Let's take a closer look at each to see how they compare.
Anaplan vs. Adaptive vs. Planful vs. Vena vs. Datarails vs. Cube
While all these top software share one common goal—help businesses with their financial planning—they have different functionality and use cases. No two companies are the same, which is why it's important to compare the best FP&A software.
And yes, we're starting right with Cube. We're proud of how well we help companies of all sizes plan, analyze, and collaborate so that they can scale in a speedy, sustainable, and smart way.
1. Cube
Cube is the first spreadsheet-native FP&A platform that empowers teams to drive better planning and performance without changing how they work. Our cloud-based FP&A software platform helps finance teams work anywhere—we integrate natively with both Excel and Google Sheets—so that they can plan, analyze, and collaborate with the ultimate speed and confidence.
Many high-growth companies (like Masterworks and Unqork) use Cube for all of their FP&A needs.
Because here's the thing:
Cube can do almost everything and then some. For example, Cube:
Has a proper, native Excel integration with all versions of Excel (no coding or formulas needed)
Is always reliable during sophisticated Excel calculations
Onboards new accounts 5x faster than the competition
Uses simple formulas for creating reports
Integrates with almost all source systems
Works perfectly on Mac OS X and Google Sheets
Perhaps even more importantly, Cube was built by a former serial CFO. The problems and use cases of FP&A have been baked into Cube since its inception.
You don't have to take our word for it though: check out all of our 5-star reviews on Capterra.
Convinced? Book your demo with us today. Need to see what's still out there? Scroll away.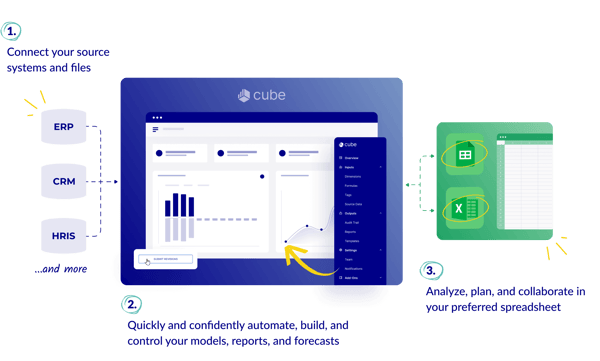 Features:
Automated data consolidation: Connect data from numerous sources for automated rollups and drilldowns.
Multi-scenario analysis: Allows you to seamlessly model how changes to key assumptions affect overall outputs.
Endless integrations: Integrations for spreadsheets (Google and Excel), accounting & finance, HR, ATS, billing & operations, sales & marketing, and business intelligence.
Customizable dashboards: Gives you the full ability to build and share customizable dashboards.
Native Excel and Google Sheets integration: Compatible and bi-directional with any spreadsheet
Multi-currency support: Evaluate your financials in both your local and reporting currencies.
User-based controls: User controls, validations, and an audit trail ensure that the right data goes to the right people at the right time.
Centralized formulas and KPIs: Store all your calculations in a central location and manage from a single source of truth.
Drilldown and audit trail: Get straight to the transactions and history behind a single data cell in just one click.
➡️ See all of our features here.
Pros:
Powerful reporting and KPIs help automate and analyze important data.
Streamline manual data, reduce errors, and improve collaboration so you can make smarter business decisions in a fraction of the time.
You can easily collaborate with industry-leading FP&A experts and an award-winning support team.
Integrations with dozens of applications.
Proper, native Excel integration with all versions of Excel (no coding or formulas needed)
Always reliable during sophisticated Excel calculations
Standard implementation time that's 5x shorter than the competition
Quick fresh and fetch times
Intuitive, easy reporting
Simple formulas for making reports
User-friendly user interface and controls
Easy permission management
Integrates with more source systems
Has full Mac OS X compatibility
Is an always-correct single source of truth
Built and designed by a former serial CFO
Cons:
Cube works best for mid-sized and commercial businesses–it's not a personal finance app.
Cube is built for finance professionals and is not a solution for learning FP&A for the first time
Pricing (below) is not designed for pre-series A startups
Starting at $1,250/month for lean finance teams and $2,450/month for companies looking to scale. See detailed pricing.
Best for: Mid-size and enterprise FP&A teams looking to save time and grow. Cube also works for hyper-growth SMBs who want a solution that will scale with their organization's complexity.
Curious to see if Cube is a fit for your organization?
2. Anaplan
Anaplan is a web-based planning and forecasting application. It is designed to help organizations make decisions by giving them real-time access to data. The application offers the ability to create and manage models, share data across teams, and collaborate on projects.
Anaplan works to help businesses make decisions by evaluating options and trade-offs in the current environment in real time. Anaplan also offers signal analysis to uncover insights and adapt to continually changing conditions and markets.
Key Features:
Forecasting: Applies audience intelligence, machine learning, and algorithms to your signals
Scenario modeling: Gauges the impact of changes and adapts your strategy with scenario modeling
Anaplan Workflow: Digitizes your processes and drives effective conversations
Anaplan Data Hub: Houses information needed to execute the planning scenarios
Pros:
Web-based application
Aggregates data into a single source of truth
Enables real-time collaboration with your team
Enforce segregation of duties and enable audit tracking within the user interface
Synchronize structure between models
A well-established player in the FP&A space
Cons:
Formula auto-complete functionality similar to Excel
Sizing can become an issue for new model builders
There can be some lag in saving data inputs
The software doesn't offer the most customization or flexibility.
Pricing:
Pricing is not listed on the website
Best for:
Anaplan is a good choice for larger enterprises with a strong IT team to support implementation.
3. Adaptive
Workday Adaptive Planning allows users to forecast, budget, and model. In addition to its forecasting capabilities, Adaptive Insights also offers several other features, including the ability to track KPIs, create what-if scenarios, and collaborate with colleagues in real time. Its finance and HR applications help businesses connect financial and "people" data for insights.
Adaptive's financial management system delivers automation across its attract-to-pay process, which eliminates manual tasks and helps your team focus on other goals. It also models hiring, transfers, and retention plans with driver-based assumptions to help you see the cost impact.
Key Features:
Profitability analysis: It allows you to create various documents from internal reports to external regulatory statements in one system.
Payroll and workforce management: Visualize workforce costs and trends, identify the root cause, and take action.
Analytics and reporting: Financial, workforce, and operational data come together in one place.
Human capital management: Machine learning provides insights into team members' skills and improvements needed.
Pros:
It allows you to forecast which resources you need, define roles, and shop for talent in one dashboard
Plan sales resources, set quotas, and optimize rep capacity
Flexible budgeting, scenario planning, and reporting options
Collaboratively run sourcing events, streamline supplier selection, manage contracts, and analyze your performance
Cons:
Setting up Adaptive Insights can be a complicated process
Some lack of functionality
Struggles with data integration
The software can be slow
Pricing:
Pricing is not listed on the website
Best for:
Adaptive Insights is best for larger enterprises that need workforce, sales, and operational planning support.
4. Planful
Planful is performance management and financial planning software. It allows users to see performance data in real-time, identify issues and opportunities, and take action to improve performance.
The software delivers insights at scale, automating labor-intensive work and aligning planning processes to help businesses pull in operational data and improve their reporting.
Key Features:
Financial Close Management: Helps expedite the financial close process allowing your team to allocate their time away from data-entry errors
Financial Consolidation: Hastens the financial consolidation process and allows your team to allocate their time to understanding company performance
Workforce Planning: Approaches workforce planning with accurate and current data from the business by building alignment across departments
Cash Flow Forecasting: Offers driver-based cash flow forecasting and scenario analysis to fit your requirements
Pros:
AI-enhanced financial and operational planning
It gives users control of how they administer and manage financial processes
Trust and security emphasis
Provides transparent reporting
Cons:
Collaboration can be complex as the individual models are fragile and must be updated online
It can be challenging to set up templates
Loading wage data by employees can prove to be complicated
Pricing:
Pricing is not listed on the website
Best for:
Planful is a good option for larger companies with big FP&A teams that want to work more collaboratively within their business.
5. Vena
Vena Solutions is a cloud-based predictive analytics and business intelligence tool that automatically generates forecasts and insights from data. The software loads automatic data into a single source of truth, so you can spend less time collecting data and more time analyzing it.
It simplifies your critical processes and automates them to enable you to focus on your business drivers and collaborate with your team. It automates variance analysis, identifies discrepancies, and builds ad-hoc reports for your business. Vena also analyzes your company's financial health by slicing and dicing data across different entities.
Key Features:
Agile Planning and Reporting: Helps plan and report with agility whether you're planning for growth, change, or business
Financial Planning and Analysis: Vena Foundation for FP&A includes the integrations, data model, and data analysis tools to support your financial planning and analysis needs
Financial Reporting: Automates financial reporting processes so you can spend less time on busy work and more time delivering analysis and insights
Regulatory Compliance and Reporting: Eliminates the complexities and manual errors associated with regulatory reporting
Pros:
Locks and secures your templates so your users can keep their numbers where they belong
Creates actionable insights and turns your compartmentalized departments into collaborative business planning partners
Control data access and drill down into the history of a spreadsheet so that you know who has been in your templates and where your numbers are coming from
Ensures the latest version of a spreadsheet is the current version.
Cons:
Report writing can be clunky
Mac users can experience lags
The run/load time on large complex workbooks takes time
Template automation encounters issues due to certain excel functions used
Pricing:
Pricing is not listed on the website
Best for:
Vena is suitable for companies that need the rigid process and planning controls of pre-built FP&A processes, or that want to customize a pre-built solution for their unique needs.
6. Datarails
Datarails helps corporate organizations make decisions by providing a single source of truth for their data. It provides automated consolidation and reporting, letting users focus on the insights that can help their business.
Key Features:
Forecast dashboard: Estimates finances for future periods and plan operations accordingly
Data visualization tools: Explores how different assumptions such as product prices, customer metrics, operating costs, interest, or inflation impact your bottom line
Financial data analytics: Investigates financial or operational data to examine anything from key variance drivers to headcount and sales performance
Monthly reports: Populates your monthly data and export it to the balance sheet, income statement, cash flows, and any other financials that you have.
Pros:
Dedicated service customer manager
Improve data integrity and visibility with automated records and audit trail
Features a built-in visualization tool
Uses workflows for version control and collaboration across the company
Cons:
The software doesn't integrate with Excel 2007 or earlier
It requires a lot of manual processes
It does not automatically integrate with the QuickBook desktop version
Users may experience glitches or lags
Pricing:
Pricing is not listed on the website
Best for:
Datarails works best for smaller companies that aren't looking to scale too quickly. A TechCrunch article detailing their Series B raise says that "DataRails will continue to focus squarely on SMBs." So if you're a larger company (or if you're trying to grow into a more prominent company), Datarails won't be the right solution for you.
So…Anaplan vs. Adaptive vs. Planful vs. Vena vs. Datarails vs. Cube?
Out of all the best FP&A software, we can confidently say Cube is the market's most efficient and user-friendly software.
And we're not just saying that—we believe that Cube is the clear winner for companies of all sizes who want to stay loyal to spreadsheets without giving up the power and flexibility of the modern tech stack.