Mosaic Tech is a strategic finance platform that creates real-time reporting, budgeting, and planning for better business decision-making.
Mosaic's biggest strength is its ability to provide nice visuals for SaaS companies.
But some organizations are looking for an FP&A solution with customization and scaling capabilities, easy integrations, and a quick implementation time.
So we researched some of the best alternatives to Mosaic so you can compare them and choose the best fit for you.
Let's take a look.
Key takeaways
Mosaic Tech is an analytics and planning platform for strategic finance teams.
Mosaic's strengths are its visual reports and SaaS-focused capabilities.
Users might need a Mosaic Tech alternative if they're a non-SaaS business or are looking for customization, scalability, and faster implementation.
Cube is a popular financial planning alternative to Mosaic Tech that integrates natively with both Excel and Google Sheets so finance teams can plan, analyze, and collaborate with the ultimate speed and confidence.
Contents
Mosaic Tech review
Mosaic is a cloud-based FP&A solution that helps view business operations through dashboards, reporting tools, automated data reconciliation, and forecasting.
Mosaic supports agile planning and quicker decision-making by consolidating insights across ERP, CRM, HRIS, and billing systems.
Mosaic combines its software with a simple user interface so it's easier to collaborate, report, and make data-driven decisions.
Mosaic features & benefits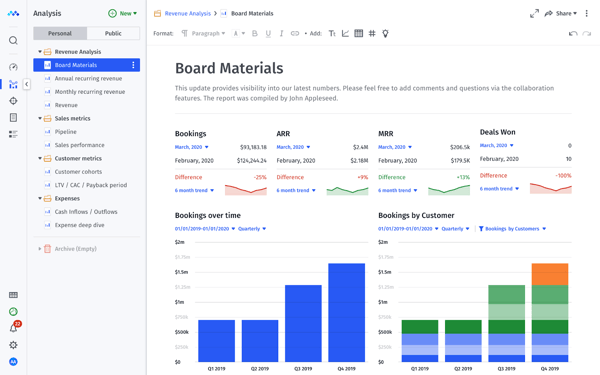 Budgeting: The platform collects data and analyzes it to help users understand their current and projected costs and revenues.
Data Visualization: Mosaic offers different methods of visualizing data through dashboards, statistical graphs, and charts.
Version Control: The platform updates changes quickly so users have their most recent data.
Formulas: Budgeting formulas help estimate direct and indirect costs, operating and non-operating revenues, and more.
Custom Reports: Users can edit and combine multiple department reports.
Mosaic limitations
While some users appreciate Mosaic's capabilities, others had challenges with the platform.
Long implementation process: Mosaic Tech reviews reveal that the implementation process isn't easy as promised and can often take several months. Some Mosaic alternatives, like Cube, have implementation times as short as two weeks.
SaaS-focused: The platform was created for companies and doesn't support non-SaaS operations.
Challenging learning curve: Users have trouble understanding how to navigate the platform. Many spend several hours (and days) learning it.
Difficulty integrating other tools: Data importation and integration can be time-consuming.
Fixed metrics: Some users have trouble manipulating back-end data to suit their business needs and must rely on the fixed metrics provided by Mosaic Tech's platform.
Data formatting: Data exports are limited to a few formats, making it harder for employees and shareholders to share and interpret data.
Mosaic pricing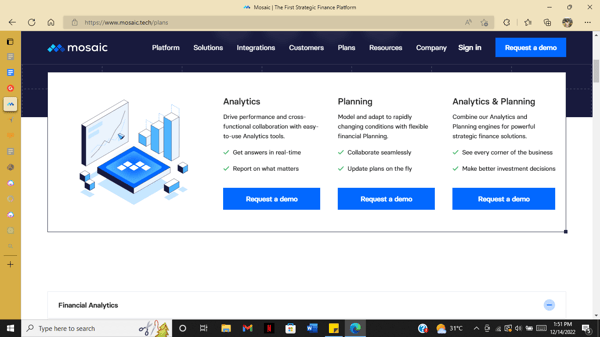 Mosaic doesn't provide details of their pricing plans on their website or share them with other sources. However, they provide a brief description of what their plans provide.
The 11+ top Mosaic Tech alternatives and competitors
Based on Mosaic Tech customer reviews, the platform's limitations may make it best for small businesses and less suitable for large enterprises. As an FP&A tool, Mosaic is more suited for small-scale SaaS companies that aren't looking to scale quickly.
To help fill the gap, we've compiled a list of alternative software options that offer more functionalities.
1. Cube: Financial planning and analysis software
Cube is the first spreadsheet-native FP&A platform that empowers teams to drive better planning and performance without changing how they work. It's a cloud-based FP&A software platform that helps finance teams work anywhere (Cube natively integrates with Excel and Google Sheets) so that they can plan, analyze, and collaborate with the ultimate speed and confidence.
Many high-growth companies (like Masterworks and Unqork) use Cube for their FP&A needs, including projects that require coordination across various teams like reporting and budgeting.
Because here's the thing:
Cube can do almost everything Mosaic does and then some. Cube:
Has a true native Excel integration with all versions of Excel (no coding or formulas needed)
Is always reliable during sophisticated Excel calculations
Onboards new accounts 5x faster than the competition
Uses simple formulas for creating reports
Integrates with almost all source systems
Works perfectly on Mac OS X and Google Sheets
Perhaps even more importantly, Cube was founded by a former CFO. The problems and use cases of FP&A have been baked into Cube since its inception.
Check out all of the 5-star reviews on Capterra.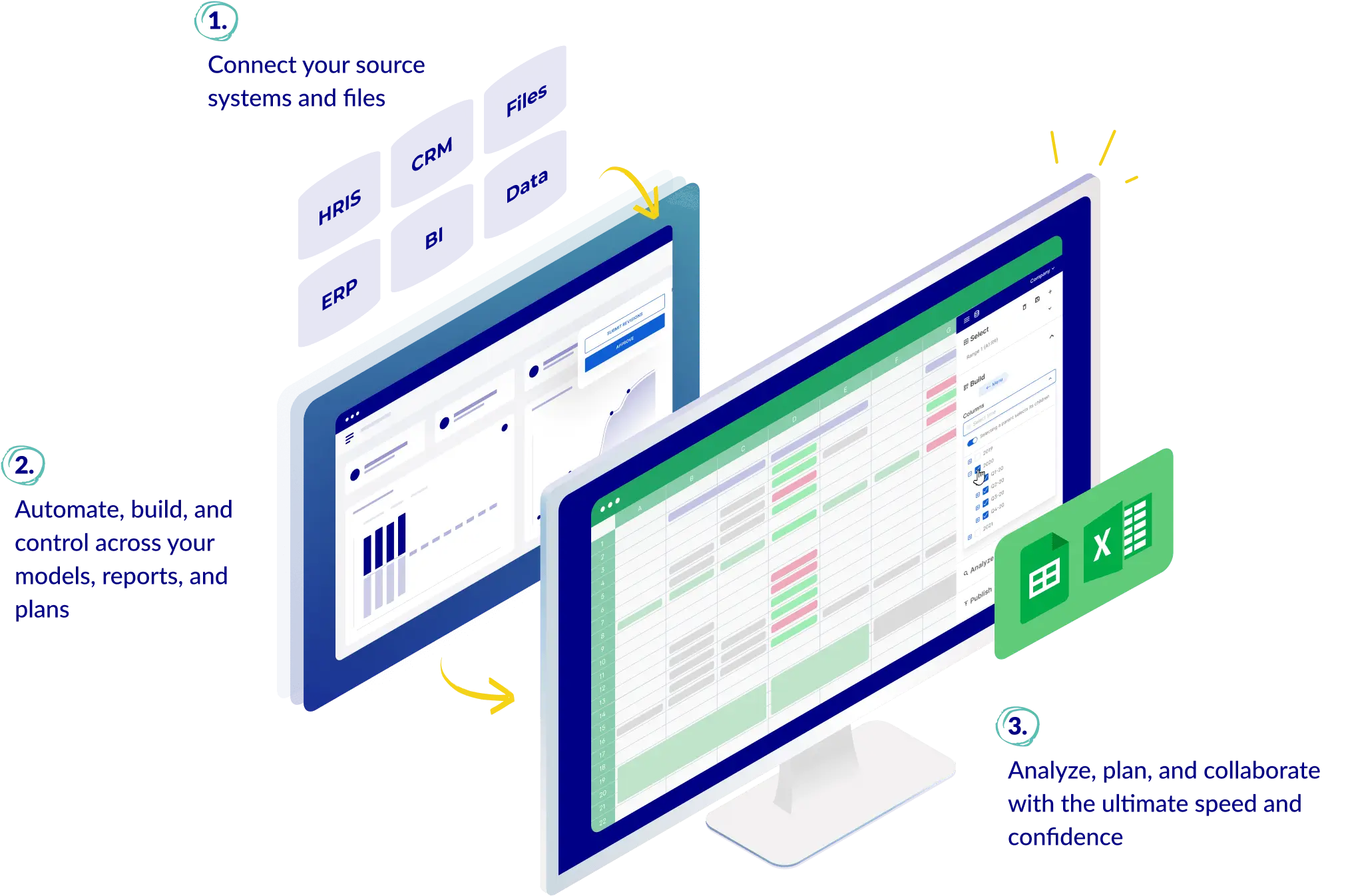 Features & Benefits:
Cube users report that their most significant benefits are saving time, peace of mind, and staying ahead of and preparing for more scenarios than ever before.
Automated data consolidation: Data from multiple systems can be centralized into a single repository, allowing for easier collaboration.
Shareable planning templates: Create new reports without starting from scratch, reducing time spent on reinventing the wheel.
Customizable dashboards and reports: Dashboards and reports can be customized to display different data types from various data sources, enabling easy presentation and understanding by teams and shareholders.
Scenario planning and analysis: Forecast the financial impact of business decisions on revenues and expenses without committing any resources first.
Bidirectional Excel and Google Sheets integration: Information can easily be imported and exported from and to Excel and Google.
Integrates with everything: Including popular ERPs (like NetSuite, Quickbooks online, and Sage Intacct) and HRIS systems.
Pricing
We pride ourselves on our transparent pricing and our competitive starting price. Teams of all sizes have used Cube to scale their companies.
$1,250+/month for lean finance teams
$2,450+ /month for companies looking to scale
If you would prefer more flexible plans, check out our pricing structure.
2. IBM Planning Analytics

IBM Planning Analytics is a business self-service analytics solution and a customizable modeling platform for finance teams. It provides automatic data insights from a custom planning workspace to improve decision-making. The platform also includes an interface for collaboration and an automated discovery feature for data analysis.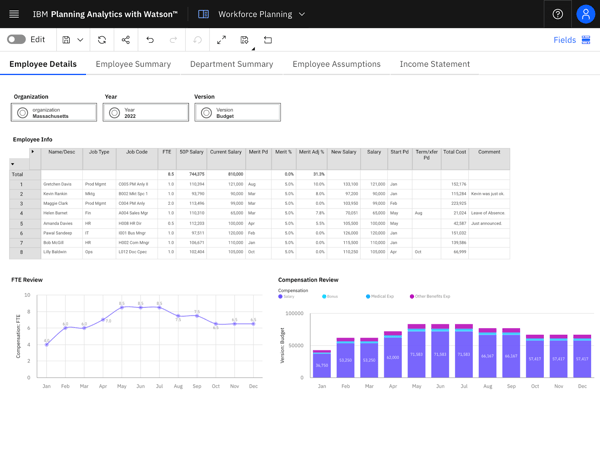 Features & Benefits:
Templates: Create plans, budgets, and forecasts.
Scenario Analysis: Perform what-if scenario analysis to test assumptions.
Modeling: Build multidimensional models to analyze profitability.
Dashboards: Communicate insights with visualizations.
Collaboration: Collaborate and integrate plans across departments.
Pricing:
IBM Planning Analytics offers customizable pricing plans according to the number of users and the type of license they need. The prices below do not include tax:
Explorer: $70*/user/month
User: $150*/user/month
Modeler: $225*/user/month
3. SAP Analytics Cloud

SAP Analytics Cloud is a business intelligence solution. It provides users with business planning, predictive analytics, digital boardroom, and reporting capabilities.
SAP Analytics Cloud allows the integration of Microsoft SQL and Salesforce into a single system. It also offers data analytics functions that include ad hoc reports, planning and forecasting, and KPI monitoring.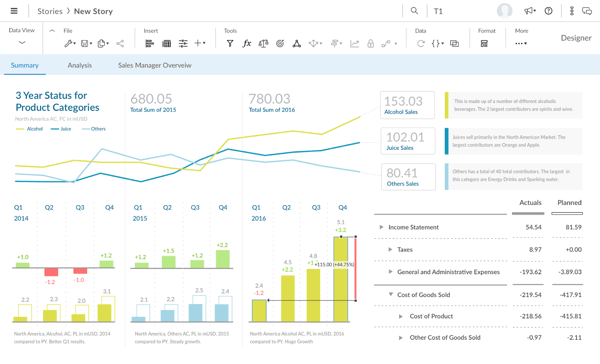 Features & Benefits:
Big data: Searches global data sets to find and discover data.
Data governance: Connects to enterprise data governance software.
Planning: Uses data from budgeting and forecasting to help businesses plan and make decisions.
Workflow support: Users can share data and reports within and outside the tool and through other platforms.
Pricing:
SAP Analytics Cloud offers two levels of pricing and a 30-day free trial.
Business: $36 per user/month
Enterprise: Contact SAP Analytics Cloud for custom pricing
4. Phocas Software

Phocas Software is BI and financial reporting software designed for non-technical users. Its platform provides data discovery, analytical capabilities, ad-hoc data interrogation, data consolidation, and modeling features.
Phocas integrates with other ERP or CRM programs and can be customized to users' needs. The platform features integrated transactional and geospatial data, which works with OpenStreetMap or Google API.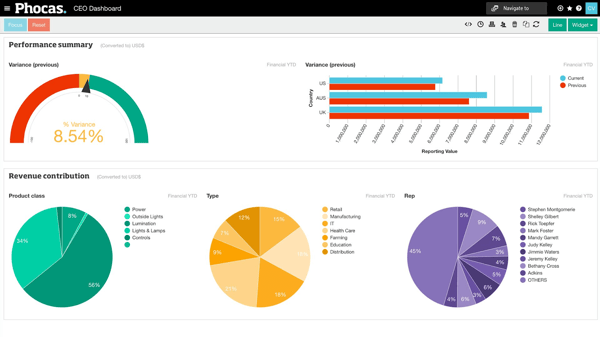 Features & Benefits:
Strategic planning: Visualize outcomes, define goals, and outline steps towards achieving them.
Reporting: Ranges from high-level overviews to granular P&Ls.
Dashboards: Provides charts and graphs for users to track metrics and KPIs.
Pricing: Phocas Software keeps its pricing info private, but sources say the platform is more expensive than the industry average.
5. Workday Adaptive Planning

Workday Adaptive Planning is a cloud-based software solution that offers modeling, analytics, and planning capabilities. It's geared toward large enterprises, midsize to large companies, and divisions of large enterprises.
Their solutions help larger companies struggling with manual financial processes, data inaccessibility, data inaccuracy, limited scalability, weak data visualization, inefficient collaboration, disconnected spreadsheets, and more. Adaptive Planning is also suited for companies who already use other Workday solutions.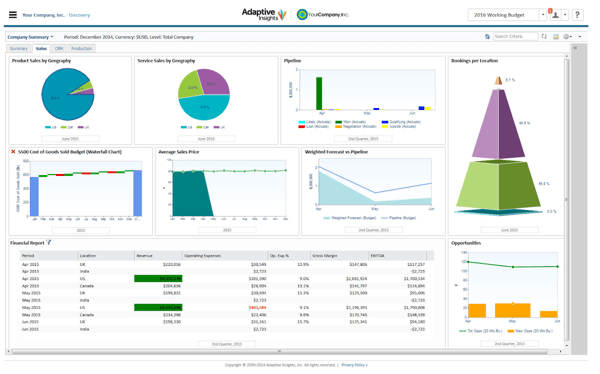 Features & Benefits
Forecasting: Creates a recurrent planning process that can be calculated according to a customizable timeline.
Idea management: Capture and organize ideas and evaluate them based on business impact.
KPI monitoring: Helps users assess their progress on set objectives.
Roadmapping: Enables users to develop and communicate strategy.
Pricing
Workday Adaptive Planning provides pricing information on its website, but various sources estimate that pricing starts at $15,000, depending on the organization's size.
6. Vena Solutions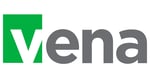 Vena Solutions centralizes budgeting and workflows while leveraging the format of Excel. The solution helps companies collaborate on their budgets and financial managers gain an overview of the organization's financial operations.
Vena enables annual budgeting and ongoing business performance analysis on a monthly, quarterly, or yearly basis. It also provides reporting opportunities for variance analysis.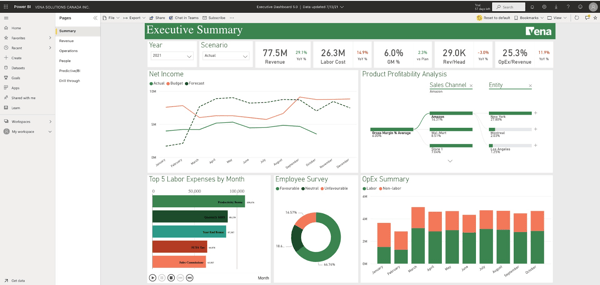 Features & Benefits:
Collaboration: Allows every department to import data into a single location.
Budgeting, forecasting, and reporting: Businesses can build models and make projections using historical data.
KPI tracking and benchmarking: Track and report KPIs and benchmarks.
Integrations: Integrates with other business apps.
Consolidation/roll-up: Consolidate numbers from multiple sources.
Pricing:
Vena keeps its pricing data private, but sources say the product is more expensive than the industry average.
7. Anaplan

Anaplan is a suite of web-based planning and forecasting enterprise applications. It is designed to help organizations make decisions by giving them real-time access to data. The application offers the ability to create and manage models, share data across teams, and collaborate on projects.
Anaplan works to help businesses make decisions by evaluating options and trade-offs in the current environment in real time. Anaplan also offers signal analysis to uncover insights and adapt to changing conditions and markets.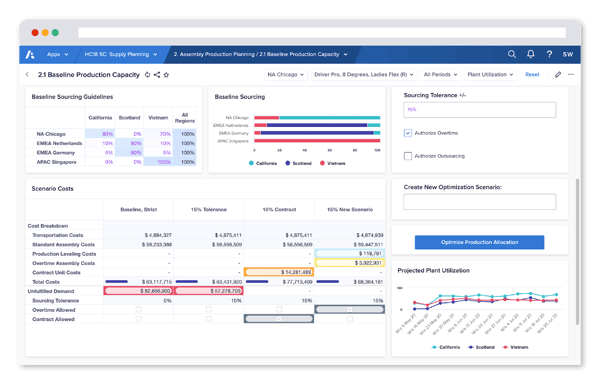 Features & Benefits:
Internationalization: Conducts transactions in multiple languages and currencies.
Compensation plan modeling: Defines the system's compensation packages and allowance plans.
Integration: Integrates with other CRM and financial systems.
Automation: Automates quality assurance and inspection processes for business products.
Pricing:
Anaplan offers three tiers of pricing plans:
Basic
Professional
Enterprise
Anaplan does not share its pricing information publicly. But various sources put pricing estimates between $30,000–$50,000 or higher depending on the scope and scale of the project.
8. Planful

Planful is a cloud-based financial modeling tool that provides data for agile planning and decision-making. Planful streamlines financial organization processes including budgeting, consolidating, and analytics. It provides real-time performance analysis, reporting automation, workflow automation, and more.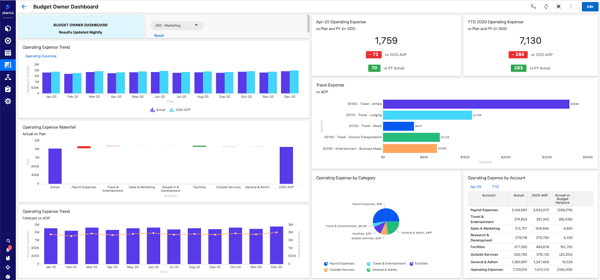 Features & Benefits:
Budgeting, forecasting, and planning: Users can plan and allocate budgets for the long term.
Collaboration: Facilitates enterprise-wide collaboration between departments.
Integrations: Acts as a single main hub for all the software used within the organization.
Scenario planning: Allows businesses to explore a range of possible outcomes based on different external and internal scenarios they may face
Pricing:
Planful doesn't share its pricing information publicly. However, sources say Planful is one of the most expensive in the market.
Also read: Anaplan vs Adaptive vs Planful vs Vena vs Datarails vs Cube
9. OnPlan

OnPlan is an FP&A solution with planning, budgeting, and forecasting capabilities. It provides financial forecasts, template management, scenario planning, performance tracking, and budgeting, all in the name of better decision-making. OnPlan helps administrators create models for sales marketing and staffing processes via predefined dashboards and templates.
The app includes a roles and permissions management module to give employees different access levels for collaboration purposes.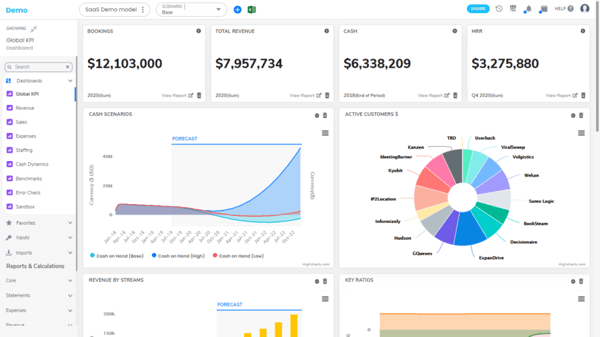 Features & Benefits:
Financial budgeting, forecasting, and analytics: Customers can share forecasts to Excel, use what-if scenario planning, and conduct variance analysis.
Integrations: Aggregates data from multiple sources within the organization and integrates them.
Team collaboration: Data views feature that helps teams to share data.
Pricing:
OnPlan provides three pricing tiers:
Essentials Plan: Starts at $12,500 per year for 2 users
Growth Plan: Includes 5 users and one additional custom integration
Enterprise Plan: Includes 10 users and three additional custom integrations
The Growth and Enterprise Plans come with custom pricing.
10. Board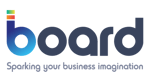 Board is a business insight software solution with predictive analytics capabilities that leverage machine learning algorithms to give users forecasts. It offers financial modeling tools and simulation capabilities, enabling companies to set objectives, track progress, analyze complex datasets and draw insights.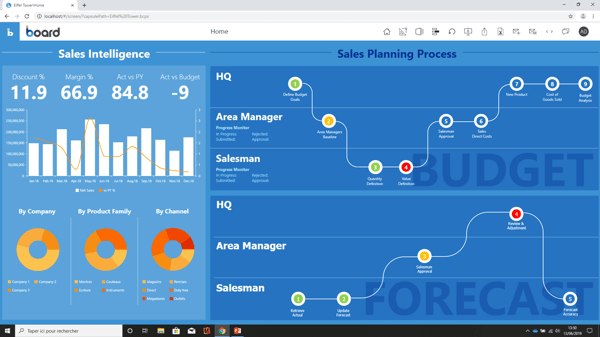 Features & Benefits:
Reporting templates: Provides pre-built reporting templates to organize data for payroll, manufacturing, and other company factions.
Audit trails: Creates workflows to assign tasks for audits and inspections, and monitor work in progress, timelines, and approvals.
Extended planning: Provides analysis for business plans outside of finance, including sales, marketing, and HR.
Data Mining: The platform mines data from databases and prepares them for analysis.
Pricing:
Board does not list its pricing information on its website because it depends on the size of the business, the number of user licenses, and custom needs. But, sources report that Board is less expensive than the industry average.
11. Centage Planning Maestro

Centage Planning Maestro is cloud-based financial intelligence, planning, and analytics software.
Planning Maestro offers various features including cash management tools, ad hoc reporting, KPI tracking, what-if scenario analysis, and data visualization capabilities.
Budget Maestro is their budgeting tool that provides basic planning capabilities to help businesses understand their spending habits and plan better for future investments.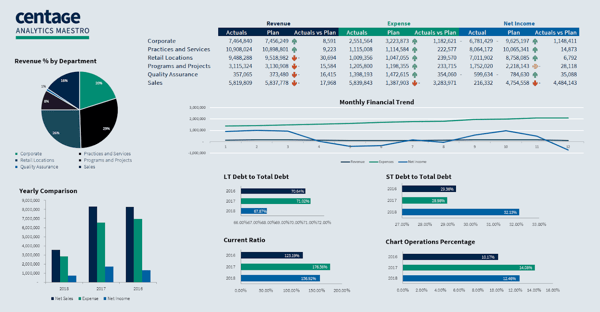 Features & Benefits:
Cloud-based: Cloud-native technology optimized for performance and scalability.
Modeling: Pre-built modules for revenue planning, headcount modeling, and other tasks, with no proprietary scripts, formulas, links, or logic to maintain.
Automation: Automatic consolidation of multiple units, locations, and products.
Self-service: Full functionality with little to no IT involvement.
Pricing:
Centage Planning Maestro offers three plans but does not include pricing. Plans include:
Standard
Professional
Enterprise
Sources report that plans start at $10,000/year.
Conclusion: Choose the best Mosaic Tech alternative
The right FP&A software is crucial for businesses to manage their finances and make informed decisions. And while Mosaic is a popular option, it's best suited to small, SaaS businesses.
Cube is the best fit if you're a mid-sized or enterprise company, SMB, or startup focused on hyper-growth.
Cube simplifies many of the headaches of the often challenging FP&A process—like collecting actuals from other departments or checking and verifying that your numbers are correct—and lets teams turn their complicated budgeting process into a lean operation.
If you're in the FP&A market and you're looking for something that:
Scales easily,
Integrates with everything,
Is super simple to implement,
Is powerful enough to simplify your workflows but simple enough for anybody to learn,
Works for companies of all sizes, and
Has excellent NPS and low customer churn
then it's time to try Cube.