Strategic planning is a critical component of any successful organization. It drives decision-making, helps maximize profit, and provides the basis for long-term financial health.
But, strategic planning takes time. In fact, almost 70% of CFOs say they spend significant time on data analysis, FP&A, and scenario planning.
Fortunately, modern strategic planning solutions help organizations efficiently create and implement a strategic plan or business strategy for financial success.
Today we'll look at the benefits of using strategic planning software and the best platforms on the market.
Let's begin!
Key takeaways:
Strategic planning software helps organizations identify, plan, and manage resources to reach long-term and short-term financial goals.
The best strategic planning solutions should include data visualization tools, resource management support, and collaboration and integration capabilities.
Strategic planning software enables effective team communication and a better understanding of company-wide objectives and expectations.
Contents
What is strategic planning software?
Strategic planning software is a business management tool that helps organizations analyze their financial situation, develop actionable plans, and track progress.
It helps reach the goal of strategic management: to ensure an excellent ROI for the business and its stakeholders in the future.
The finance sector uses strategic planning software to:
Gain insight into financial markets
Develop and execute successful strategies
Analyze historical market trends and use predictive analytics to forecast future movements.
Strategic planning software helps teams determine how much risk to take for certain investments and how to manage portfolios for the best return. By leveraging this technology, finance professionals can optimize their portfolios for long-term growth and maximize shareholder value.
Of course, strategic planning solutions should also help you improve your strategic planning process.
Key features of strategic planning software
Strategic planning software offers a range of features designed to bring greater efficiency and effectiveness to financial planning and corporate management.
1. Project management
Strategic planning software can help organize, manage, and track team activities around specific projects. It facilitates team collaboration by providing a centralized communication and task assignment hub.
For example, project milestone tracking can help ensure tasks are completed on time, and that the project is running according to schedule. Other features like Gantt charts help users visualize project lifecycles and timelines.
2. Data tracking, analysis, and reporting
Strategic planning software offers a range of features that enable businesses to track their progress, uncover valuable insights, and communicate their results to stakeholders.
Data tracking allows users to follow the progress of their goals and objectives, identify trends in performance, and access relevant data.
Analytical capabilities enable users to quickly and automatically compare metrics across different periods or areas of the business.
Reporting capabilities provide comprehensive yet concise documentation that presents key performance indicators in an easy-to-read format.
3. Strategy development
Strategy development is a crucial aspect of running a successful business. It involves creating and implementing plans to achieve specific goals and objectives. A good strategic planning solution should:
Provide users with the tools they need to develop actionable strategies tailored to their needs. This may include setting objectives and milestones, creating an actionable timeline, assigning tasks to team members, and creating a budget.
Allow users to monitor progress and adjust their strategies as needed.
Provides users with scenario analysis, sensitivity analysis, and other analytic templates that enable businesses to evaluate different scenarios and identify potential risks and opportunities.
Some strategic planning software programs offer predictive analytics capabilities that help businesses understand how external factors may influence their strategies. Businesses can forecast, budget, and plan accordingly using industry trends, economic indicators, and customer sentiment surveys.
Benefits of using strategic planning software
The advantages of using strategic planning software include the following:
Strong collaboration
Strategic planning software provides users with a single source of truth, supporting quicker decision-making and easier collaboration.
Accessible, updated documentation makes it easier for teams to identify potential risks, troubleshoot issues, and determine solutions.
Improved decision making
Strategic planning is a disciplined effort that produces fundamental decisions and actions that shape and guide an organization.
FP&A analysts can use the software for predictive driver-based and multi-scenario planning to determine the company's current standing and potential future.
Once executives determine their financial objectives and outline how the company will meet those goals, the software makes it simple to track your progress and make decisions about any necessary changes.
Better visibility
Advanced analytics and reporting capabilities give users a holistic view of company performance. This means that people from any department or level within the organization can look at key metrics and assess what actions need to be taken to move toward the set goal.
The software presents this information in easy-to-read tables and graphs, making it easier to understand. With access to this information in real-time, businesses can quickly adjust their strategies to meet changing market conditions or customer demands.
Not only does this help business owners to make better decisions, but it also helps to reduce the risk of planning errors and inefficiencies.
Better strategic execution
An improved strategic planning process makes it easier to keep business leaders happy, measure progress, and keep the team focused on business goals.
Continuous planning also becomes more straightforward, as strategic planning software makes planning processes simpler and easier to follow. So the cost of creating and refining strategic plans goes down.
Likewise, you'll have more performance data to inform your strategic initiatives, such as using performance data to inform your strategy execution or improve your project portfolio management.
The top 11 strategic planning software
Some of the best software used for strategic planning in the finance sector include:
1. Cube

Cube is a purpose-built FP&A software that helps financial experts work exactly where they want: within their current spreadsheets.
Thanks to Cube's advanced reporting features and effortless collaboration capabilities, finance teams can quickly plan, analyze, and collaborate with the ultimate speed and confidence.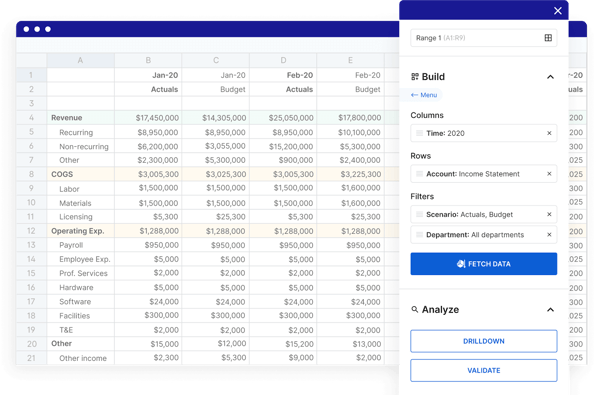 Users get all of the benefits of a robust FP&A tool (like scenario analysis, data consolidation, multi-currency support, dynamic user controls, robust source system integrations, and custom reporting) within Excel and Google sheets.
Cube eliminates tedious FP&A tasks so finance teams can deploy their efforts toward higher-level objectives.
Features & Benefits:
Customizable dashboards: Get creative and present data in ways that work best for you. You can also share these dashboards with others to keep everyone informed on critical developments in the business.

Endless integrations: Easily integrate a range of applications, including Google & Excel spreadsheets, and platforms in finance & accounting, human resources (HR), applicant tracking system (ATS), billing & operations, sales & marketing, and business intelligence tools.

Native Excel and Google Sheets integration: Make collaboration easy with a bi-directionally compatible system with any spreadsheet. This allows for secure file sharing without restrictions or compatibility issues.

Multi-currency support: Evaluate financials in both local and reporting currency formats. Teams have access to updated information regardless of location.
User-based controls: With user controls, validations, and an audit trail, organizations can be confident that the right data will be sent to the appropriate people at the optimal times. Users can feel safe knowing that their data is secure and accurate by having a comprehensive system of checks and balances.
This combines into a powerful application that helps businesses save time and resources when consolidating data, creating visualizations, and conducting all FP&A tasks.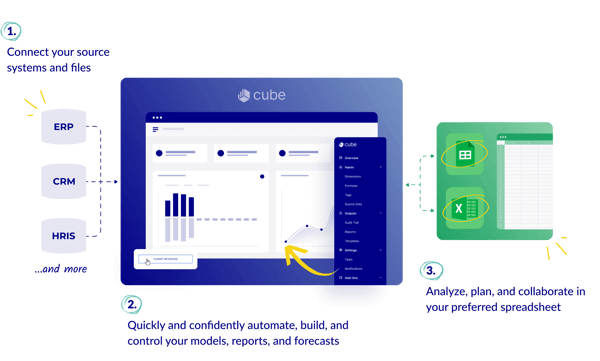 Cube Pricing
Essentials: Starting at $1,250 per month.

Best for lean finance teams to improve speed, accuracy, and scalability.

Premium

: Starting at $2,450 per month. Best for companies looking to scale reporting, planning, and performance.

Enterprise

: Starting at $3,750 per month. Best for pre-IPO/public companies to achieve best-in-class performance.
With Cube, you have the tools to get the job done quickly and accurately.
2. Anaplan

Anaplan is a cloud-based strategic planning software that helps businesses plan and model their operations.
The platform provides various tools and features to support these functions, enabling users to create, manage, and share their plans and forecasts.
Anaplan's proprietary hyperblock technology enables businesses to build what-if scenarios.
It also provides an application platform that enables organizations to build and customize their planning applications.
The App Hub features pre-constructed apps for sales, operations, finance, human resources, and others and a custom app module.
Features & Benefits
Data synchronization
Predictive analytics
Interactive dashboards
Inter-platform integrations
Anaplan Pricing
According to various sources, plans range from $30,000–$50,000 or higher depending on the scope and scale of the project.
3. Workday Adaptive Planning

Workday Adaptive Planning is a strategic planning software that provides modeling, analytics, and cloud applications for businesses and organizations of all sizes.
Workday Adaptive Planning is designed to be similar to Excel, and the core function includes budgeting, forecasting, reporting, dashboards, and financial modeling.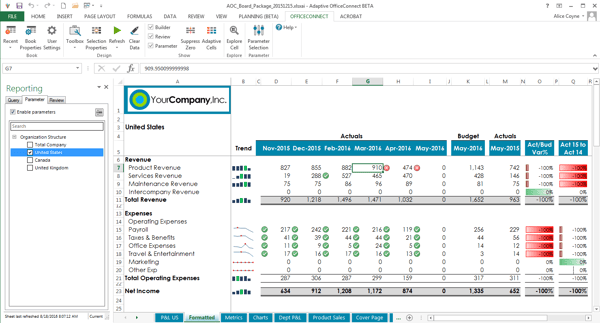 Workday Adaptive Planning comes with a network of global value-added resellers (VARs) that offer training and support services for each transaction.
Features & Benefits
Budgeting
Forecasting data analysis
Collaboration
Real-time updates
Workday Adaptive Planning Pricing
Workday Adaptive Planning does not provide pricing information on its website, but various sources estimate that pricing starts at $15,000 depending on the organization's size.
Read our comparison of Anaplan vs Adaptive vs Planful vs Vena vs Datarails vs Cube.
4. NetSuite

NetSuite is an integrated cloud-based business management software that offers various features spanning ERP, financials, commerce, inventory management, HR, PSA, supply chain management, and CRM.
NetSuite provides businesses with automation and real-time operational and financial performance analysis.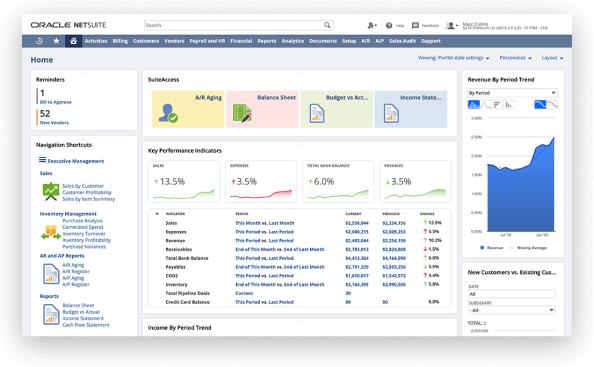 NetSuite's strategic planning module helps businesses create models of long-term strategies that include financial assumptions, cash flow analysis, and resource allocations.
The software allows users to set up scenarios for testing different strategies before executing them. It enables companies to benchmark performance and compares results against competitors.
Features & Benefits
Workflow capability
Data import and export tools
Financial statements
Audit trail
AP automation
NetSuite Pricing
NetSuite does not provide pricing information on its website. However, customer reviews estimate that a NetSuite license includes a $999/month licensing fee and an additional $99/month for each user.
Read our NetSuite vs Quickbooks comparison.
5. Jedox
Jedox is a planning and performance management platform for finance, sales, and operations. Jedox uses artificial intelligence to offer integrated business planning.

Jedox enables users to create financial models, budgeting solutions, and forecasting models. It was designed to help organizations assess performance and make decisions on how to optimize operations.
Features & Benefits
Forecasting
Real-time data updates
Data visualization
Budget hierarchies
Jedox Pricing
Jedox does not provide pricing information on its website, but sources estimate that plans start at $160/month.
6. Planview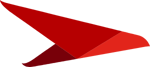 Planview is a broad strategic planning platform that assists PMO leaders, resource managers, and executive stakeholders in monitoring hybrid or strategic portfolios, resources, and project costs.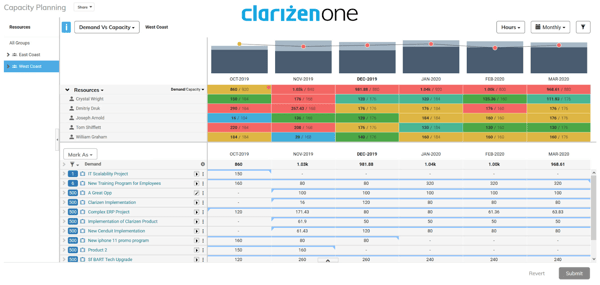 Planview helps managers identify necessary resources and assign personnel according to their particular skills.
Stakeholders can also generate reports, anticipate delays in execution, evaluate budgeting figures, design fresh products, and create objectives for improving project delivery processes.
Features & Benefits
Task prioritization
Project mapping, budgeting, and monitoring
Resource management
Identify sales opportunities and create marketing campaigns
Collaboration channels
Planview Pricing
Planview does not provide pricing information on its website, but sources estimate that the basic cost of a license ranges between $24-$60 per user/month
7. Board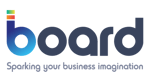 Board is a strategic planning software with predictive analytics, comprehensive financial modeling, and advanced simulation capabilities.
The platform provides users with an intuitive user interface and workflow, enabling them to define goals, set objectives, analyze data, track progress, and make necessary changes.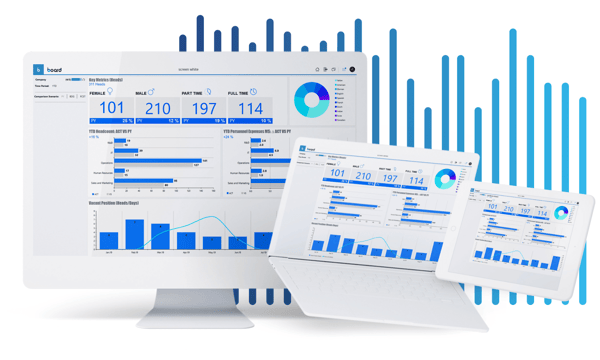 Board uses advanced machine learning algorithms to help companies forecast future outcomes based on past performance and current trends.
Features & Benefits
Data column filtering, discovery, and visualization
Auto-modeling
Predictive analysis
Report generation
Simple dashboards
Board Pricing
The Board pricing structure is not listed because it's based on the size of the business, the number of user licenses, and whether any customization is needed.
However, sources report that Board is less expensive than the industry average.
8. OneStream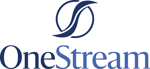 OneStream is a CPM 2.0 solution that offers financial consolidation, planning, reporting, analytics, and financial data quality services to medium and large-sized companies.
OneStream is used to streamline financial processes, replace outdated legacy applications, and decrease the overall cost of ownership for financial systems. It allows teams to spend less time dealing with data integration and system maintenance.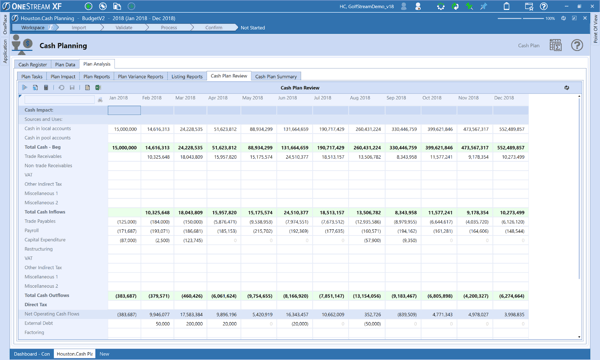 Features & Benefits
Data integration, data reporting, and transformation
BI dashboarding
Marketplace solutions like Task Scheduler and Security Audit
Budgeting, forecasting, and reconciliation
Long-term expansion capability
OneStream Pricing
OneStream does not provide pricing information on its website but sources estimate that its starting price is $150,000.
9. Cascade

Cascade is a cloud-based strategic planning software solution to help businesses develop long-term growth plans. It focuses on critical areas of the planning process, such as goal setting, budgeting, monitoring progress, and managing resources.
Cascade also includes features for collaboration, analytics, reporting, and visualizing data.
Cascade is designed to be used by team members of any level and can integrate with other corporate systems.
The software's analytic capabilities enable businesses to review past performance and adjust future action plans accordingly.
Features & Benefits
Strategy mapping and modeling
Multiple strategy frameworks
Defines and monitors objectives and key results
Monitor the progress of strategy-related activities
Departmental KPI reporting
Cascade Pricing
Free Team: Free Trial for $0 to get started
Premium: $29 Per Month
Enterprise: Request for quotation
10. ClearPoint Strategy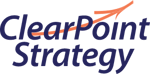 ClearPoint Strategy allows users to develop a comprehensive picture of their organization's current state and future goals to make informed decisions.
The platform enables users to create strategy maps, timelines, roadmaps, and other visuals. It also offers automated reports that provide insights into performance metrics.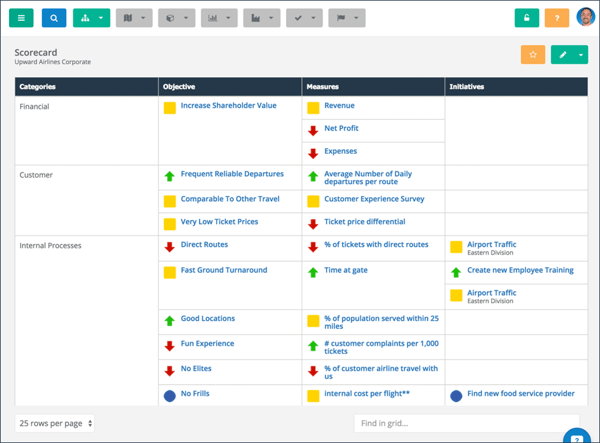 Features & Benefits
Multiple strategy frameworks
Departmental KPI reporting
Strategy mapping
Data visualization
Progress tracking
ClearPoint Strategy Pricing
Although ClearPoint doesn't list its prices on its website, sources estimate plans range from $250-$800 per month.
11. Sage Intacct

Sage Intacct is a cloud-based financial management and accounting software for small to midsize organizations. It helps businesses automate critical financial processes and gain insights into their operational performance.
It's tailored to accommodate the needs of each accountancy firm and comes with a comprehensive suite of functionality that will streamline core financials.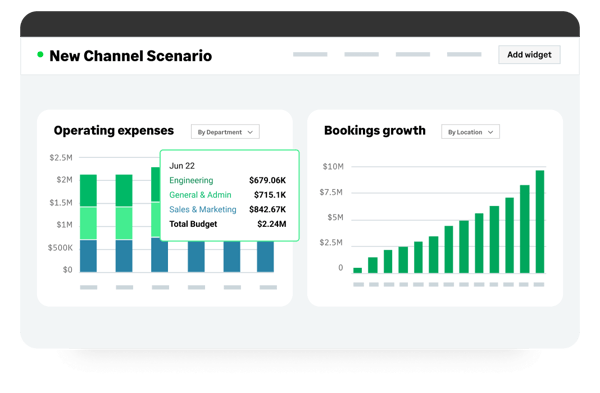 Sage Intacct provides core accounting applications like the general ledger, accounts payable and receivable, cash management, and order management.
It supports functionality for built-in dashboards, real-time reporting, time and expense management, project accounting, revenue management, and global consolidations for multiple entities.
Features & Benefits
Audit trail
Invoice customization
AP automation
Performance and reliability
Sage Intacct Pricing
Sage Intacct did not provide pricing information on their website, but sources estimate that their prices range between $15,000-$60,000, depending on your needs as an individual or as an organization.
Conclusion: Choose the Best Strategic Planning Software
If you're looking for strategic planning software that's quick to implement, easy to use, and highly effective, Cube is the perfect solution.
Cube is an all-in-one FP&A software that makes it easy to plan and execute your projects on time with advanced analytics and reporting capabilities.
The Cube platform simplifies reporting and KPIs, improves forecasting and budgeting accuracy, speeds up close and consolidation cycles, and enables collaborative teamwork for better control and fewer mistakes.
Book a demo today to take your strategic planning to the next level.