What's Inside
This statement of cash flows template has four simple components:
Cash Flow (indirect)
Detailed cash flow (direct)
P&L (supporting info)
Balance sheet (supporting info)
Easily input your P&L and your balance sheet into this template. (You can do this in one click if you're a Cube user, FYI.) From there, you can easily calculate and report on your cash flow on a by-month basis.
This template uses both the direct and indirect methods of cash flow.
Complement this template with our other pro forma templates.
Use with Cube
This is an Excel template. You don't need to be a Cube customer to use it!
But if you are a Cube user, you can start using this template in under two minutes. Here's how.
Step 1: Open the template in Excel or Sheets.
Step 2: Customize the row and column headers to match your Cube's dimensions and filters.
Step 3: Select the range where you want to fetch your data.
Step 4: Fetch your data.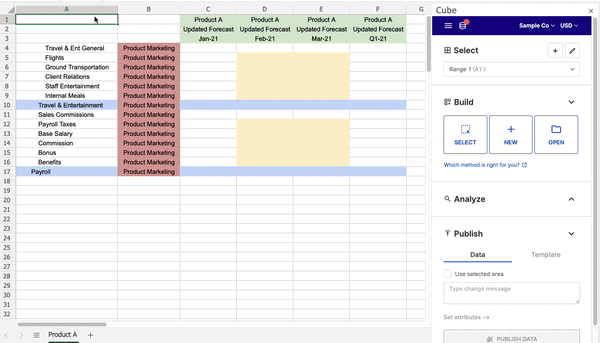 All about Statement of Cash Flows
The statement of cash flows describes all the cash activities that go in and out of an organization. It also includes cash received from usual operations and investments.
There are two major methods for calculating cash flow, although both give you the same end result.
The direct method determines changes in cash receipts and payments from operations. In other words, it only reflects what's actually happened. The indirect method takes into account net income and net expenditures in a given period. This means you have to credit and debit your asset and liability accounts respectively to determine the implied cash flow, even if cash has not changed hands yet.