Any modern business needs finance software.
Whether that's for tracking historical data, reporting and compliance, or budgeting for and predicting the future.
But with all the finance software out there right now, you're swimming in options. How do you pick the best one?
That's why we wrote this guide.
Keep reading.
Contents
What software is used in the finance industry?
There are a variety of software programs that are used in the finance industry. Financial analysts and investors often use specialized software to help them make budgets and reports, develop financial forecasting, and for other financial planning and analysis (FP&A).
This software can be used to track spending, budget more effectively, and even make investment decisions. They can be:
Budgeting applications
Financial statement and report programs
Accounting
Payroll
Tax management
Payments and invoicing
Expense tracking
Inventory management
Or…a lot of those in one. Finance software these days is multifaceted, so it's important to look at each solution and see where its strengths lie.
Types of Finance Software
Let's get a little more in-depth into the various types of financial software.
Budgeting Software: This type of software helps you track your spending and create a budget that you can stick to. You can use budgeting software to set financial goals and track your progress over time.
Financial Planning Software: This type of software helps you plan for your financial future. It can be used to track your investments, set goals, and develop a plan to reach those goals.
Investment Software: This type of software can be used to track your investments, monitor the stock market, and make investment decisions.
Tax Software: This type of software can help you prepare your taxes, find deductions, and file your return electronically.
Accounting Software: This software helps you keep track of your income and expenses, prepare financial statements, and manage your accounts receivable and payable.
Accounting software vs. finance software
Accounting software assists accountants and bookkeepers as they record and report on a firm's financial transactions.
Finance software focuses helps FP&A and the Office of the CFO manage the business's assets and liabilities while also planning for future growth.
Often, finance software can encompass accounting software.
Personal finance software vs. business finance software
Free personal finance software is for individuals to manage their personal finances. You can use this software to track your spending and budget more effectively and make investment decisions.
Business finance software is used by businesses to manage their finances. You can use this software to track income and expenses, prepare financial statements, and manage accounts receivable and payable.
Personal finance software typically includes features like budgeting and investment tracking, while business finance software includes additional features like invoicing and inventory management.
Budgeting software vs. finance software
The difference between budgeting software and finance software is that finance software covers a broader range of features than budgeting software. Budgeting software is focused on helping users track their spending and create a budget, while finance software includes features like invoicing, expense tracking, and reporting.
While some finance software is free, most of the best finance software comes with a monthly or annual subscription fee.
Best Finance Software for Businesses
We know you're going to do the research, so we did it for you. We've covered all the best finance software on the market today, and yes, we've started with Cube. Hundreds of world-class FP&A teams at companies of all sizes use Cube to quickly and confidently analyze, plan, and collaborate in the spreadsheet (where they prefer to work anyway).
(And you don't take our word for it; check out all our 5-star reviews to see why Cube is the best personal finance software for your business.)
1. Cube
Cube is the first spreadsheet-native FP&A platform that enables you to plan for the unexpected and stay ahead of changes. Our cloud-based FP&A software platform helps finance teams work anywhere—we integrate natively with both Excel and Google Sheets—so that they can plan, analyze, and collaborate with the ultimate speed and confidence.
But many companies (like Masterworks and SmugMug) use Cube for nearly all of their company's financial operations.
Cube offers faster time to value (most companies are finished onboarding within two weeks) and is competitively priced.
You don't have to just take our word for it though: check out all of our 5-star reviews on Capterra.
Convinced? Book your demo with us today. Need to see what's still out there? Scroll away.
For: Cube works for companies of all sizes, but is especially built to help growth companies and enterprise-level organizations.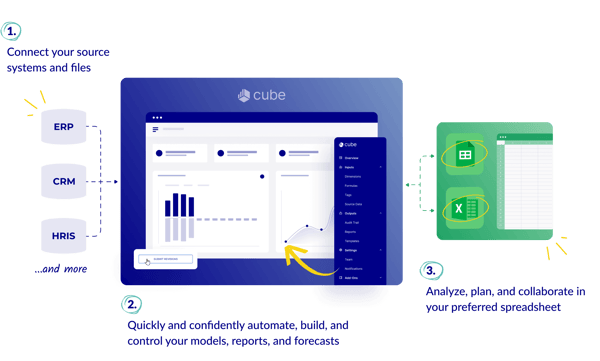 Features:
Automated data consolidation: Connect data from numerous sources for automated rollups and drilldowns.
Multi-scenario analysis: Allows you to model how changes to key assumptions affect overall outputs seamlessly.

Endless integrations

:

Integrations

for spreadsheets (Google and Excel), accounting & finance, HR, ATS, billing & operations, sales & marketing, and business intelligence.
Customizable dashboards: Gives you full ability to build and share customizable dashboards.
Native Excel and Google Sheets integration: Compatible and bi-directional with any spreadsheet
Multi-currency support: Evaluate your financials in both your local and reporting currencies.
User-based controls: User controls, validations, and an audit trail ensure that the right data goes to the right people at the right time.
Centralized formulas and KPIs: Store all your calculations in a central location and manage from a single source of truth.
Drilldown and audit trail: Get straight to the transactions and history behind a single cell of data in just one click.
➡️ See all of our features here.
Pros:
Powerful reporting and KPIs help automate and analyze important data.
Streamline manual data, reduce errors, and improve collaboration so you can make smarter business decisions in a fraction of the time.
You can easily collaborate with industry-leading FP&A experts and an award-winning support team.
Integrations with dozens of applications
Cons:
Cube works best for mid-sized businesses—it's not a personal finances app.
Cube doesn't sell to companies outside of the US and Canada at this time—we're working hard to change that!
Pricing:
Starting at $1,250/month for lean finance teams and $2,450/month for companies looking to scale.

See detailed pricing.
2. Anaplan
Anaplan is cloud-based financial modeling and planning software that helps businesses model transactions, commissions, and established relationships between different data sets. It connects your strategy to your outcomes and drives accountability to a single source of truth so all business units can maximize their contribution to overall results.
For:
Anaplan is best for large enterprises.
Key Features:
Predictive insights
Easy-to-use interface
Enterprise-wide intelligence
Pricing:
Pricing is not available on their website
3. Workday Adaptive Planning
Workday Adaptive Planning is finance software that offers businesses a more personalized and collaborative approach to budgeting, forecasting, and reporting. The software includes credit score monitoring, goal setting, and what-if analysis. It works with ERP/GL and other data sources to get 70% shorter planning cycle times, and 50% increased productivity.
For:
Workday Adaptive Planning is best for larger enterprises.
Key Features:
Data-driven decisions
Advanced analytics to create and test models
Flexible self-service
Pattern detection and graph processing
Pricing:
Pricing is not available on their website
4. Jirav
Jirav offers forecasting, reporting, and analysis tools that give you a clear picture of your financial health. It helps budget and forecast with a driver-based financial model that consolidates accounting, workforce, and operational data.
Users can share plans, reports, and dashboards with select editors and an unlimited number of read-only users to streamline collaboration and feedback.
For:
Jirav is designed for accounting firms and VC-funded companies.
Key Features:
Automated report packages
Quickbooks, ADP, and other integrations
Pricing:
Starter: $500/month
Pro: $1000/month
Enterprise: Custom pricing
5. Vena Solutions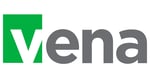 Vena is cloud-based financial planning and analysis solution to bring cross-functional teams into a scalable and flexible single source of truth. Users can control data access and drill down into the history of a spreadsheet, so you know who has been in your templates and where your numbers are coming from.
For:
Vena works for a range of business sizes.
Key Features:
Financial and business-wide reporting
Capital expense and revenue planning
Incentive compensation management
Pricing:
Pricing is not available on their website
6. Sage Intacct
Sage Intacct is cloud-based accounting software solution that allows users to budget, plan, and adapt to ever-changing conditions. The subscription service offers financial consolidation, revenue recognition, project accounting, and as well as employee management features like syncing employee data and running payroll.
For:
Sage Intacct is best for self-employed professionals and small businesses.
Key Features:
Interactive visual explorer
General ledger
Inventory management
Accounting collaboration support
Pricing:
Pricing is not available on their website
7. FreshBooks
FreshBooks is accounting software designed for business owners and accountants. It provides customized invoices for your products or services and automates other financial tasks.
For:
FreshBooks is suitable for freelancers, self-employed professionals, and other small businesses
Key Features:
Attractive double-entry accounting experience
Automated invoicing
Online payment options
Pricing:
Lite: $4.50/month
Plus: $7.50/month
Premium: $15/month
8. Planful
Planful is a cloud-based financial planning and analysis software that enables businesses to automate their budgeting, forecasting, and reporting processes. It provides users with real-time insights into their financial data, so they can deliver plans, reports, and insights.
For:
Planful is suitable for businesses of all sizes.
Key Features:
Multi-layer security
AI-driven anomaly protection
Annual operating plan
Pricing:
Pricing is not available on their website
9. Xero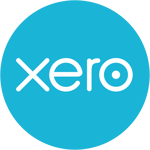 Xero is an accounting software option for everyday businesses that allows users to work smarter with intuitive invoicing software. It enables you to send online invoices from the desktop or app as soon as the job is done.
The software tracks your finances with accounting reports and allows you to collaborate with your advisor online in real-time. It can also track costs and profitability with its project and job tracker software.
For:
Xero is a good choice for small businesses, accountants, and bookkeepers.
Key Features:
Bank connections
Automatically captures data
Multi-currency accounting
Pricing:
Starter: $22/month
Standard: $35/month
Premium: $47/month
10. Zoho Books
Zoho Books is an online accounting software for managing your finances, automates business workflows, and helps you work collectively across departments. It lets you track your income and expenses, create invoices and estimates, and manage projects from negotiating deals to raising sales orders and invoicing.
Zoho Books enables role-based access so that you can add your colleagues can collaborate effectively. You can also share quotes with clients and start a discussion to speed up estimate approvals.
For:
Zoho Books is a great choice for businesses that need simple accounting software.
Key Features:
Accounting client portals
Collaboration tools
Integrated platform
Pricing:
Free
Standard: $15/month
Professional: $40/month
Premium: $60/month
11. Wave
Wave is a web-based software that provides small business owners with simple bookkeeping and payment solutions. It offers accounting, invoicing, receipt scanning, and personal finance features, such as the ability to track your spending and create a budget.
The software helps you manage income and expenses with payroll, payments, and invoicing with features like recurring billing and automatic payments.
For:
Small businesses and freelancers
Key Features:
Recurring billing
Invoice templates
Simple dashboards
Pricing:
12. QuickBooks

QuickBooks is an accounting software that small businesses and freelancers use to create reports, collaborate, and build better business insights. The software is easy to use and has features that help users manage their finances and transaction information. It enables you to track expenses and cash flow, customize invoices, and run reports and receipts in one place.
QuickBooks is accessible on any device such as your Mac, PC, tablet, or phone, as it stores your data is stored in the cloud
For:
QuickBooks is best for small businesses.
Key Features:
Free support
Secure cloud storage
Accountant access
Unlimited invoices
Integration with Cube
Pricing:
Simple Start: $5.10/month
Essentials $7.80/month
Plus $10.80/month
13. Budgyt
Budgyt is a business finance platform that allows users to track their income and expenses, create budgets, and manage their finances. It provides financial plans and results from rolling forecasts to adapt to dynamic business conditions.
Budgyt offers free collaborative budgeting for your team on a shared network and minimizes risks and errors by eliminating manual processes using its hyperlinking and dimensions features.
For:
Budgyt is used when businesses want an Excel alternative.
Key Features:
Integrates with platforms such as Lawson and SAP through a CSV import of your General Ledger
Historical data access
Dashboards where you can view your budgets like P&L by Cost Center, P&L by Period, and Budget Comparison
Integration with Cube
Pricing:
Easy plan: $479/mo
Plus plan: $838/mo
Pro plan: $1,198/mo
14. Oracle NetSuite
Oracle NetSuite is finance software for small businesses and personal finances. The software includes modules for accounting, inventory management, customer relationship management (CRM), investment portfolio, and e-commerce.
It automates planning and budgeting processes to create budgets, forecasts, and reports through a single, centralized platform.
For:
Oracle NetSuite is best for businesses that use NetSuite solutions.
Key Features:
Scenario planning and modeling
Data synchronization
Revenue and workforce planning
Microsoft Office and Cube integration
Pricing:
Pricing is not available on their website
15. Centage
Centage is a cloud-native planning & analytics platform that delivers sophisticated financial intelligence. The solution helps finance professionals to automate budgeting, forecasting, and reporting processes while providing the flexibility to quickly adapt to changing business conditions.
For:
Centage is best for businesses with industry-specific needs such as architecture, healthcare, or insurance.
Key Features:
Driver-based budgets
Synchronized financial statements
Integration with Cube
Board & QBR Ready presentations
Financial performance dashboards
Pricing:
Pricing is not available on their website
16. Sage 50 Cloud
Sage 50 Cloud is a finance software that offers a variety of features, including invoicing, tracking inventory, and managing expenses. It provides the reliability of desktop accounting software and the flexibility of the cloud to manage the incoming and outgoing cash flow.
Users can also manage payments or connect to your bank feeds to eliminate manual data entry and simplify payment acceptances with automatic reconciliation. The features help track purchase orders, debts, late payments, and expenses.
For:
Sage 50 Cloud is a good fit for small businesses.
Key Features:
Sage security shield
Invoicing system with cash flow screenshots
Inventory management system
Pricing:
Pro Accounting: $340/year
Premium Accounting: $554/year
Quantum Accounting: $919/year
Best Finance Software for Personal Finances
While the above list was the best finance software for business, here are some options if you also need support with personal finances!
1. TurboTax
TurboTax is a tax preparation software program with a simple, step-by-step interface that can guide you through your taxes even if you've never filed before. While TurboTax is mainly known for helping individuals file their taxes, it also offers a version of its software specifically for businesses.
This software can help you track business expenses, mileage, and other deductions to help you maximize your tax savings. Plenty of resources are available to help users navigate the platform, including live chat with a tax expert.
For:
TurboTax is suitable for small businesses and individuals who want an easy-to-use platform with plenty of resources to help them navigate the filing process.
Pricing:
Free edition for simple tax returns
Deluxe: $59
Premier: $89
Self-employed: $119
2. Mint
Mint is an online budgeting app that helps users save, track spending, detect fraud, and keep tabs on rising subscription costs. It connects to your bank account and automatically categorizes your transactions. You can create a budget and track your progress. Mint also offers financial advice and tips to stay focused on your financial goals.
For:
Mint is great for individuals who want an easy way to track spending, create a budget, and receive financial advice.
Pricing:
Free
Mint Premium: $4.99/month
3. Quicken
Quicken is a personal finance and management software program to help you manage your finances, create a custom comprehensive budget, track your investments and plan for retirement in one place.
The software enables you to track spending and make more informed money decisions by creating custom budgets you'll stick to. You can also review your investment portfolio, monitor performance, and see market comparisons to have more confidence in your buy/sell decisions.
For:
Quicken is suitable for individuals and families seeking a comprehensive personal finance solution to manage their money in one place.
Pricing:
Simplifi: $3.99/month
Quicken Starter: $3.49/month
Quicken Deluxe: $2.99/month
Quicken Premium: $4.99/month
Quicken Home & Business: $6.99/month
4. Moneydance
Moneydance is a personal finance software that can be used on Mac, Windows, and Linux. It is a money management tool that helps you stay on top of your finances. Moneydance has all the features you need to manage your money, such as budgeting, tracking investments, managing bills and expenses, and detailed graphs and reports.
For:
Moneydance is a great choice for those who would like personal budgeting support
Pricing:
Moneydance is free to try for 30 days. After that, it costs $49.99 for a single-user license or $53.74 for a family license (up to five users)
5. YNAB
YNAB, or You Need a Budget is designed to help you create a budget and stick to it. YNAB offers a "no-guilt" approach to budgeting, so you're not penalized for overspending in one category as long as you make up for it in another type.
The YNAB budgeting app has a simple four-rule method that will help you organize your finances, demolish your debt, save piles of cash, and reach your financial goals faster.
For:
YNAB is suitable for individuals and couples who want to handle their finances. It's also great for families with complex financial situations.
Pricing:
Monthly Plan $14.99/month
Annual Plan $98.99/month
Conclusion: What is the best software for finance?
Out of the above list, if you're looking for a finance software that supports budgeting, reporting, organization, planning, and analysis—all in one place—Cube is the best finance software option for your business.
Cube specifically provides automated data consolidation, sharable planning templates, customizable dashboards and reports, scenario planning and analysis, bidirectional Excel and Google Sheet integration, approval workflow, drill-throughs and audit trails, user-based controls, and centralized formulas and KPIs.
These FP&A software features translate to easier reporting and KPIs, more accurate forecasting and budgeting, faster close and consolidation cycles, and collaborative teamwork for more control and fewer mistakes.