There are so many FP&A tools out there it can be hard to know which to pick.
Once you've whittled your choices down to a short list, it's time to look at each solution more closely.
That's what you'll get in this quick review of Jirav.
Here is a full, complete, and balanced report of the features, capabilities, uses, and pricing for Jirav.
This 2022 report is based on available features and pricing data, user reviews, and marketplace information on this platform.
Want to know if Jirav is right for you? Keep reading.
Contents
What is Jirav?
Jirav is a cloud-based business planning software that promises to help financial planning and analysis (FP&A) teams create accurate forecasts, surface sales insights, report on financials, and model future business activities to drive growth.
If every FP&A tool has a philosophy—for example, here at Cube we champion spreadsheets—then Jirav's would be "drivers."
And Jirav favors this driver-based approach so much that they advocate abandoning spreadsheets altogether. They even say so in their Google ads:

So Jirav worth looking at if:
You're part of the 7% of FP&A professionals who want to say goodbye to spreadsheets
You prefer a driver-based approach to planning
You want a strict cloud-based solution
If you don't check all those boxes, then Jirav isn't for you.
Jirav review
Small and medium-sized businesses rely on their data to make the right decisions and grow. This cloud-based financial planning tool helps small businesses organize, model, and report their numbers.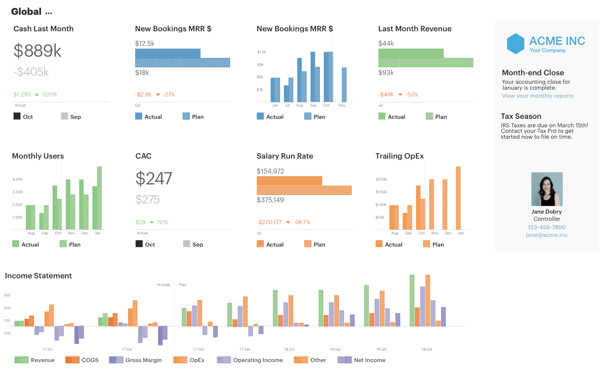 A Jirav dashboard. Image credit: Jirav
Moreover, Jirav gives users at all tiers access to accurate forecasts, templates, dashboards, and visualizations.
Jira helps users create financial models that depart from the painstaking, error-prone nature of FP&A. Since Jirav connects to your source systems, it minimizes a lot of the natural human error from copying and pasting numbers from the source system to the spreadsheet.
Overall, Jirav is a solid alternative for SMBs considering Datarails but thinking about their FP&A workflow differently.
Okay, but you might still be wondering...
How do you create a model with Jirav?
How to create a model with Jirav
Jirav breaks down models into assumptions, drivers, and sub-items.
Assumptions are global drivers for your business. They don't vary by month and you can't associate variables with them. In other words, they're static, global variables.
Drivers are formulaic expressions used to forecast values on an account.
Sub-items roll up into accounts.

A plan table in Jirav. Image credit: Jirav.
Jirav users employ this combination of variables and formulae to create their models.
Jirav key features
Some of the critical features Jirav users find attractive are:
Dashboard-based UI: The platform is built around an intuitive UI that offers templates and dashboards for layman users. Current integrations allow all data sources to feed into the system in the background, with software assisting financial analysis and reporting functions.
Templated and customized reporting: The system offers pre-formatted templates for the most common reporting functions. This information populates within the system for generating reports with only a few selections. You can even make custom reports.
Team collaboration: The cloud-based software allows teams to collaborate on financial planning across the organization. Bigger teams will need higher service tiers.
Short to long-term planning: Depending on product tier, the system helps businesses accurately plan future activities for the next year and beyond. In other words: if you want to plan for longer, you need to upgrade.
Workforce and Sales Planning: The system offers features for resource management like planning workforce capacity and sales forecasting using driver-based planning models.
Jirav pros
Jirav is a capable point of entry into better financial planning and reporting for customers at all stages of the growth journey.
Sharable dashboards: Jirav lets you easily share cloud-based dashboards, full of relevant metrics and KPIs, with anybody.

It's easy to share dashboards in Jirav. Image credit: Jirav.
Real-time budget tracking: Agility in budget tracking helps growing companies make their numbers and avoid issues. Several users commented on the system's accuracy and ease of budget tracking.
Granular visibility: With the system's integration capabilities, users can gain granular insight into the chart of accounts and General Ledger (GL) information.
Custom tables: For non-financial reporting (such as KPI tracking), the system offers integration and custom reporting to visualize and report this data efficiently.
Jirav cons
As a younger platform still actively developing, users reported some areas that should be prioritized for improvement.
Speed: Some users, particularly those with more significant financial modeling needs or a more extensive chart of accounts, found that processing speed becomes an issue.
Comparison structure: Currently, the system offers single comparisons only (for instance, between actuals and another single variable). Users would like the ability to see actuals against multiple other views such as forecast, budget, and PY on one report.
Integrations: Although Jirav does offer integrations such as direct integration with Quickbooks and other accounting software, some users have expressed a desire for more robust integrations with other systems. In particular, better integration with MS365 sheets matches the current integration capabilities with Google Sheets.
Price: While Jirav offers tiered pricing, some users felt that the base rate was expensive for smaller businesses just starting with FP&A software.
Onboarding and training costs: Whenever you hire new employees, you'll have to train them on the Jirav system. That adds extra overhead to your new employee onboarding process and minimizes the immediate impact new hires can make.
Jirav pricing
Jirav has public pricing on its website. Pricing as of this writing offers three tiers of services:
Starter
$500/ month flat rate
This tier works for companies wanting to plan and report performance through the following year. It offers features such as:
Short-range planning
Various planning models (driver-based, workforce, custom)
Visual dashboards and KPIs
Forecasts
Variance reports
Forecasted financials
Pro
1,000/month flat fee (billed at $12,000/year)
This tier offers expanded features and services for companies to move beyond basic capabilities.
Mid-range planning
Scenario analysis
Report, budget, and forecast by department
Collaboration tools
Basic support
Enterprise
Customized pricing
Enterprise is a tailored solution for teams with long-range needs and complex model requirements.
Long-range planning
Large Team Collaboration
More complex department capabilities
Premium support
Integration
Optional - advanced booking and revenue tools
Jirav alternatives
The proliferation of SaaS-based financial technology presents many options for companies entering or upgrading the cloud FP&A market.
Here are several alternatives to Jirav that buyers consider:
Who is Jirav for?
Jirav was built to get small businesses started with a suite of reliable and modern planning and modeling tools.
It can grow with the business, keeping pace with the increasing complexity of growth-minded organizations.
Unlike many of FP&A tools, Jirav has a niche for pure accounting firms.
Jirav use cases
Because the company focuses on startups and growth-stage companies, it offers features and use cases for growth and VC-backed firms and third-party accounting firms serving clients with advanced financial planning services.
Is Jirav good for growth companies?
Growth-minded companies rely on their business intelligence to plan the next steps. Jirav gives users access to "Enterprise-grade insights and tools" to integrate financial and non-financial data streams for better insights.
Jirav enables driver-based modeling to give companies insights into "what if" scenarios, rolling forecasts for agility in the market, and tools for workforce and sales planning.
Is Jirav good for accounting firms?
Accounting firms use Jirav to enable confident, source-of-truth reporting to clients, presented in reporting formats that make client communication easier.
It brings important functions like Dashboards, templated and customized reporting, and forecasting into a single place with team collaboration features to make client conversations work.
Is Jirav good for VC-funded companies?
The Jirav platform was built with the needs of VC-backed companies in mind, allowing them to report strong and accurate financials to potential investors, conduct raise activities, report to current investors, and plan for success with budgeting, forecasting, reporting, and dashboards.
Conclusion
Jirav offers a solid entry-level option for small and medium-sized businesses seeking more visibility into their financials and better planning tools for driving growth. Though the system is not as mature as other entries in the field, its features and capabilities are well-suited to the SMB target market. Further development and features for road mapping could make Jirav even more helpful to small business users in the future.
As it stands today, Jirav comes in as a solution with a clear niche and a clear group of customers it was designed for. But plenty of users say that the software itself needs a little more time to bake, as it were.
If you're looking to ditch spreadsheets for good, Jirav makes a compelling case for SMBs.
But you should consider Cube if you're growing beyond mid-market and prefer to keep your spreadsheets and not replace your back-end logic.