If you're on this page, then you've heard about Datarails.
They're an Excel-based FP&A solution that automates financial planning, reporting, analysis, and data gathering.
Whether you've seen their advertising and you're curious about their product...
...or you heard something worrisome about them via word-of-mouth...
We're here to share the Datarails pros and cons to help you decide.
Keep reading.
Contents
What does Datarails do?
Datarails promises to "transform your Excel into a lean, mean FP&A machine." Their most significant selling point is that they help you automate repetitive processes in Excel.
On their website, Datarails lists key use cases like:
Financial analytics
Dashboarding
They also promise to help you "spend more time analyzing data and less time collecting it."
And all of that's great.
But how do they deliver on their promise? Let's take a look at some reviews.
Datarails Review
Datarails does several things well. They pull your data into a single place. They make it easy for you to visualize your data in a dashboard. They're hard at work on building better predictive analytics functions.
Several FP&A pros indicated that Datarails:
Helps them avoid mistakes
Speeds up their close process
Keeps them in Excel instead of on a legacy "replace spreadsheets" system
However, Datarails does have its limitations. In 2022, reviewers also mentioned that:
Who is Datarails for?
A TechCrunch article detailing their Series B raise says that "DataRails will continue to focus squarely on SMBs."
So if you're a larger company (or if you're trying to grow or scale into a larger company), Datarails may not be the right solution for you.
Likewise, as a larger or growing company, you're more likely to have internal stakeholders who prefer to use Google Sheets or the web, so buying a solution with a solely Excel focus could create anti-synergy between the office of the CFO and the rest of the company. Not ideal, especially when it comes to budgeting season.
So we can confidently say that Datarails is best for Excel-based SMBs who don't plan to scale.
If that's you, then you should inquire more about Datarails. They might be the fit you're looking for. If this is not you, then scroll down for some additional options.
Datarails Pros
Dashboard easy to set-up
Flexible usages
Keeps your FP&A team on Excel
Old-school Excel experts will love the mix of formulas and coding with the modern UI
Datarails Cons
Restricted to Excel and the Microsoft ecosystem—no native Google Sheets or Mac OS X integration
Only stores three years of historical data, making it impossible to accurately calculate critical metrics like customer lifetime value
Not always reliable during sophisticated Excel calculations
Formulas needed to pull data into reports
Formulas in reports can be complex and unintuitive
Making adjustments isn't always user friendly
Doesn't integrate with older versions of Excel
Reported glitches in templates
Long refresh times
Need additional licenses for each user who wants to see a templates
Wasn't historically an FP&A tool
Not built by Finance, for Finance
Datarails Pricing
Datarails doesn't provide transparent pricing on their website.
Datarails Competitors & Alternatives
While Datarails can be a good option for Excel-based SMBs who don't plan to scale, you should know about the other players in the FP&A industry.
And yes, we've started with Cube. We're proud of how well it helps FP&A teams of all sizes plan, analyze, and collaborate so they can scale their companies in a smart, sustainable, and speedy way.
1. Cube
Cube is the first spreadsheet-native FP&A platform that empowers teams to drive better planning and performance without changing how they work. Its cloud-based FP&A software platform helps finance teams work anywhere—integrating natively with both Excel and Google Sheets—so that they can plan, analyze, and collaborate with the ultimate speed and confidence.
Many high-growth companies (like Masterworks and Unqork) use Cube for all of their FP&A needs.
Because here's the thing:
Cube can do almost everything Datarails does and then some. For example, Cube:
Has a true, native Excel integration with all versions of Excel (no coding or formulas needed)
Is always reliable during sophisticated Excel calculations
Onboards new accounts 5x faster than the competition
Uses simple formulas for creating reports
Integrates with almost all source systems
Works perfectly on Mac OS X and Google Sheets
Perhaps even more importantly, Cube was founded by a former CFO. The problems and use cases of FP&A have been baked into Cube since its inception.
FP&A teams already know and love spreadsheets. Cube simplifies many of the headaches of the often challenging planning process—like collecting actuals from other departments or checking and verifying that your numbers are correct—and lets teams turn their complicated budgeting process into a lean operation.
Check out all of the 5-star reviews on Capterra.
Sounds like a fit? Book your demo with Cube today. Keep scrolling to learn more.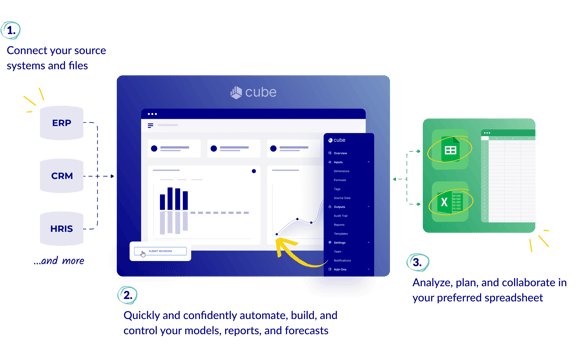 Features:
Automated data consolidation: Connect data from numerous sources for automated rollups and drilldowns.
Multi-scenario analysis: Allows you to seamlessly model how changes to key assumptions affect overall outputs.

Endless integrations

:

Integrations

for spreadsheets (Google and Excel), accounting & finance, HR, ATS, billing & operations, sales & marketing, and business intelligence.
Customizable dashboards: Gives you the full ability to build and share customizable dashboards.
Native Excel and Google Sheets integration: Compatible and bi-directional with any spreadsheet
Multi-currency support: Evaluate your financials in both your local and reporting currencies.
User-based controls: User controls, validations, and an audit trail ensure that the correct data goes to the right people at the right time.
Centralized formulas and KPIs: Store all your calculations in a central location and manage from a single source of truth.
Drilldown and audit trail: Get straight to the transactions and history behind a single data cell in just one click.
➡️ See all of our features here.
Pros:
Powerful reporting and KPIs help automate and analyze important data.
Streamline manual data, reduce errors, and improve collaboration so you can make smarter business decisions in a fraction of the time.
You can easily collaborate with industry-leading FP&A experts and an award-winning support team.
Integrations with dozens of applications.
Proper, native Excel integration with all versions of Excel (no coding or formulas needed)
Always reliable during sophisticated Excel calculations
Standard implementation time that's 5x shorter than the competition
Quick fresh and fetch times
Intuitive, easy, and customizable reporting
Simple formulas for making reports
User-friendly user interface and controls
Easy permission management
Integrates with more source systems
Has full Mac OS X compatibility
Is an always-correct single source of truth
Built and designed by a former serial CFO
Cons:
Cube works best for mid-sized and commercial businesses–it's not a personal finance app.
Cube is built for finance professionals and is not a solution for learning FP&A for the first time
Pricing (below) is not designed for pre-series A startups
Pricing:
Starting at $1,250/month for lean finance teams and $2,450/month for companies looking to scale.

See detailed pricing.
Best for: Mid-size and enterprise FP&A teams looking to save time and grow. Cube also works for hyper-growth SMBs who want a solution that will scale with their organization's complexity.
Curious to see if Cube is a fit for your organization? Book your demo now.
2. Vena
Vena is a financial planning and analysis solution that allows companies to create a centralized solution with automated workflows that are reliable for data analysis and decision-making.
Vena supports companies' financial systems by lessening the workload for manual labor and optimizing overall operational performance. With specific tasks assigned to each team member, automated processes help reduce bottlenecks and increase efficiency.
With the shift towards automation becoming more and more of a necessity for enterprises and organizations, Vena transitions your outdated company spreadsheets into detailed analyses that provide you with more data for strategic planning. With features like visual control, graphical data modeling, project budgeting/forecasting, and more, Vena helps you adapt to modern finances.
Key Features:
What if modeling, statistical analysis
Graphical data presentation, modeling, simulation
Performance metrics, sales trend analysis
Capital asset planning and cash management
Consolidation/roll-up
Run rate tracking
Version control
Pros:
Data-driven strategic planning
Visual data storytelling
Future mobile support
Training support
Cons:
Reported glitches during set-up and installation
Relatively high learning curve
Error messages are not specific enough for new users
Lacks some key features
Can be expensive for smaller or mid-sized companies
Pricing:
Vena does not provide pricing details on their website.
3. Mosaic Tech
Founded in 2019, Mosaic is a strategic finance platform that creates real-time reporting, budgeting, and planning for better business decision-making. Mosaic allows companies to work in unison in pursuit of organizational goals.
Mosaic consolidates and transforms insights into accessible visuals for stakeholders and management. Like other finance software, Mosaic automates different financial operations to streamline the workflow.
Mosaic's biggest strength is its ability to provide pretty visuals that SaaS companies often want.
Key Features:
Access controls/permissions
Ad hoc query and reporting
Forecasting/budgeting
Cash management
Consolidation/roll-up
Correlation analysis
Dashboard creation
Pros:
Cons:
Slow rollout of new features
No customization of graphs and charts
Not made for non-SaaS companies
Lacks integration features
Difficult to scale with the complexity of your organization
Pricing:
Mosaic Tech does not provide pricing details on its website.
More Datarails Reviews
For more information on Datarails, check out these other Datarails reviews:
Conclusion: Is Datarails good?
While Datarails is generally a decent option for your FP&A needs—it'll get the job done—the tool's combinations of shortcomings and complexity make it a tough sell to most FP&A teams.
Ultimately, Datarails works best for this kind of user:
SMB
Excel-only shop
Small (or solo) FP&A team
ERP and other source systems natively integrate with Datarails
And even then, you're opening a can of worms. Because Datarails has high customer churn.
However, if you're in the FP&A market and you're looking for something that:
Scales easily,
Integrates with everything,
Is super simple to implement,
Is powerful enough to simplify your workflows but simple enough for anybody to learn,
Works for companies of all sizes, and
Has excellent NPS and low customer churn
then Cube might be a good fit for you. Request a demo. and let's talk.
Sources cited: