What's Inside
Because "what gets measured gets managed," we know it's critical to compare a company's financial and operational results against some sort of measuring stick—in this case, the annual budget.
Creating and sharing a simple Budget vs. Actuals report helps drive transparency within the leadership team, fosters a culture of accountability, and helps the FP&A team analyze and communicate the economic drivers of the business.
The good news is, this tool is simple yet powerful.
This Budget vs. Actuals: P&L template is ideal for busy FP&A professionals who want to shave some time off the month-end or period close process with a plug-and-play spreadsheet.
This report helps answer questions like:
Did we meet our Gross Profit target for the month?
What are the key drivers of our Net Income variance for the period, quarter, year?
Are we covering our costs?
It lets you monitor budgets, analyze profitability, and control spending.
This should spark discussion around the leadership table about the "why" and the "so what."
Use with Cube
This is an Excel template. You don't need to be a Cube customer to use it!
But if you are a Cube user, you can start using this template in under two minutes. Here's how.
Step 1: Open the template in Excel or Sheets.
Step 2: Customize the row and column headers to match your Cube's dimensions and filters.
Step 3: Select the range where you want to fetch your data.
Step 4: Fetch your data.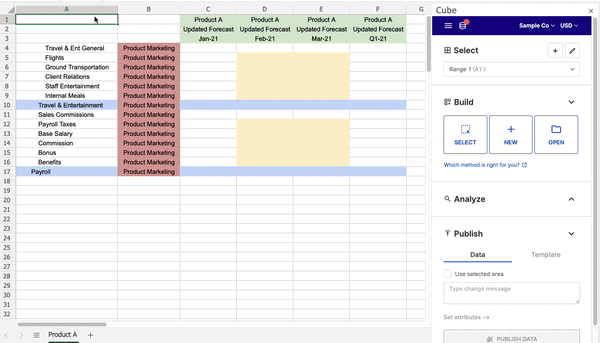 Budget vs. Actuals: P&L Statement
The P&L (profit and loss statement) summarizes the revenues, costs, and expenses incurred during a specified period—usually a month, quarter, or year. In other words, it shows exactly how much money you made and how much money you spent.
The budget represents your company's projected spending. Your company's budget should include expected revenue, expenses, cash flow, runway, and any other metrics you're tracking with your financial model.
Your actuals are the real numbers you hit. How much revenue did you bring in? How much did you spend? And so on.
If the budget is the "ideal," the actuals are the "real."
The P&L statement is one of three financial statements you'll need to issue at the end of each quarter and year. (The other two statements are the balance sheet and the cash flow statement.)
Enter your email in the download form at the top of this page to get the template.