This is our full, complete, and honest 2022-2023 review of the Anaplan planning platform. In this review we will answer some common questions associated with the platform, like:
What is Anaplan used for?
Is Anaplan a CRM?
Is Anaplan an analytics tool?
Is Anaplan best for enterprise companies?
Does Anaplan integrate with Salesforce?
So whether you're actively evaluating Anaplan or whether you're just looking to learn more, you've come to the right place.
Keep reading.
Contents
What is Anaplan?
Anaplan is a planning, forecasting, and performance management platform for finance and FP&A teams. It's a large, expensive solution that's most commonly marketed toward enterprise companies.
Anaplan is similar to other top-rated FP&A tools like:
This review provides readers with a complete overview of the features, highlights, benefits, and use cases of Anaplan as a tool for financial modeling, scenario planning, driver-based planning, forecasting, and more.
We'll cover the most recent information on the platform, pros and cons, tool alternatives, pricing, and more.
For information on other top FP&A software tools, check out our review: The 10 Best FP&A Software Tools: A Guide for 2022
What is Anaplan used for?
For performance and familiarity, finance and FP&A professionals hold spreadsheet-centric planning methods like MS Excel and Google Sheets close to their hearts. (We get it. We love spreadsheets, too!)
But spreadsheets alone can't do everything.
Which is why a handful of tools have decided to scrap spreadsheets altogether and built their UX around new dashboards.
(We have a different philosophy: we're committed to spreadsheet-native FP&A.)
Anaplan tries to split the difference with its "worksheets." Anaplan's three types of views—worksheets (data tables), board pages, (dashboards), and reports (slides)—attempt to unite the disconnected tools of FP&A under a single roof.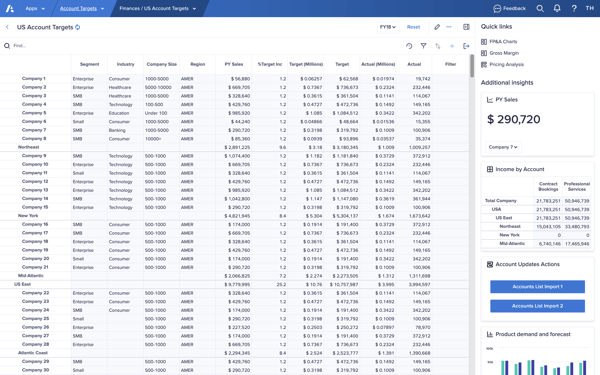 An example of a worksheet. Image credit: Anaplan
Anaplan allows finance teams to organize, analyze, and collaborate on data from sources across their organization. With this cloud-based solution, users can bring together data from major business functions such as:
Finance
Accounting
Human Resources
Sales
Marketing
Revenue
By centralizing these typically siloed data sources, planning and modeling become more accurate. Data drives better decision-making and informs scenarios.
In other words, it helps enterprises move faster and make complex decisions with input and visibility for all stakeholders.
...so far so good, right?
Anaplan Key Features
The platform offers users various features for analyzing large-scale datasets and conducting financial planning.
In-memory processing: Opening a model loads it into memory, allowing you to modify multiple scenarios based on dependencies with unlimited constraints.
Scenario planning: Allows multi-dimensional analysis and "what-if" planning to understand how business decisions and fluctuations affect business performance.
Forecasts: Provides predictive insights about future market conditions, costs, trends, etc.
Workflows: Allows organizations to digitize individual business processes, streamline activity, and foster collaboration.
Compensation plan modeling: See how changes to employee performance plans affect financials.
Data hub: Secure data-hosting for datasets required for scenario planning.
Integrations: Anaplan offers integration and API solutions for more extensive system connections. For instance, it integrates with Salesforce. Other integrations are possible through third-party integrators.
Does Anaplan integrate with Excel?
Yes, but there's a catch.
First, Anaplan only integrates with Excel via it's add-in.
Second, the Anaplan/Excel add-in only works on specific machines. For example, if you're a Mac shop, you'll need to install and run a Windows virtual machine just to use Anaplan. Excel for Macs is not currently compatible with Anaplan.
...and at that point, you're better off using a different solution entirely.
What about dashboards and reports?
Reports are one of the big three views beneath the Anaplan umbrella.
Anaplan tries to replace the slide deck with their own slide-based reports.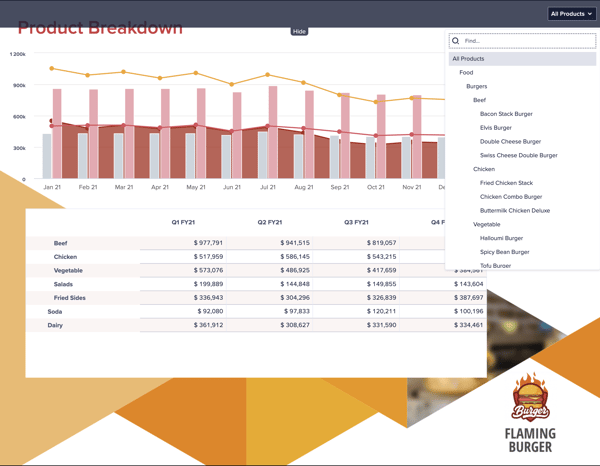 Example of a report. Image credit: Anaplan.
As you can export Anaplan reports as PDFs, they're easy to share.
But there's a downside: you can't have a real-time PDF.
And in order for leadership to see real-time reporting, they'll have to log into Anaplan.
(At Cube, we took a different approach: we know that leaderships already uses Google Sheets, so we make it easy for you to create Cubified reports there.)
Anaplan Pros
Reviewers are enthusiastic about the system's capabilities, especially for more sophisticated modeling and scenario-building.
Multi-device support: Users can access Anaplan on desktop, with web-based access, or on certain iOS and Android devices.
Cloud-enabled: Software allows users to access data and features from anywhere. Great for decentralized or remote teams.
Customizable: Dynamic design capabilities make it easy for businesses to exactly model business processes within the system and customize them based on their unique needs.
Secure: Sophisticated data security ensures that only authorized users can access data sets and models.
Powerful computation: The Hyperblock® system enables complex calculation of multi-scenario modeling.
What is Hyperblock®?
Hyperblock® is Anaplan's patented calculation engine. It's major use case is to help FP&A teams create more scenarios with unlimited dimensions.
Anaplan Cons
Users seem to hate it: Respondents to a 2021 survey by Battery Ventures seem to hate Anaplan, giving it an NPS of -38.
Adoption: Although the platform is low-code, casual users have difficulty using the platform without training or support.
Volume limitations: Larger capacity models strain the computing capacity of the system. Some users report that smooth functioning relies partly on following best practices for data formatting.
Workflows: Users have reported underperformance in creating custom workflows.
Reporting: Some reviewers described the reporting functions as "stiff." While report building is a feature, formatting, and customization were difficult. Some users develop their reports outside of the system to meet their needs.
Difficult to learn: While Anaplan has an on-demand course library of training videos instructing you how to use the software, it takes 60+ hours to get through them all.
May require expensive consultants: Depending on your team and the demands on your work, you might need to hire out some Anaplan consultants. Consultants are a notoriously expensive hidden cost that you should consider when evaluating an FP&A solution. In 2021, an independent Anaplan consultant would typically charge anywhere from $90-$280 an hour. That quickly balloons into tens of thousands of dollars a month, even at the low end.
How long is Anaplan's implementation period?
It depends. Anaplan even has blog posts which promise to help you "discover how you can implementation Anaplan in a matter of weeks—not months or years."
So even Anaplan acknowledges that their implementation process could take your company years to complete.
And that's not even getting into how implementing Anaplan is such a lucrative business that there are entire companies formed around it.
You can expect a typical Anaplan implementation to take between eight and twenty-four weeks and cost between $50k - $250k. It depends on your use case and whether you hire consultants or try a DIY implementation.
Which brings us to our next topic.
Anaplan Pricing
Pricing for the Anaplan platform is available by contacting the company. The platform is offered in three tiers with increasing services and features.
That said, Peerspot reports the following pricing:
"The entry-level is anywhere from about $30,000 to $50,000 a year, however, it does go up significantly after that depending on the complexity and how much space you're using."
In other words, most companies can expect to pay significantly more than $50,000 for a basic subscription.
Coupled with the cost of learning the system and the hidden costs of consultants, and it gets difficult to make the business case for switching from Excel to Anaplan.
With that said, here's the breakdown of Anaplan's three tiers:
Essential
Dashboard design and Interactivity
Platform API
ETL Connectors
User/Model Management
Mobile access
Enhanced
App lifecycle management
Audit trail
MyPages
Document signing integrations
Cutting Edge
Larger hyperbyte allowances
Hyperconnect
HyperCare
Additionally, users report on a $50,000 licensing fee just to get started.
(Cube's done-for-you implementation service is much lower.)
Use Cases for Anaplan
The flexibility and computational features of Anaplan enable departments to use the platform to meet specific use cases, including:
Workforce Planning: The connected platform allows HR, Finance, and Talent teams to view their workforce and hiring numbers, create accurate capacity plans, and collaborate on sprint and project planning using a cohesive source of truth. It gives transparency into skill sets, competencies, headcount, and human capital costs.
Supply Planning: Cloud access to supply chain information helps production inventory and procurement teams make informed decisions about resource management. Anaplan planning can help teams foresee the impact of contingencies, delays, surplus, etc. It speeds up plan adjustments and enables streamlined inventory management.
Predictive Sales: Predictive analytics enable sales and marketing teams to effectively plan product and marketing roadmaps, build better market segmentation, and create strategies based on multiple modeled scenarios. Access to real-time data within the platform can help teams realign as the market changes locally, nationally, and globally.
Anaplan Alternatives
The move toward digital transformation and business intelligence means a wealth of options for enterprise-class planning and modeling. Alternatives with capabilities and features similar to Anaplan include:
Who is Anaplan for?
Anaplan is designed with the needs of enterprise organizations in mind.
In other words, it's not the best fit for companies with fewer than 500 FTEs.
Conclusion
For enterprise organizations with complex computational or multi-scenario modeling needs, Anaplan may provide the necessary horsepower to achieve large-scale business planning.
However, there's also a lot not to like here. Anaplan is expensive and the value on that expense isn't looking any better in relative terms as competitive FP&A software improves in quality and functionality.
Anaplan is is a bulky, heavy solution that's only worth considering for large, enterprise organizations. Unless you need Anaplan's powerful calculation engine, it's hard to make a clear recommendation here.
If you're considering Anaplan, you should also consider its closest competition: Adaptive, Planful, and Cube.