NetSuite and QuickBooks are great financial management software solutions for various businesses and industries. They both offer a host of robust features from accounting to financial planning.
But one of them is probably more suited to your business than the other.
Is it NetSuite or QuickBooks? Let's find out.
Contents
NetSuite vs. QuickBooks overview
QuickBooks has been the standard accounting suite of tools for small businesses and startups, with over 5 million customers. Its intuitive interface, affordable price point, and straightforward financial management features make it a popular choice.
But for mid-level businesses and enterprises, basic QuickBooks might not be enough. Although NetSuite doesn't have the user base of QuickBooks, it's quickly become a favorite for companies that need a full suite of business management.
In addition to accounting support, NetSuite offers natively integrated ERP (enterprise resource planning), CRM (customer relationship management), Ecommerce, SRP (services resource planning), and HCM (human capital management) solutions.
Both systems have their benefits, but NetSuite is usually considered the more powerful of the two. Customers turn to NetSuite when they need end-to-end business management in addition to a forever accounting software solution. QuickBooks is preferred when they're looking for a simple, affordable financial management program.
Let's take a closer look at each of the platforms.
Oracle NetSuite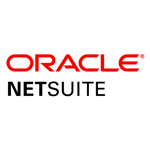 NetSuite is a cloud-based finance software offering ERP, accounting, CRM, HRM, and ecommerce solutions designed by Oracle.
The software automates core processes and provides real-time insights into operational and financial performances on one central platform. NetSuite is a unified suite of enterprise-grade applications for all business management with a customizable platform, analytics, reporting, and global infrastructure.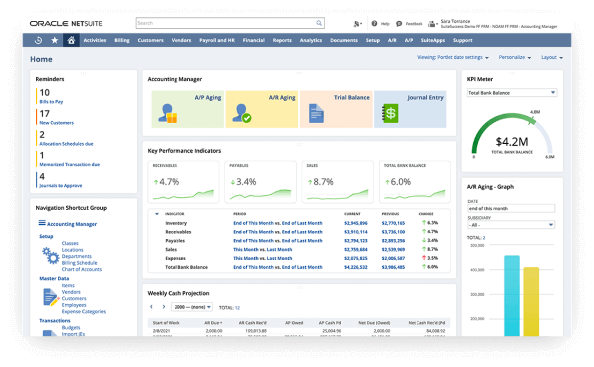 Intuit QuickBooks

QuickBooks by Intuit is an accounting solution for small businesses and freelancers looking for a simple, easy-to-use financial management solution.
The platform offers solutions for managing payroll, inventory, taxes, time-tracking, and invoicing. You can track expenses and cash flow, pay employees by direct deposit to their bank accounts, and run reports and receipts in one place.
QuickBooks is a great option for companies that outsource their accounting system since most accountants have experience with the software.
Accounting teams can use QuickBooks both natively (QuickBooks Desktop) and in the browser (QuickBooks Online) and at a variety of different powers: QuickBooks Online Advanced and QuickBooks Enterprise are fantastic options for users that need advanced capabilities.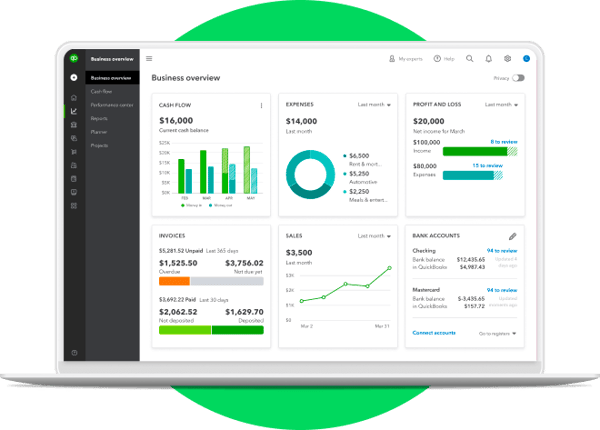 NetSuite vs. QuickBooks: How they measure up
Let's go into more detail on the differences between the two options.
Features overview
Features
NetSuite
QuickBooks
Accounting
Accounts payable and receivable; general ledger; fixed assets; forecasting and budgeting; cash management; close management
Track income and expenses; manage inventory; general ledger; budgeting
Payroll
Multi-currency;

calculate gross-to-net earnings; withholds mandatory taxes; deduct benefits; schedule and issue payments.

Same-day direct deposit; automated payroll; timesheet tracking; ACH and eChecks; multi-currency
Invoicing

Invoice customers; online payments; credit card billing; supports multiple pricing models; recurring subscription billing

Custom invoices; real-time alerts; automated billable hours; recurring invoice payments
Employee management
Performance management; HR management; time-tracking software
Employee scheduling; team management; time-tracking software
Reporting
Role-based dashboards; tailored KPIs; various financial report options
Central dashboard; various financial report options
Taxes

Global tax management and compliance; monthly tax rate updates

Creates 1099s; automatic tax filing and forms; tax penalty protection
While both platforms offer all of those features, NetSuite is also a full-service solution for:
ERP: Order, warehouse, and supply chain management
Global Business Management: Global accounting and consolidation in multiple languages
CRM: Customer service management, marketing automation, sales force automation, partner relationship management, configuring and quoting services
Professional Services Automation: Expense, resource, and project management, expense accounting,
Omnichannel Commerce: B2B and B2C Ecommerce, point of sale, connectors
Inventory management: NetSuite separates inventory management, supply chain management, warehouse management, asset management, and vendor management.
To put it plainly, NetSuite has more features and capabilities than QuickBooks. And if you need all of them, the price can be worth it.
But if you're looking for easy-to-use accounting software that fits your budget, QuickBooks is the best choice.
NetSuite vs. QuickBooks pros & cons
NetSuite Pros
Customizable options help tailor the software to your needs
Improves efficiencies across all business practices
Offers an all-in-one business solution for most industries
Works with multiple currencies
Provides custom dashboards for every role and employee
NetSuite Cons
More expensive (and not very transparent about pricing)
Can require an in-house accounting or finance team to implement
Can be challenging to pull financial data
Requires manual inputting of data
Even though NetSuite can have some disadvantages, its integration with Cube allows NetSuite users to quickly and confidently analyze, plan, and collaborate—without changing where they work.
One of Cube's customers, CFO Stephanie McVey of SmugMug Inc., no longer has to double-check and reconcile her numbers when she pulls in her actuals. She knows the numbers are loaded and accurate since Cube is a database.
"I tend to go to Cube before I go to NetSuite to pull numbers," Stephanie said. When she pulls financial data from Cube, Stephanie can fetch them directly into her working spreadsheet with Cube's add-on. She doesn't need to copy and paste data anymore. Problem solved!
Stephanie uses Cube and the NetSuite ERP to help her report on her financial statements, improve her financial planning process, and report on the business operations to business leaders. The combination of the two helps her focus her company's finances on meeting the business needs.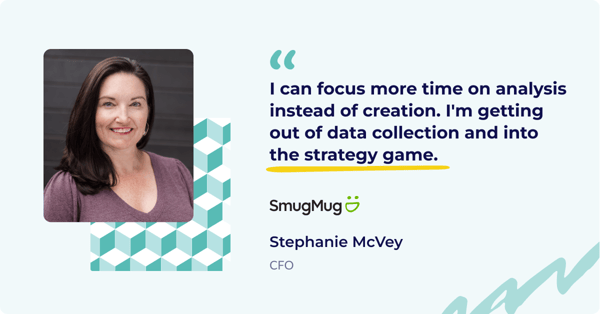 QuickBooks Pros
User-friendly for those new to accounting software
Channels financial and accounting data to a single source of truth
Easy integrations with other users and software
Unlimited billable clients
Affordable pricing
Largest provider of accounting software
QuickBooks Cons
Difficult to communicate with Excel
Lacks automation options and customization opportunities
Limited scope and features (compared to NetSuite)
Maximum number of users
Worried about the cons? Don't be. Nigel Glenday, the CFO of Masterworks, describes how Cube's integration with QuickBooks solved his issues with the platform.
"Having QuickBooks and models talk to each other was an immediate pain point," Nigel said, referencing how QuickBooks's standard reporting exports lack flexibility and led to continually multiplying Excel sheets on his desktop. Fortunately, QuickBooks and Cube have a simple API connection that allows for easy data imports and consolidations within Cube's single source of truth.
After Nigel initially mapped his QuickBooks data to Cube, he could then fetch this data into Excel. This lets Nigel circumvent the rigid canned reports that QuickBooks provided. Nigel can now pull transaction-level QuickBooks Desktop data into Excel and format it how he needs to in order to marry it up with his models.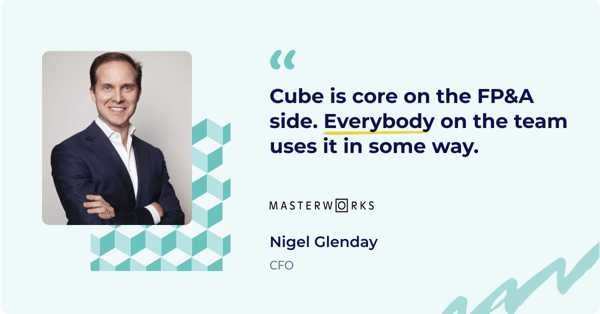 NetSuite vs. QuickBooks pricing
Both QuickBooks and NetSuite have pricing tiers that be a little difficult to understand since both offer so many tiers and products.
NetSuite Pricing
NetSuite doesn't provide pricing on its website and suggests organizations reach out for custom quotes: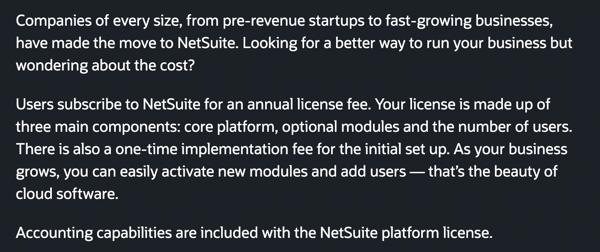 However, customers and reviewers have reported that a NetSuite ERP license costs include a $999/month licensing fee, as well as an additional $99/month for each user.
Licensing costs can vary by country, how many modules you include in your plan, subsidiaries you have, and partial users.
QuickBooks Pricing
QuickBooks has five different plans to choose from. They offer the choice of either a 30-day free trial or 50% off the first three months when you purchase a plan.

If you choose 50% off the first three months, you get this pricing for the first three months for a QuickBooks license:
Self-employed: $7.50/month
Simple Start: $15/month
Essentials: $27.50/month
Plus: $42.50/month
Advanced: $100/month
Then, it switches to full pricing:
Self-employed: $15/month
Simple Start: $30/month
Essentials: $55/month
Plus: $85/month
Advanced: $200/month
QuickBooks also offers QuickBooks Enterprise, which is customized for each user through apps and integrations. Enterprise plans can host 40 users and 1 million customers, and offer more advanced features. Pricing varies depending on the number of users and plan type.
Quickbooks desktop Enterprise pricing for one user:
Gold: $1,740/year
Platinum: $2,140/year
Diamond: $4,200/year
Enterprise pricing for one user with core cloud access:
Gold: $199/month
Platinum: $232/month
Diamond: $404/month
NetSuite vs. QuickBooks customers
NetSuite software is best for businesses with complex operations that need customization and scaling capabilities. However, their site lists solutions for startups, smaller businesses, fast-growing businesses, and PE-backed and VC-backed businesses.
Some NetSuite customers include:
Avant
Boston Globe
Corkcicle
Genexa
Land O' Lakes
NetSuite users give the platform:
QuickBooks works primarily with small businesses and independent contractors that have a smaller number of transactions. Users are often accountants and financial service providers, but various industries can use the software.
Some of QuickBooks millions of customers include:
The Baconer
Native Soil
Nzilani Glass Conservatory
Modern Auto
West Egg
QuickBooks review averages clock in at:
NetSuite vs. QuickBooks ease of use
NetSuite offers more features than QuickBooks and can be more challenging to learn. It's often used by in-house finance teams that know accounting best practices. Despite the complexity, customers have easily integrated NetSuite into their work, supported by online resources and customer support.
QuickBooks is known for its accessibility and ease of use. With fewer features and fewer customization options, it's a good choice for users that have little accounting experience and don't need additional ERP, CRM, or HCM tools. Customers note the platform makes financial management approachable.
Maximum users
NetSuite is a completely scalable solution that allows any number of users. However, there is a per-user fee reported at $99/per user.
For QuickBooks, the maximum amount of users depends on the plan that you have:
Simple Start/Self-Employed: 1 user
Essentials: 3 users
Plus: 5 users
Advanced: 25 users
Enterprise: 40 users
A deeper look at QuickBooks Enterprise
While the NetSuite ERP generally positions itself as more enterprise-friendly, QuickBooks enterprise users don't feel like they're missing out unless they need something specific that NetSuite offers. These are usually niche cases.
QuickBooks Enterprise features
QuickBooks Enterprise offers a plethora of services that make it a quality competitor to the NetSuite ERP, including:
Inventory management
Customer relationship management (CRM) integrations
Project management
Order management
Simplified warehouse management
Basic bookkeeping
Asset management
Milestone billing
Revenue management
Inventory cost tracking
Field service management
Vendor management
Advanced reporting
Advanced inventory tracking
Key performance indicators (KPI) reporting
And a whole lot of other things.
For instance, QuickBooks users can manage user licenses, connect credit card accounts, and even use QuickBooks Enterprise for their project management needs with QuickBooks Online Plus's feature: QuickBooks Projects.
QuickBooks Enterprise users enjoy over 200 integrations to help them unite their financial data—including a Cube integration. More integrations mean it's easier to keep your chart of accounts organized. For example, better order management through a QuickBooks Enterprise integration means your accounts receivable and accounts payable are always balanced.
You can connect multiple users and access QuickBooks trainers through the on-demand QuickBooks training.
Unfortunately, at the time of writing QuickBooks offers QuickBooks Desktop Enterprise only for Windows users.
NetSuite and QuickBooks alternatives
If you don't feel that either NetSuite or QuickBooks enterprise are exactly what you need or just want to see what else is out there, here are a few other options available.
Xero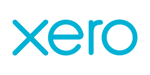 Xero is an accounting tool for small businesses, accountants, and bookkeepers. Real-time tracking and reporting give you accurate and updated information to use when collaborating with your team.
You can connect your bank account through the Xero application for seamless transactions. Pay bills, claim expenses, accept payments, and track projects all through its simple dashboard.
Key Features:
Bank connections
Audit trail
Multi-currency accounting
Manage fixed assets
Pricing:
Early: $12
Growing: $34
Established: $65
Sage Intacct
Sage Intacct is a cloud-based accounting solution providing in-depth finance tools for any sized business in any industry. Sage provides real-time reporting with AI-powered solutions that help streamline daily operations.
In addition to the comprehensive ERP solutions offered, Sage supports HR and payroll tasks. The platform makes it easier for your organization to budget, plan, and make data-driven decisions.
Key Features:
Interactive reports and dashboard
General ledger
Cash management
HR and payroll solutions
Pricing: While Sage Intacct doesn't list pricing on its website, sources report that pricing runs from $15,000 per year for a single-user system to $60,000 or more.
Acumatica

Acumatica is a cloud-based ERP business management solution offering a full suite of business management applications. From financials and project accounting to inventory management and CRM, Acumatica has a robust range of features.
The user-friendly interface is highly intuitive and easy to customize for specific business processes. This helps reduce development costs and the learning curve for new users.
Key Features:
Multi-entity & intercompany accounting
A seamless CRM solution
Payroll management solution
Warehouse management
Pricing: Acumatica does not list pricing on its website but sources report monthly costs anywhere from $1,400 to $2,800 depending on customizations.
Conclusion: the bottom line on NetSuite vs. QuickBooks
Both NetSuite and QuickBooks offer several benefits that could make them the right fit for your company's ERP needs.
NetSuite is a great option for global companies and large enterprises looking for an all-in-one business solution. If you have a larger budget and need help managing complex operations, NetSuite will be your top choice.
QuickBooks has millions of customers. It's often the better option if you're a small business or independent contractor. It's a simpler application at an affordable price point.
Regardless of whether you decide to go with NetSuite, QuickBooks, or one of the alternatives, Cube offers an FP&A-integrated solution for all of the software.
Cube is the first spreadsheet-native FP&A platform that integrates with both Excel and Google Sheets. Automate manual workflows, reduce errors, and improve collaboration so you can make smarter business decisions in a fraction of the time.
It's a cloud-based solution that allows finance teams to work from anywhere—and with any accounting solution.
If you're ready to automate your manual processes, eliminate redundant processes, and better analyze your finances, Cube can help you. Book a demo with us today.