FP&A should guide all significant decisions a company makes.
Why? Because FP&A (financial planning and analysis) is the story the numbers are trying to tell.
In other words, FP&A knows how to optimize capital and resources to create the best business outcomes. And in this guide, you'll learn all you need to know about FP&A.
So if you want to learn why FP&A is mission-critical (and how you can use it to grow your company), keep reading.
Contents
What is financial planning and analysis (FP&A)?
Financial Planning and Analysis (FP&A) is the set of strategic activities (planning, budgeting, forecasting, and analysis) that enable a company's ongoing financial health and ability to grow.
When done right, FP&A is the ultimate business historian and soothsayer: telling the story of the past and helping to write the story of the future.
Why is FP&A important?
Finance has a hand in everything.
From headcount planning to deciding on the budget, FP&A dramatically influences a company's culture, growth, trajectory, and ultimate fate.
FP&A must have a solid grasp of the company's short- and long-term financial needs. From routine activities—like financial close and consolidation, cash flow reporting, and financial reporting—to strategic initiatives—including integrated financial planning, budgeting, scenario planning, financial forecasting, and financial modeling, financial reporting—FP&A covers a lot of ground.
While the entire Finance branch is responsible for tasks like record keeping, accounting, payroll, compliance and control, risk management, investor relations, and more, FP&A focuses on the future: determining a company's financial performance.
FP&A typically reports to the Chief Financial Officer (CFO), who is ultimately responsible for managing the overall financial health of an organization.
That said, the actual value of the FP&A team comes when they provide insights by analyzing financial and operational data for executives and the broader company.
FP&A definition
FP&A is the set of strategic activities (planning, budgeting, forecasting, and analysis) that enable a company's ongoing financial health and ability to grow.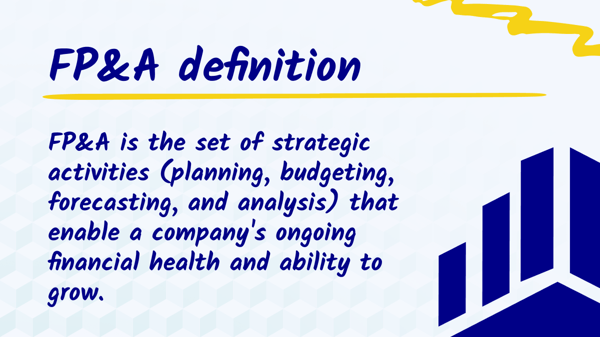 FP&A enhances the finance department's ability to manage performance by integrating corporate strategy and decision-making.
FP&A process
The FP&A process is a constant flow of data analysis and collection. There are four major parts:
1. Data collection, consolidation, and verification
This step consists of collecting all the financial data from each business unit, internal department, and external source.
From there, FP&A needs to consolidate the data so it's organized and easy to work with.
Verification is when the FP&A team checks the data for errors. This information must be accurate because every step following relies on this data.
2. Planning and forecasting
After gathering data, the second step is to create financial forecasts that answer questions about the business's trajectory:
How will we look next year if nothing changes?
How will we look next year if we change X?
What about in 5 years?
What economic trends could impact our growth?
And so on.
Financial analysts use methods like predictive analytics, driver-based planning, and multi-scenario planning to anticipate future performance. Regardless of the technique, analysts must collaborate with business leaders across every department when planning—silos are not helpful.
Senior management can then use these detailed forecasts from the FP&A team to develop a strategic plan with high-level targets like NDR.
3. Budgeting
Now that the FP&A team has a clear view of their data, it's up to them to estimate the capital expenditures needed to execute the corporate financial planning based on the revenue from the strategic plan and actual performance. This is called the budget.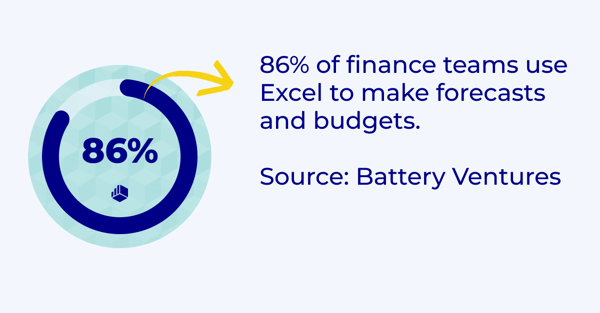 FP&A teams develop expense budgets for the senior executives in each department, leading to an overall master budget for the entire company.
4. Performance monitoring and analytics
FP&A isn't a "set it and forget" department.
FP&A teams are constantly analyzing data and monitoring performance throughout the company.
Beyond financial planning and analysis, these teams build reports and visualizations so that every department feels involved and informed in company performance.
What does a financial planning & analysis analyst do? Roles & responsibilities of FP&A analysts
While the CFO typically oversees high-level FP&A strategy, the department would be nothing without the team members digging into numbers daily.
Enter: the FP&A analyst. The FP&A analyst's primary focus is analyzing and influencing the company's financial performance.
The typical FP&A analyst position can span various roles and responsibilities, including:
1. Data collection
FP&A analysts are responsible for collecting data internally and externally.
Then they consolidate departmental data and market research to benchmark performance against industry standards.
But getting data from internal budget owners can be troublesome if you don't have the right tools.
(More on that later.)
The next step? Data hygiene. FP&A analysts must be confident that their numbers are correct.
Being confident in their numbers means they must check, double-check, and check again before they begin anything else.
...If you think there must be a better way, there is.
After all, 75% of FP&A time is spent on no-value-add tasks like gathering and cleansing data.
(Let's put a pin in this for now.)
2. Creating and preparing detailed reports
Data holds little value without thoughtful financial analysis.
That's why FP&A analysts collect data and aggregate, map, and analyze it to determine value, make budgeting decisions, form KPIs, and more.
After performing this analysis, FP&A creates dashboards, reports, and financial models so that internal stakeholders can understand and monitor their financial performance.
And, of course, reports are never a one-and-done task. It's up to the FP&A analyst to regularly update these reports as new information rolls in.
One example is the monthly close, especially at companies without a dedicated accounting department. At the end of each month, finance needs to "close the books," which means they review, record, and reconcile their financial affairs.
But the monthly close is notorious for taking a long time—in some cases, it can take the entire month.
3. Managing financial databases
All that data has to be kept and organized somewhere.
And there's more:
As more data comes into the team, it's more likely that mistakes will happen or that some of the data will get corrupted.
So the FP&A team has another important job: managing the financial database.
But this means more than doing their due diligence to check and double-check that their numbers are accurate.
It also means maintaining the financial database. Typically, the financial database lives on a tool (like Cube) that integrates with the excel spreadsheets where the corporate financial analyst actually does their work.
Make no mistake: the cost of bad data hygiene is high. This is an integral part of the job and can affect critical business decisions across an organization.
4. Maximizing the effectiveness of operations
Until now, we've talked about the historical, backward-looking function of FP&A.
And many FP&A teams indeed find themselves saddled with the vital work of creating reports, managing data, and the monthly close.
(We'll call this "encumbered" FP&A.)
But "unencumbered" FP&A teams outsource much of that work (to a dedicated accounting department) or use cloud-based solutions and software to automate it. This frees up their time for what FP&A does best: maximizing the effectiveness of the business.
They do this by looking at various key performance indicators and metrics. These numbers tell the FP&A team valuable information about the performance of specific endeavors and how to improve them.
One of the most accessible metrics is the SaaS magic number.
The magic number (as it's known) measures the effectiveness of the sales and marketing team.
When it's over a certain threshold, it's a sign to pour more money into your campaigns. When it's under that threshold, it's time to revisit strategy and conversion rates.
This is just one example of how FP&A can dramatically change the tide for an entire organization.
5. Create scenarios, forecast, and model possible futures
This is the core of FP&A's job.
But first, let's back up a little. Who does FP&A report to?
FP&A reports to the people who drive company strategy—the CEO, leadership team, and Board.
While these people care about the company's current performance, they're also invested in the future of the company. What does it look like?
Moreover, they often have specific questions.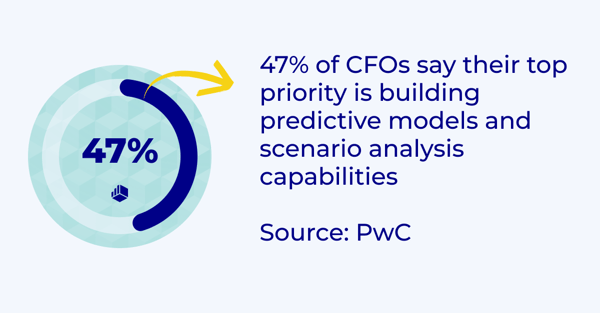 For example:
If we hired four more account executives, how much more revenue could we expect to generate by the end of Q2?
How does that affect our ability or hire more customer support associates if those new hires underperform by 10%?
What about by 15%?
If we need to generate 20% more pipeline than our current rate, do we also need to hire someone new in marketing?
If our profit margins are 24% what growth rate do we need to hit the Rule of 40?
To answer these questions, FP&A creates growth scenarios and forecasts to model the future.
And to do that, everything else has to work—data analysis, reporting, data hygiene, and performance optimization.
Technologies used in financial planning and analysis
Finance teams at SMBs typically combine the spreadsheet (usually Excel or Google Sheets) with an accounting tool like QuickBooks. And this works, to a point. But the tools need to improve as the organization grows and as organizational complexity increases.
That said, there's nothing wrong with Excel or Google Sheets. These tools are the backbone of FP&A because they're easy to use, robust, and reliable.
Research shows that 81% of the people who rip and replace their spreadsheets revert to them.
But spreadsheets have a few limitations that become challenging as data gets more complex. For example, many small teams use Excel as a database. But Excel was never designed to be a database, so it fails to do the job after a point.
The solution?
Many teams fall into a trap: replace Excel.
The logic goes something like this: Excel used to do all our heavy lifting. But now it's becoming more of a hassle. Things are breaking. The planning process is grueling.
Therefore, we need a new tool to replace Excel.
But this thinking is flawed.
The problem isn't that Excel can't scale. It's that it was never designed for this use case.
Instead of replacing Excel—which was already working in every other respect—add a database. Let Excel do what it does best and outsource what it doesn't.
Part of Cube started with this insight. Excel is easy. Everybody knows how to use it, corporate financial analysts live in it: why reinvent the wheel?
Most finance leaders Christina Ross spoke with when she was building Cube knew that they needed to augment Excel with some external tool. They'd even started their search, but many paused or gave up altogether.
Why?
Because they didn't want to deal with the never-ending implementations or learning curves of what existed on the market.
Put another way, legacy FP&A software is universally reviled.
...but that's a story for another day.
The FP&A stack
Most FP&A solutions fall into three categories: the source system, the database, and the FP&A tool.
The source system is where the raw data lives. These might include:
Accounting/ERPs (Sage Intacct, NetSuite, QuickBooks, Xero, PeopleSoft, etc.)
Human Resources/Payroll (ADP, ChartHop, Greenhouse, Lever, Justworks, etc.)
Billing & Operations (Chargebee, Zuora, Ordway, etc.)
Sales & Marketing CRMs (Salesforce, HubSpot, etc.)
BI tools (MongoDB, Power BI, Tableau, Microsoft Azure, etc.)
Then there's the database, which organizes and ensures all this data is clean. Sometimes the database isn't a discrete tool. Some tools have extra functionality on top of being a database.
Cube is one of these tools, and they work like this:
Read in and unite data from your source systems
Organize, consolidate, and clean said data (like a database)
Bidirectionally interface with the spreadsheet through a native integration
(Learn more about how Cube works.)
Finally, there's the actual FP&A tool for analysis and forecasting. The best-known FP&A tool is Microsoft Excel. Many teams also use Google Sheets to make collaborating across the organization more fluid.
But there are many tools that either augment or replace the spreadsheet altogether. Those are the tools FP&A teams today use:
(See more in our list of top FP&A software tools.)
Key features of FP&A software
Not all FP&A software is created equal. What you choose ultimately depends on your needs as a business and how you and your team prefer to work, but here are the essential features that you should benchmark any FP&A solution against:
Data consolidation
Multi-scenario analysis
Spreadsheet integrations
Customizable dashboards
Multi-currency support
User-based controls
Shareable templates
Audit rails
Centralized formulas and KPIs
(Learn more about how to pick the best FP&A solution for you.)
What to look for in FP&A Software
Those seeking an FP&A solution should keep four critical things in mind as they evaluate potential providers:
Implementation time. How long does this tool take to implement? Cube takes an average of 2 weeks. Other tools, like Anaplan and Adaptive, are notorious for taking months and requiring external consultants.
Ease of use. Likewise, you want an FP&A tool that's easy to use. Does the tool work with Excel and Google Sheets (the software everybody already knows how to use)? Is the interface intuitive, or will you need to spend months learning how to use the tool and teaching new team members how to use it?
How it scales. Will this solution grow with you? Does it work for companies of all sizes, or is it limited to SMBs or monolithic enterprise organizations? Likewise, how many use cases does it support? Can you use this tool in new and creative ways, or is it a one-trick pony?
Customer support. You'll interact with customer success no matter which tool you choose. Does this company have a track record of providing stellar customer success?
Recommended FP&A solutions
1. Cube Software
Cube is the first spreadsheet-native FP&A platform that functions as a single source of truth for your source systems and lets you quickly push and pull data into Excel or Google Sheets. In other words, Cube automates all the manual, error-prone work so that you can focus on the analysis and forecasting that bring tangible results to your company.
2. Microsoft Excel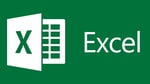 Excel needs no introduction. This classic go-to software for FP&A and strategic finance professionals is still widely used today. Moreover, Excel is so beloved that most attempts to replace it with another tool fail outright.
3. Google Sheets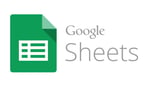 Google Sheets offers a user-friendly interface that is widely used, not just in FP&A or finance. It also works on all computers and has some great features that Excel does not offer. While most finance pros prefer Excel, Google Sheets makes numbers more accessible, easier to understand, and transparent.
4. Workday Adaptive Planning

Workday Adaptive Planning offers strong capabilities outside of Finance and FP&A, which makes Adaptive Planning a good choice for large enterprises seeking a transformational, company-wide FP&A solution. However, its lengthy implementation timeline and "replace spreadsheets" philosophy means it's not a fit for everybody.
5. Anaplan

Anaplan works well for larger enterprise customers with a strong IT team ready to lead an enterprise-scale transformation initiative. Like Adaptive, it has a long implementation cycle and replaces Excel.
6. Planful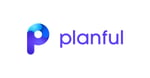 Planful is ideal for larger companies with big FP&A teams that want to expand their scope of influence beyond finance.
7. Vena Solutions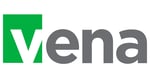 Vena is ideal for companies that need the fixed process and planning guidance of pre-built FP&A solutions or have the resources to uniquely customize those pre-built solutions for their own needs.
Key FP&A challenges
Data gathering, aggregating, and warehousing
Raw data exists in source systems. But it's not very useful to FP&A there.
To do something with those numbers, FP&A must aggregate financial data into a single source of truth.
But this presents a couple of problems:
What happens if those numbers don't match?
How do they get to the database? Could there be some human error?
Can the data get corrupted inside the database?
Likewise, raw data also exists within each arm of the company. To create the budget for each year, FP&A has to get those numbers from department leaders.
Data gets segmented by time—usually month—and FP&A has extra work for expenses or numbers that cross those timelines.
To have consistent internal logic and accurately report on the state of the business, all of this data needs to be accounted for, reconciled, and housed.
After all, a single error can snowball into a wrong prediction or recommendation.
Accurate and unbiased reporting
Likewise, FP&A needs to create accurate financial statements and reports.
Sometimes this is as simple as setting up a dashboard to get a bird's eye view of business trends.
But other times, it requires custom calculations and digging into unusual perspectives.
As with everything else in FP&A, the threat of human error is here too.
But there's also more nuance—are we creating the correct report? What is this being used for? What are the conclusions we want people to draw from this report?
FP&A also has to understand the biases of its stakeholders (what do they desire to see?) and design reports that not only accurately reflect reality but also are not biased or misleading.
Budgeting
The budget determines almost everything.
Which business units grow (and how), where resources get put (or not), and which objectives a company chases (and which they ignore).
The annual budgeting process is no small feat: it can take months for some companies. During this time, FP&A has the classic "if you serve too many masters" problem—department leaders want one thing, the Board wants another, and the data says something else entirely. How to make everybody happy?
Well, you don't. You make trade-offs. Often, the full picture emerges after everybody has made their case.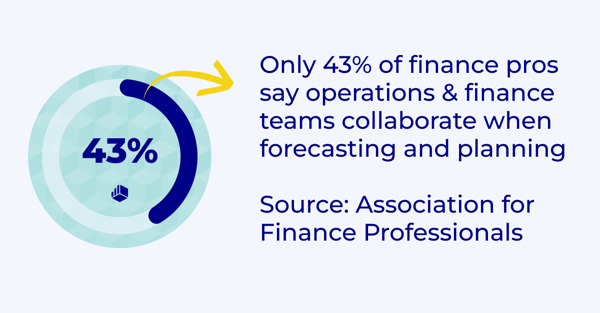 Strategic budgeting based on financial forecasts unifies the business's direction. It accounts for different scenarios and projects a desirable end state for the compass. It uses financial models to set priorities and guardrails.
What's in the budget is just as important as what's not in the budget.
Financial forecasting and monitoring financial health
Forecasting estimates the tangible results realized by deploying the available budget.
For example, if Sales has a budget for ten sellers and expects each to win $10,000 in new business next month, the sales forecasts for new revenue would be $100,000.
As another example, suppose customer success has been trying a few initiatives to reduce churn and increase NDR. FP&A can create more accurate forecasts to measure the impact of each initiative—and even advise which one to focus on.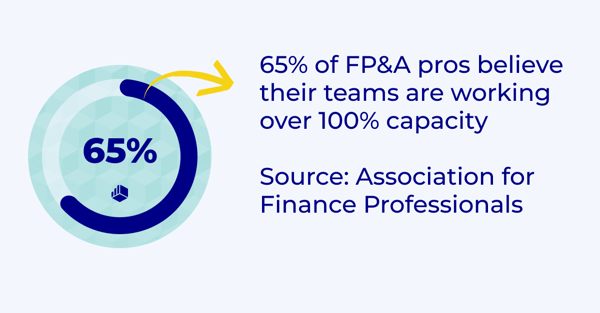 Likewise, when teams are not on track—even if the budget is being followed—FP&A can forecast how far away from the desired end state the company will be by the end of the fiscal year. Once they have the needed business intelligence, they can make recommendations to correct what's happening today and get teams back on track.
Conclusion
Now you have a super high-level understanding of FP&A.
You know why it's important, what it does, what tools it uses, and even how to break into the field.
So now we want to hear from you. What surprised you? Share this post on LinkedIn and let's keep the conversation going.
And if you're interested in some FP&A software to help you improve your processes and save time, you should take a look at Cube. Request a free demo today.