What's Inside
This template includes the following bottom-line margin details:
Profitability trends

Quick Ratio
DSO (Daily Sales Outstanding)
Customer Acquisition Costs

Quick Ratio
Current Assets - Inventory / Current Liabilities

Days Sales Outstanding (DSO)
AR / Revenue * Days

Customer Acquisition Cost (CAC)
Total Sales & Marketing Cost / # of New Customers
Use with Cube
This is an Excel template. You don't need to be a Cube customer to use it!
But if you are a Cube user, you can start using this template in under two minutes. Here's how.
Step 1: Open the template in Excel or Sheets.
Step 2: Customize the row and column headers to match your Cube's dimensions and filters.
Step 3: Select the range where you want to fetch your data.
Step 4: Fetch your data.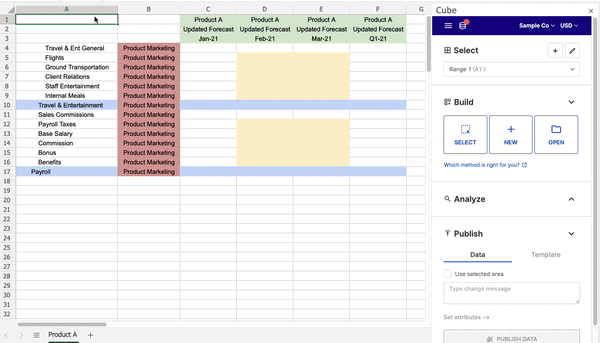 All About KPIs
For any business, the best KPIs help companies determine what they're doing well and where they need to improve.
KPIs are metrics that provide insights into a business's underlying financial and operational strength. They can be based on any kind of data that is important to a company, such as sales per square foot of a retail space, click-through rate for a web ads or accounts closed per sales person.
Many KPIs are ratios that highlight important relationships in data, such as the ratio of profit to revenue or the ratio of current assets to current liabilities.
A single KPI measurement can provide a useful snapshot of the business's health at a specific point in time.
KPIs are even more powerful when they're used to analyze trends over time in order to measure progress against targets or to compare the business with other, similar companies.
A KPI is even more valuable when you place it in context with other meaningful KPIs.