Choosing the right sales forecasting software is essential to budgeting, planning, and the overall strategic direction of the sales division–and the entire organization.
The best sales forecasting software is a modern tool that enables accurate projections your team can use confidently.
How do you know which tool is the right fit?
Keep reading this review of the best sales forecasting software on the market today.
Key takeaways:
Sales forecasting helps businesses predict future sales revenue by analyzing past sales data, market trends, seasonality, and other factors.
Sales forecasting software helps businesses make informed decisions about the future of their sales pipelines.
The best sales forecasting tools offer automated data collection, accurate reports and predictions, and custom modeling.
Contents:
Why is sales forecasting important?
Sales forecasting helps businesses predict future sales revenue by analyzing past sales data, market trends, seasonality, customer behaviors, and more.
It gives you insights into three critical areas of your business:
How much revenue can we expect to generate in the future?
How do our actual sales compare to projected revenues?
Which lead types make the most significant impact on our forecasts?
In other words: a sales forecasting solution helps you map your expected revenue via sales planning. It's a great asset for any cash forecasting, too.
By answering these questions about your business, you'll be able to determine:
Which sales activities are worth your time
Which prospects have potential
Whether it's necessary to readjust your team's quotas
How to improve sales and help your company expand
Customer behaviors, trends, and seasonal patterns
An optimal SaaS revenue model
What pricing strategies are working (and which aren't)
And more.
What is sales forecasting software?
Sales forecasting is fundamental to decision-making for sales teams and entire organizations.
But doing the process without sales forecasting software tools can be time-consuming, complex, and slow.
Instead of manually inputting data, conducting analysis, and pulling reports, cloud-first and powerful sales forecasting platforms automate all of this for you.
With the right historical sales forecasting software, sales teams can exchange input errors and stale data for accuracy, easy collaboration, and substantial time savings.
And executives know this: 48% of CFOs prioritize investments in predictive models and scenario analysis capabilities.
Best sales forecasting tools
Modern, efficient sales forecasting tools can drive growth, revenue, and strategic management.
Let's review the best on the market today.
1. Cube

Cube is the first spreadsheet-native FP&A software that empowers finance and sales teams to drive better planning and performance without changing how they work. Cube eliminates manual work and provides real-time insights so organizations can strategize (and forecast sales) with speed and agility.
Cube allows users to work within their favored environment: the spreadsheet. This gives users all of the benefits of a robust FP&A tool, like scenario analysis, data consolidation, and custom reporting–all within Excel or Google sheets.
In addition to forecasting support, Cube automates all other time-consuming FP&A tasks including budgeting, reporting, planning, and management. Cube is the perfect choice for mid-market companies that want a quick implementation time and scalable, enterprise-grade technology.
Features:
Automated data consolidation: Cube consolidates data from multiple sources in one place and provides a single version of the truth.
Sharable planning templates: Share customizable, best-practice templates
Customizable dashboards and reports: Create and share custom dashboards and reports from reusable templates to flexible ad-hoc reporting.
Scenario planning and analysis: Model how changes to key assumptions affect overall outputs.
Bidirectional Excel and Google Sheets integration
Centralized formulas and KPI: Calculate and store your calculations in a central location and manage from a single source of truth.
Pricing: Cube starts at $1,250/month for lean finance teams and $2,450/month for companies looking to scale.
Convinced?
Book your free demo with Cube today.
2. Pipedrive

Pipedrive is a cloud-based Sales CRM and pipeline management solution designed to help businesses convert potential deals into successful sales. Based on an activity-based selling methodology, Pipedrive streamlines the overall sales process, from initial contact to close.
A robust interface displays each deal's progress stages and the next actionable items and their activity & goal feature lets users keep an eye on pending activities in each pipeline.
Features:
Sales pipeline management
Sales reporting tools
Monitors individual and team-level targets
Integrates with a range of CRM tools to transfer contact details, communication history, and other information across applications
Pricing:
Pipedrive has a free trial and four pricing plans, all billed annually.
Essential: $9.90 per user per month
Advanced: $19.90 per user per month
Professional: $39.90 per user per month
Enterprise: $59.90 per user per month
3. Gong.io

Gong.io uses artificial intelligence (AI) to analyze customer conversations and behavior, predict customer needs, and offer personalization on demand. Gong makes it easy to partner with the sales team to forecast future sales opportunities and ensure that resources are deployed.
Gong provides a Sales Forecast Report and automated sales pipeline for insights into your business's future performance.
Features:
Forecast future sales opportunities
Dashboard for progress tracking
Customer feedback analysis
Customer segmentation
Product recommendations
Pricing: Gong's pricing depends on various factors, so organizations have to request a custom proposal. But according to various sources, Gong.io charges an average of $1600 per user annually.
4. Salesforce Sales Cloud

Salesforce Sales Cloud is a CRM software enabling sales teams to manage customer interactions and track deals throughout the sales process. The forecasting software can help users track critical metrics such as sales pipeline, customer segmentation, and growth trend.
Salesforce Sales Cloud also integrates with other Salesforce products, allowing users to build a comprehensive sales strategy in one place.
Features:
Pipeline management
Customer segmentation
Sales activity tracking
Sales force automation
Pricing:
These four plans are billed annually:
Essentials: $25 per user per month
Professionals: $75 per user per month
Enterprise: $150 per user per month
Unlimited: $300 per user per month
5. Aviso Insights

Aviso Insights's forecasting algorithms use AI to analyze past sales data and identify patterns that predict future sales. Aviso Insights's Sales Forecasting Software includes trend analysis, performance tracking, and market segmentation features.
This software can integrate with existing Salesforce or other CRM systems.
Features:
Predicts analytics to plan for future growth
Includes trend analysis, performance tracking, and market segmentation
User-friendly and simple integrations
Pricing: While pricing isn't available online, sources note it's one of the more expensive sales forecasting tools.
6. SAP Integrated Business Planning (IBP)

Integrated Business Planning (IBP) is a software offered by SAP SE that assists companies in forecasting and planning. IBP is a component of the SAP ERP software and provides users with tools for Sales & Operations Planning (S&OP), demand planning, production planning, and inventory management.
Sales forecasting capabilities include a Sales Forecast component, which allows users to track sales trends over time and create revenue forecasts. The software also provides detailed customer segmentation capabilities, enabling businesses to gain more insight into customer behavior and demand.
Features:
Detailed customer segmentation to gain more insight into customer behavior and demand
Financial planning and target setting
Advanced analytics and insights
Pricing: Pricing isn't available on their website, but sources say it starts at $2,518 per monthly unit.
7. HubSpot

HubSpot is a marketing, sales, and customer service platform that provides users with the tools they need to project expected sales and revenue figures, track their progress, and analyze trends in customer behavior. With HubSpot sales forecasting software models, sales reps can create custom forecasting models that help them understand their customer's buying behavior.
Features:
Custom forecasting models
Understand customer's buying behavior
Real-time analytics and reporting
Automate workflow processes
Monitor and track performance
Pricing:
These plans are all billed annually:
Starter: $45 per month
Professional: $800 per month
Enterprise: $3600 per month
8. Workday Adaptive Planning

Workday Adaptive Planning allows users to forecast, budget, and model. In addition to its forecasting capabilities, Workday offers several other features, including tracking KPIs, creating what-if scenarios, and collaborating with colleagues in real-time. Its finance and HR applications help businesses connect financial and "people" data for insights.
Features:
Excel-based interface
Budgeting, forecasting, and reporting capabilities
Financial models and dashboards
Training and support services are included with the purchase
Pricing: Pricing isn't listed on the website, but sources say pricing starts at $15,000 per user.
9. OnPlan

OnPlan is a sales forecasting and budgeting solution that allows businesses to create financial models using what-if scenarios and SaaS benchmarks. With features like rolling financial forecasts, template management, scenario planning, performance tracking, and budgeting. OnPlan helps administrators create models for sales marketing and staffing processes via predefined dashboards and templates.
The app includes a roles and permissions management module to give employees different access levels for collaboration purposes.
Features:
Rolling forecasts
Templates for sales, marketing, and staffing processes
Scenario planning
Performance tracking and forecasting
Budgeting features
Pricing: For essentials, pricing starts at $12,500 per year. For the other levels, organizations must get a custom quote.
10. Jirav
Jirav is a cloud-based financial planning and reporting solution that gives businesses the tools they need to examine historical business data, build accurate financial models and plans, and forecast financial operations accurately using pre-built templates. It helps businesses develop custom dashboards to visualize data and centralize all their financial data operations with built-in connectors.
Features:
Cloud-based software
Ability to examine historical data
Pre-built templates
Customizable dashboards
Various integrations
Pricing:
Starter: $500/month
Pro: $1,000/month
Enterprise: Potential customers will have to request a quote.
11. Monday Sales CRM
Monday Sales CRM allows sales managers to get an overview of all their team's deals in one place. The drag-and-drop platform offers sales templates, embedded workflow analytics, and customizable reporting. It helps sales teams see what their pipeline looks like, how much revenue is coming in, which deals each representative is working on, and how much capacity the team has.
Features:
Various visualizations for data analysis
Lead and contact management
Form and request management
Kanban and Gantt boards
Pricing:
Individual: $0
Basic: $10 per seat per month
Standard: $14 per seat per month
Pro: $24 per seat per month
Enterprise: Get a custom quote
12. Freshsales by Freshworks

Freshsales by Freshworks is a Salesforce automation solution for lead management, marketing insights, and customer relationship management. The platform also enables organizations to automate repetitive tasks by designing custom workflows with event-based triggers.
Freshsales by Freshworks allows teams to construct sales pipelines that match their geographical location, team size, processes, and other criteria.
Features:
Customizable email templates
Predictive contact scoring
Sales goal management
Integration with third-party applications
Pricing:
Free: $0
Growth: $15 per user per month
Pro: $39 per user per month
Enterprise: $69 per user per month
13. Intuendi

Intuendi is an inventory management and demand planning solution that reduces the likelihood of stockouts, minimizes excess inventory, and increases sales. Intuendi integrates with existing ERP, POS, and inventory solutions to organize data in one place.
It also provides customizable reports to help you analyze historical trends, identify seasonality patterns, and create long-term forecasts.
Features:
Real-time inventory tracking
Integrations with external data sources, such as weather and socioeconomic factors
Advanced algorithms to improve forecast accuracy
Customizable reports for analyzing historical trends and creating accurate forecasts
Pricing: Intuendi does not list pricing but offers a free trial.
14. Bitrix24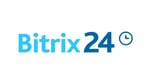 Bitrix24 is an online workspace that offers over 35 business tools, including a CRM. The Bitrix24 CRM helps teams manage leads, track contacts and transactions, and automate business processes.
Bitrix includes a sales forecasting tool to help users create projections, analyze trends, and compare actual performance against goals.
Features:
Reporting capabilities
Customizable workflow automation
Integrates with popular third-party software
Pricing:
These four pricing plans are all billed annually:
Free: $0
Basic: $35 per month
Standard: $70 per month
Professional: $140 per month
15. SalesKen

SalesKen uses AI for lead generation and client communication through calls, emails, chats, and web conferences. Teams can monitor their sales pipeline and determine customer intent. Managers can also manage client interactions, schedule follow-ups, and identify prospects.
Features:
Monitor sales executives' performance
Targeted feedback capabilities
Track the entire sales pipeline
Call disposition logs
Call transcription
Pricing: SalesKen lacks transparent pricing.
16. Zoho CRM

Zoho CRM is a cloud-based business management platform to streamline and simplify sales, marketing, and customer support. Sales forecasting software is a critical component of Zoho CRM, providing insights and analytical capabilities to help you accurately predict future sales performance. Sales forecasts can be generated based on your historical data or current market trends, enabling you to prepare better for upcoming products and services.
Features:
Generate forecasts based on historical data or current market trends
Analytical capabilities for accurate predictions
Automated sales forecasting process for efficient resource utilization
Template library
Real-time reporting of performance metrics for better decision making
Pricing:
All of the pricing plans are billed annually:
Standard: $12 per user per month
Professional: $20 per user per month
Enterprise: $35 per user per month
Ultimate: $45 per user per month
17. Anaplan

Anaplan connects information from disparate systems, with real-time tracking of sales pipelines and forecasts. The software also provides predictive analytics to enable businesses to identify growth opportunities and maximize resources. Additionally, it features automated dashboards that show performance at a glance, helping users make faster decisions.
Features:
Real-time data synchronization: Keeps data up-to-date across all systems connected to Anaplan
Predictive analytics: Identifies patterns and correlations in data to help forecast future outcomes
Collaboration: Enables teamwork on Sales Forecasting across the organization
Dashboards: Presents performance data in an easy-to-digest format, enabling faster decision making
Integrations: Connect with other business systems
Pricing: Pricing isn't listed on the website, but according to various users and sources pricing can start between $30,000 to $50,000–and then rise.
18. Oracle NetSuite

Oracle NetSuite is a cloud-based finance software offering ERP, accounting, customer relationship management (CRM), human resources management (HRM), and commerce solutions designed by Oracle. Oracle NetSuite is a unified suite of enterprise-grade applications for all business management with a customizable platform, analytics, reporting, and global infrastructure.
Oracle NetSuite CRM+ offers sales force automation, e-commerce, customer data management, partner relationship management, and marketing analytics. The software's analytic functionality can integrate back-office metrics and data with front-office operations - giving upper management a complete view of their organization.
Features:
Revenue forecasting and trends
Automates the sales process
Helps manage sales pipelines and forecasting.
Customer data management
Partner relationship management
Tracks marketing campaign performance and ROI
Pricing: Pricing isn't listed on the website. But customers and reviewers have reported that Oracle NetSuite license costs include a $999/month licensing fee and an additional $99/month for each user.
19. Mediafly InsightSquared

Mediafly InsightSquared provides sales intelligence solutions to help sales teams operate more effectively. It gives sales operations leaders the tools they need to produce forecasts, understand pipeline trends, and maximize impact.
InsightSquared allows sales leaders to manage their teams by tracking progress at every stage of the buying process, predicting revenue, and reviewing what's working for top accounts and opportunities.
Features:
Sales pipeline view to see the progress of deals at each stage
Performance benchmarking to measure reps against each other
Analysis of trends and customer needs
Sales automation tools for streamlining processes.
Pricing: Pricing is currently not listed on the website but sources note the average price ranges from $65 to $95 per month per user.
Conclusion: Choose the best sales forecasting software
Accurate and reliable sales forecasting software is essential for competitive sales teams and outstanding company-wide performance.
But migrating to an entirely new platform takes time, energy, and manpower that your team might not have.
Cube's native integration with Excel and Google Sheets lets you access your data without changing where you work–making it easy for anyone to use and adopt.
Sales and FP&A teams can forecast, budget, plan, and collaborate quickly and confidently.