NetSuite is a business management software suite for organizations of all sizes. It offers a wide range of functionality, including accounting support, customer relationship management (CRM), financial software, inventory management, order management, and more.
While NetSuite is an excellent standalone solution, additional software integrations provide customization and additional functionality.
In this NetSuite integration guide, you'll get a quick overview of the best NetSuite integrations, learn some different integration solutions, and get an overview of how NetSuite integrations work.
Let's get started.
Key takeaways:
NetSuite Integrations can be used for accounting support, CRM, financial software, inventory management, order management, and more.
SuiteApps are apps created to extend NetSuite's capabilities for your industry and business.
NetSuite Connector enables you to automate data transfer between your NetSuite account and other business systems.
Content:
How do NetSuite integrations work?
NetSuite is one of the world's most powerful and popular cloud-based ERP systems. The NetSuite system offers a wide range of features for end-to-end business process automation and scalability across multiple departments within an organization. Businesses can integrate NetSuite with the rest of their tech stack for easier communication, collaboration, and workflow management.
Some integrations, like NetSuite Connector, are pre-built solutions for specific ecommerce, logistics, and point-of-sale providers. Others include custom connections using XML-based API, JavaScript, and REST or SOAP web services.
NetSuite integrations can be one-way or two-way. A one-way integration is when you exchange data from the NetSuite ERP or CRM to another application or vice versa.
In fact, NetSuite is one of Cube's most popular accounting and finance integrations. Cube connects with NetSuite and then can import, clean, and organize your data so you can work with it directly in Excel or Google Sheets.
A two-way integration is where you exchange data between NetSuite and an application in both directions. By automating the transfer of data, you keep important information centralized and eliminate manual data entry, costly errors, and slow data exports.
Best NetSuite integrations for your business
Here are some of the top NetSuite integrations for businesses of all sizes.
1. Cube
Cube is the first spreadsheet-native FP&A software. Cube automates your financial management workflow, reduces errors, and improves collaboration so you can make sound business decisions quickly. It functions as a single source of truth for your disparate source systems and lets you quickly push and pull data into Excel or Google Sheets.
NetSuite is one of Cube's most popular accounting and finance integrations. With this integration, businesses no longer have to double-check and reconcile their numbers when they're pulling their data. They know the numbers are loaded and accurate since Cube is a database.
NetSuite and Cube can be used to help create financial statements and reports, and streamline the strategic financial planning process.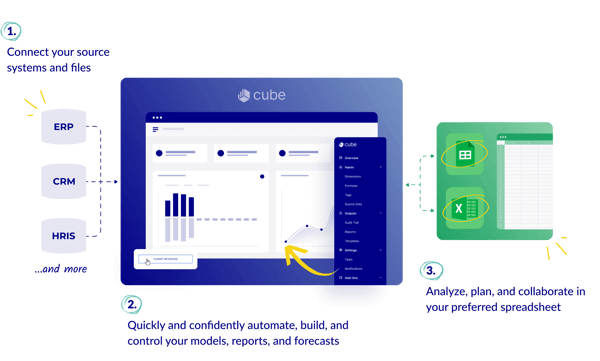 Features & Benefits:
Automated data consolidation: This enables you to connect data from numerous sources for automated rollups and drilldowns.
Multi-currency support: Evaluate your financials in local and reporting currencies.
Customizable dashboards: Ability to build and share customizable dashboards.
Multi-scenario analysis: This enables you to model how changes to key assumptions affect overall outputs seamlessly.
Spreadsheet integrations: Compatible and bi-directional with any spreadsheet
Data security: Cube is SOC II compliant. Read more about data security at Cube.
Best for: FP&A teams at mid-market and enterprise companies, but also works for SMBs and startups focused on hyper-growth.
2. Shopify
Shopify is a commerce platform that enables entrepreneurs to start, grow, and manage their businesses. Shopify offers a professional online store builder and shopping cart software.
Integrating NetSuite and Shopify allows you to connect your online store with NetSuite, combining the power of NetSuite's enterprise resource planning (ERP) solution with Shopify's ecommerce platform. Businesses gain greater visibility into their online operations, enabling them to make better decisions and optimize their store performance.
Users can easily sync customer data from NetSuite into Shopify, eliminating the need for manual data entry or duplicate records. Additionally, merchants will benefit from real-time updates to NetSuite, allowing them to quickly respond to customer inquiries and maximize sales.
The Shopify NetSuite integration also works well with Cube to create an easy workflow. Users can also get their Shopify sales numbers in NetSuite and use Cube to manipulate them in Excel.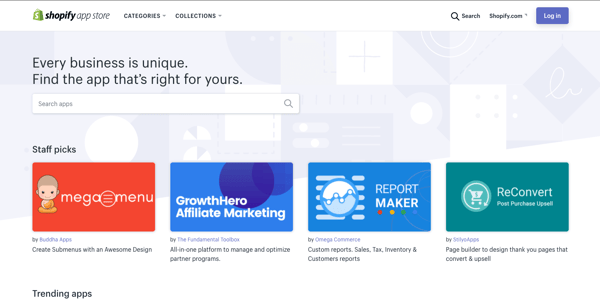 Features & Benefits:
Synchronize customer data from NetSuite into Shopify
Eliminate manual, error-prone data entry and duplicate records
Real-time updates to NetSuite for faster response times
Optimized store performance through better visibility
Maximizes sales opportunities.
Best for: Ecommerce
3. WooCommerce

NetSuite's ERP integration with WooCommerce allows you to manage orders, inventory, and shipping centrally to support streamlined operations, reduced costs, and new revenue opportunities.
The NetSuite Integration for WooCommerce offers advanced mappings (e.g., currencies, subsidiaries, shipping methods, custom forms, sales representatives), order syncing, price syncing, and product inventory management.
This is essential for any ecommerce business that runs both WordPress and NetSuite.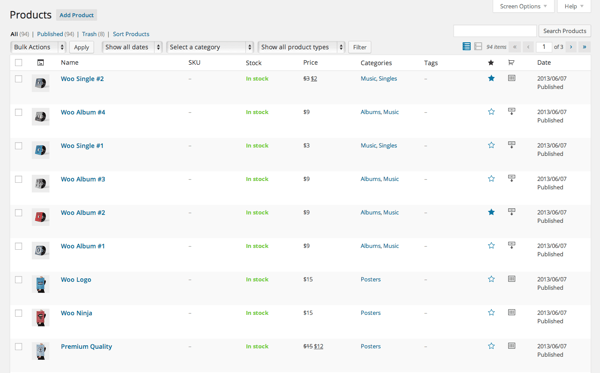 Features & Benefits:
Easily sync orders, inventory, customer, and financial data. This helps ensure all of your systems are up-to-date with the latest information.
More powerful payment processing system than a typical ecommerce platform, allowing you to accept multiple forms of payments such as credit cards, debit cards, and PayPal.
Allows you to manage taxes, shipping methods, refunds, and returns easily.
Reduce operational costs by streamlining business processes and providing better intelligence into your customer's buying habits.
Best for: Ecommerce
4. HubSpot

HubSpot is a CRM providing powerful marketing and sales automation tools. Used with NetSuite, customers can manage their customer interactions and data in a single system.
This integration provides a more complete view of customer interactions and helps businesses to make better decisions about how to market and sell to their customers. NetSuite's robust functionality combined with HubSpot's ability helps users generate leads, track customer behavior, and measure marketing effectiveness.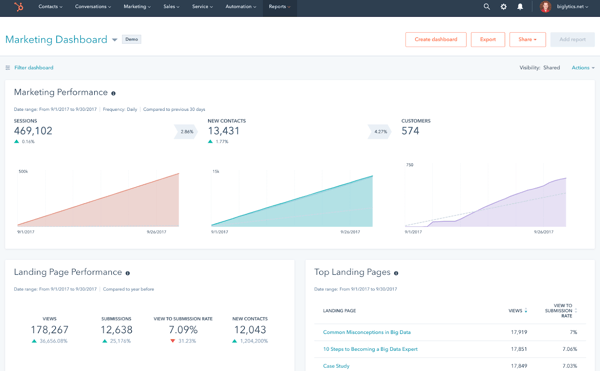 Source
Features & Benefits:
Streamline customer segmentation and targeting, enabling more personalized conversations with customers
Analyze marketing performance through NetSuite dashboards and reporting capabilities
Automate lead generation and capture more data on their prospects and customers
Manage contacts across NetSuite and HubSpot in one unified system
Get better visibility into customer data, including contact history and activities
Leverage NetSuite's powerful reporting tools to track marketing performance
Two-way sync that ensures changes in one system are immediately reflected in the other
Best for: Marketing and sales
5. Freshdesk
Freshdesk is a customer service software that allows businesses to manage their customer support operations from a single platform. It offers features including ticketing systems, chatbots, a knowledge base, and reporting. Freshdesk can be integrated with NetSuite to provide a more comprehensive customer service solution.
NetSuite can be used to manage the financial and order management aspects of the business, while Freshdesk can be used to manage customer service and support operations. This integration can help businesses improve efficiency and communication between departments.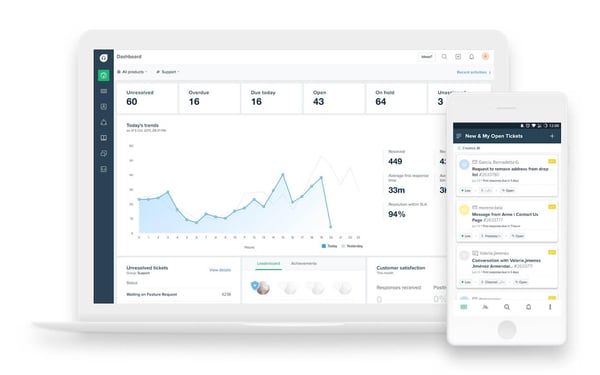 Features & Benefits:
NetSuite's financials module can be used to track customer accounts and invoices, while the order management module can be used to manage orders.
Track customer interactions in real-time and quickly respond.
Provides an automated ticketing system for tracking customer support tickets.
Analyze user activity and get insights on how to improve customer service operations.
Best for: Customer service
6. UPS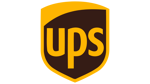 United Parcel Services (UPS) is a package delivery and logistics company, one of the largest in the world. NetSuite offers an integrated shipping solution that allows businesses to manage their shipping processes directly from within NetSuite.
This integration makes it easier for businesses to receive shipping quotes, track packages, and print shipping labels. It also allows businesses to sync their NetSuite inventory with UPS, so that they can easily see which items are being shipped and their quantities.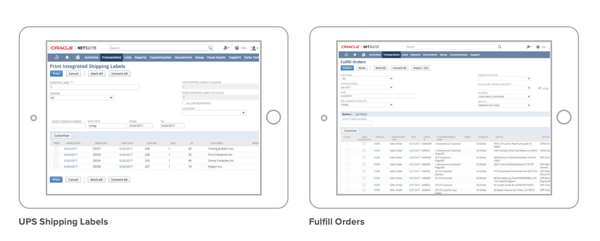 Features & Benefits:
Easily manage their shipping needs, including receiving quotes and tracking packages
Streamline inventory management
NetSuite data can generate shipping labels and provide tracking information
Customers can efficiently track orders
Best for: Third-party logistics
7. Salesforce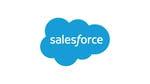 Salesforce is a customer relationship management (CRM) software that helps businesses manage their customer interactions and data. When used with NetSuite (even with the NetSuite CRM), the two systems provide a more comprehensive picture of a company's customers. Sales representatives and managers can better understand their target audience, determine necessary customer needs, and find more productive ways to interact with them.
Companies will be able to access customer data across NetSuite and Salesforce, create workflows to automate standard business processes, and manage customer service better. They can also create comprehensive end-to-end processes for sales, marketing, support, and operations.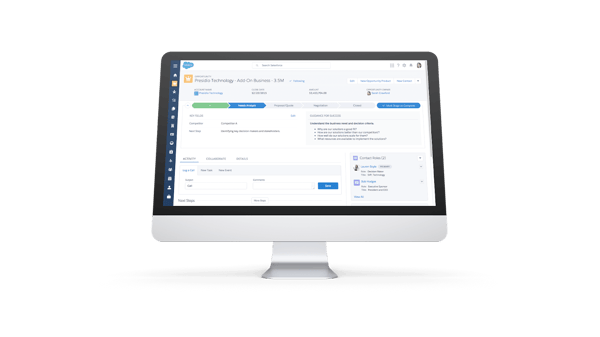 Features & Benefits:
Seamless data synchronization
Centralized data storage for customers, orders, and products
Automated order creation and invoicing in NetSuite based on sales activity in Salesforce
Reduced administrative overhead associated with managing two disparate systems
Best for: Marketing and customer service
8. Magento (Now Adobe Commerce)

Magento, now known as Adobe Commerce, is an ecommerce platform that helps businesses manage their online stores. It utilizes AI and advanced data-sharing capabilities to create personalized experiences for B2C and B2B customers from a single platform.
The Magento to NetSuite Celigo integration lets you view all of your data, reports, and dashboards from NetSuite in your Magento panel. Having this information in real-time allows you to better understand how your business is performing and thus make more informed decisions.
NetSuite and Magento are both equipped with powerful tools such as mobile commerce capabilities, shipping and inventory management, data analytics, and more.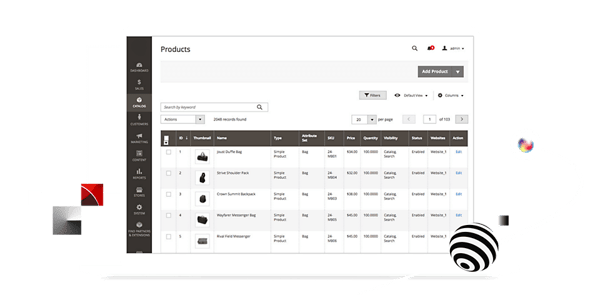 Features & Benefits:
Automatically sync NetSuite customer data with Magento
Automate order fulfillment and sync inventory data in real-time
Manage customers, orders, and shipments from a single platform
Streamline pricing across both platforms for consistency
Create personalized shopping experiences for customers
Best for: Ecommerce
9. Amazon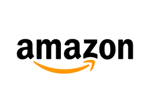 Amazon and NetSuite are two of the most popular business software platforms on the market. The NetSuite and Amazon integration enables users to connect their NetSuite account with their Amazon seller account, making it easy to manage inventory, orders, and shipping from a single platform.
To create an even easier workflow, NetSuite users can improve their NetSuite and Amazon integration with Cube. For example, sellers can pull their Amazon sales numbers into NetSuite and then use Cube to manipulate them in Excel.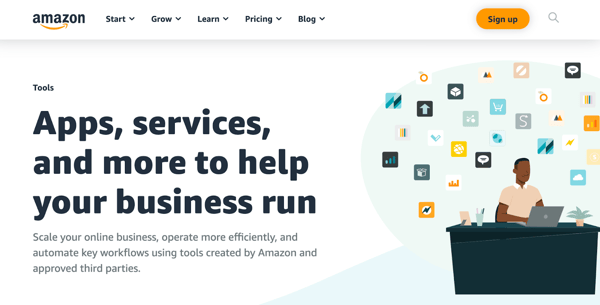 Features & Benefits:
NetSuite's Amazon integration feature improves efficiency and accuracy by:
Automatically syncing NetSuite data with an Amazon seller account
Centralizing inventory management in NetSuite, including updates to product availability, pricing, and more
Streamlining order fulfillment through NetSuite with support for split shipments, drop shipping, and more
Reducing data errors with NetSuite's automated process
The integration also offers a range of other advanced features, including:
Support for multi-channel B2C and B2B operations
Access to NetSuite's advanced eCommerce tools, such as customer segmentation, loyalty programs, and more
Automated data synchronization between NetSuite and Amazon for improved accuracy
Best for: Amazon sellers
NetSuite integration options
There are a couple of different NetSuite integration solutions on the market. While there are a few plug-and-play options, they might not be set up properly for your existing systems.
To help you choose the best method for your company, here is a list of the top NetSuite integration methods and how to determine which one is right for your business:
1. NetSuite Connector
NetSuite Connector enables you to automate data transfer between your NetSuite account and other business systems, such as ecommerce storefronts, POS systems, online marketplaces, and Third-party logistics (3PL) providers.
Each connection between NetSuite and the ecommerce platform is facilitated by a specific connector. These connectors facilitate the import and export of transaction and item-related data between NetSuite and providers.
2. NetSuite SuiteApps
SuiteApps are apps created to extend NetSuite's capabilities for your industry and business. Most of these applications run entirely on NetSuite servers, which host the same database as your NetSuite data.
Some SuiteApps are integrations with other SaaS systems used by other NetSuite customers. You can find a list of available SuiteApps at the SuiteCloud Developer Network (SDN) or create your own using the SuiteScript programming language.
3. Dell Boomi
According to Gartner, iPaaS, or Integration platform as a service, is defined as:
"A suite of cloud services enabling development, execution, and governance of integration flows connecting any combination of on-premises and cloud-based processes, services, applications and data within individual or across multiple organizations."
iPaaS companies can manage your NetSuite integrations for you. (You might also hear them called "integration apps.") Dell Boomi is one of the best iPaaS integrations to use.
Boomi is an excellent connector tool if you want to establish integrations using NetSuite as your primary platform. Boomi lets you quickly and easily integrate data from multiple applications and systems so you'll always have an accurate view of your business in real-time. Boomi API Management provides a secure way to share business data with external third parties while controlling their access levels.
Key Dell Boomi integration platform benefits and capabilities include:
Scalability to handle large volumes of data
Robust error-handling capabilities
Reusable integration templates
Ability to extend NetSuite's functionality and capabilities
Single point of control for managing NetSuite integrations
Easy integration with popular third-party applications
4. Celigo
Another popular iPaaS integration is Celigo. Celigo first began with a single connector for the NetSuite platform back in 2010. Since then, they have specialized in connecting to NetSuite, and now offer dozens of different connectors and templates. In 2016, they released Integrator.io, which is their very own dedicated integration platform.
The Celigo platform is offered as a fully managed service and is designed to work seamlessly with NetSuite and your other tools. Integrating NetSuite and Celigo integration can be custom-configured to fit your specific needs and help you automate your business operations.
Celigo's integration helps businesses:
Get more out of NetSuite
Automate data entry and reduce manual processes
Improve customer service
Keep their NetSuite data synchronized in real time
5. SuiteCloud
SuiteCloud is a customizable and integrative platform that can fit any business model or ecosystem. It was designed with developers, administrators, and ISVs in mind, and provides a range of features such as metadata-based extensions, JavaScript APIs, integration services, and more.
With the SuiteCloud Platform, you can adapt NetSuite to your organization's needs and preferences. You're also able to create customization packages that you can distribute to others who may find them useful.
6. RESTlets
NetSuite's RESTlets enable you to construct custom web services from your NetSuite account that utilize SuiteScript. Instead of the common SOAP-based APIs known as SuiteTalk, RESTlets use JSON payloads, making them ideal for specific requests like quick inventory lookups or balance queries.
For developers who know how to use SuiteScript, RESTlets are easier to adopt than SOAP-based web services and support more behaviors and integrations.
7. SOAP & REST web services
SOAP (Simple Object Access Protocol) web services allow businesses to communicate with each other using a standardized XML messaging system. This makes it possible for authorized parties to send or receive requests over the internet, regardless of location or platform.
With SOAP web services, you can incorporate your organization's existing business functions into NetSuite with web services. SOAP web services can be called upon in real-time to carry out operations such as retrieving, adding, updating, and deleting data.
NetSuite's REST web services provide more capabilities than SuiteTalk by extending its reach to include a REST-based interface.
With REST web services, you can utilize CRUD operations to streamline business processes by updating, deleting, and creating NetSuite records. You can also use the API definition to record metadata and execute NetSuite queries on records.
Other NetSuite integration partners
Here are some other popular NetSuite integration partners.
Ecommerce integrations
Adobe Commerce
BigCommerce
Walmart
Point-of-sale systems
Square
Vend
Shopify POS
Connect POS
Lightspeed
Boulevard
Appetize
Online marketplaces
Third-party logistics
NetSuite integration FAQs
Have a quick question about NetSuite integrations? We've got answers.
What is the best NetSuite integration?
Cube is the best NetSuite integration for managing your financial data. If you're using the NetSuite ERP system and running numbers in Excel, you need Cube.
Cube is great for teams with fewer technical resources, too: our customer success team finishes more implementations---which include a custom integration with NetSuite---in under 2 weeks. Not more expensive integration projects.
How long does it take to integrate NetSuite?
Integration speeds can range from minutes for standard SuiteApps to multiple months for complex and custom integrations. For example, it takes less than two weeks to fully integrate NetSuite and Cube.
Created by a former CFO, Cube's cloud-based software helps FP&A teams work anywhere — we integrate natively with both Excel and Google Sheets — so that they can plan, analyze, and collaborate with the ultimate speed and confidence. Cube is the first spreadsheet-native financial planning and analysis platform that empowers teams to drive better planning and performance without changing how they work.
In addition to Excel, Google Sheets, and NetSuite, Cube integrates with various accounting, finance, HR, ATS, operations, sales & marketing, and business intelligence software tools. This means most companies (like Masterworks and SmugMug) use Cube for nearly all of their company's financial operations.
SmugMug's finance team no longer has to double-check and reconcile numbers when they pull actuals. They know the numbers are loaded and accurate because Cube is a database.
"I tend to go to Cube before I go to NetSuite to pull numbers," SmugMug's CFO Stephanie McVey states. And when she does pull numbers from Cube, Stephanie can fetch them directly into her working spreadsheet with Cube's add-on. She doesn't need to copy and paste data anymore, one of the many benefits of a flawless NetSuite integration.
Does NetSuite have API integrations?
Yes, NetSuite has a XML-based API for custom built connections. SuiteScript is NetSuite's server-side API that enables developers to build custom business applications. You can use SuiteScript to extend NetSuite and customize, search for, and process your NetSuite data based on predefined events. It also provides a powerful set of capabilities that you can use to build business applications.
SuiteScript includes Suitlets which let you build a custom interface hosted within the NetSuite framework. Suitelets allow for custom HTML, Flash, or NetSuite-based front-end development and can also serve as the back-end for external HTML interfaces, providing flexibility in developing application extensions to NetSuite.
How much do NetSuite integrations cost?
The cost for a NetSuite integration varies depending on the complexity of your integration and the method of implementation.
If you're conducting a one-way integration or using one of NetSuite's prebuilt connections, like Cube, the cost should be included in your platform subscription. If you're customizing an integration yourself or hiring a team to handle your integrations, integrations can range between $100 and $4,000 and up.
Conclusion: The bottom line on the best NetSuite integrations
NetSuite is a powerful software that can help manage your finances, operations, and more–especially when you take advantage of its breadth of integration options.
If you're looking to step up your FP&A game, Cube offers an FP&A-integrated solution with NetSuite. Cube is a cloud-based solution that allows finance teams to work from anywhere—and with any accounting solution. Cube connects with NetSuite and can import, clean, and organize your data so you can work with it directly in Excel or Google Sheets.
If you're ready to automate your manual processes, eliminate redundant processes, and better analyze your finances, Cube can help you. Book a demo with us today.