Workforce management (WFM) involves the strategic planning, scheduling, and monitoring employee tasks and activities.
So while basic workforce management systems track and measure employee scheduling, absence management, and employee engagement, more advanced workforce software solutions help with compensation management and labor management forecasting.
But it's not always easy to gather and analyze the data necessary for these tasks.
Fortunately, with workforce management software, businesses can streamline these processes to improve productivity and profitability.
This review covers the best WFM software applications available on the market, what to look for in workforce management solutions, and the benefits of implementing workforce management best practices.
Let's begin.
Key takeaways
Workforce management software platforms help businesses improve employee productivity for long-term financial health.
The key features of workforce management software include labor and task management, payroll support, and automated reporting.
The best workforce management solution makes it easier for companies to enhance employee productivity for long-term financial health.
Contents
What are workforce management software platforms?
Workforce management software platforms are comprehensive online systems that streamline and automate workforce scheduling, payroll, HR, and time-tracking processes.
Workforce management solutions reduce manual workloads and provide insights into an organization's performance and labor costs. This allows organizations to maximize their resources while achieving long-term financial success.
Key features of workforce management tools
Common features of workforce management software include:
Labor management
Labor management involves scheduling and shift planning, time and attendance tracking, and onboarding management.
Labor management tools help businesses ensure that they have the right staff at the correct times while keeping track of labor costs and optimizing available resources. This can help reduce turnover and labor costs while improving customer service and productivity.
At a high level, better workforce management starts with the ability to efficiently schedule employees.
Task management
Task management helps organizations set deadlines and priorities, track progress, promote collaboration, and measure and report the results.
The integration of task management into workforce management tools also includes budgeting tools which allow users to track expenses associated with specific projects.
Performance management
Performance management includes goal setting, performance tracking and evaluation, coaching, development planning, and feedback. It ensures that employees work to their full potential and meet their goals.
Performance management is also used to measure organizational changes that can impact team productivity. This allows managers to make well-informed decisions about the effectiveness of their strategy and its implementation.
Payroll systems
Payroll systems help employers process, track, and manage employee payments. Unlike manual payroll processes, automated payrolls simplify the payment process while reducing human error.
Payroll systems can be also integrated with other HR and finance software to help companies automate other accounting and financial planning & analysis processes.
Benefits of using workforce management software
Workforce management software improves productivity and profitability through:
Labor demand forecasting
WFM software provides real-time data and analytics on employee availability, productivity, and workload. It can then predict the number and types of employees an organization will need to meet its business goals on any given day.
For example, suppose a manager sees that certain employees are consistently working overtime or that specific departments are consistently understaffed.
In that case, they can use this information to plan for future hiring or to adjust staff schedules to better meet the organization's needs.
Automated reporting
WFM systems generate automatic reports so businesses can access up-to-date and accurate insights into business performance and financial health.
These reports help businesses monitor employee hours worked, overtime costs, customer acquisition costs, customer satisfaction scores, customer loyalty and retention, and more.
These reports can then easily be shared with finance teams so they can accurately and quickly forecast, plan, and budget.
Easier HR management
HR teams can efficiently manage, train, and onboard staff when all their data is in one accessible system.
Built-in and robust analytics capabilities also help streamline processes like attendance, payroll, and performance evaluations.
Best workforce management software solutions
The best workforce management software tools make it easier for companies to ensure employee productivity for improved financial health.
Which is the right workforce management software for you? Let's start at the top.
1. Cube

Cube is a spreadsheet-native FP&A software that helps finance teams collect, process, and analyze financial data quickly and without errors.
The platform provides the benefits of a robust FP&A tool (like scenario analysis, data consolidation, multi-currency support, dynamic user controls, robust source system integrations, and custom reporting) within Excel and Google sheets.
Cube supports workforce management by automating tedious and repetitive tasks, allowing organizations to focus more on strategy and analysis.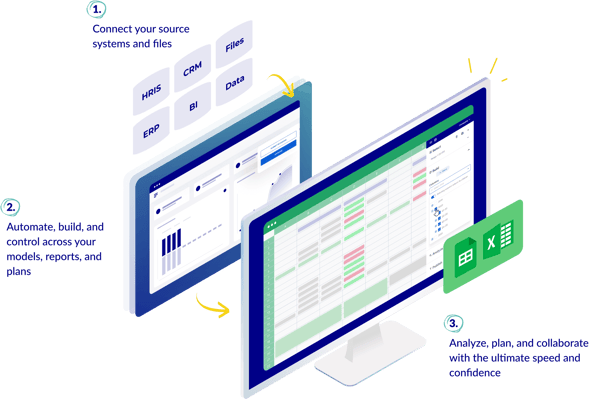 It can integrate data from any source system, including accounting, finance, HR, sales, marketing, and business intelligence.
By creating a single source of truth, Cube makes it easier for companies to track, manage, and improve employee productivity and long-term financial success.
Features & Benefits:
Integrations: Cube connects with extensive source systems like Microsoft Excel, Google Sheets, NetSuite, Quickbooks, ADP, Bamboo HR, Ordway, SaasOptics, Salesforce, Hubspot, Amazon Redshift, Power BI, Microsoft Azure SQL, Oracle SQL, Amazon redshift and many more
Customizable dashboards: Cube helps teams build and share customizable dashboards and reports from reusable templates to flexible ad-hoc reporting
Multi-scenario analysis: Seamlessly model how changes to key internal and external assumptions can affect your overall outputs
User-based controls: User controls, validations, and audit trails ensure that the right data goes to the right people at the right time
Security: Cube provides enterprise-grade cloud security. We are SOC 2 Type 2 compliant and we protect users' accounts through full encryption, multiple-factor authentication, customized controls, and single sign-on on multiple apps including Google SSO.
Pricing:
Essentials: Starting at $1,250/month
Premium: Starting at $2,450/month
Enterprise: Starting at $3,750/month
See detailed pricing for customizable plans
Start improving your workforce management with Cube.
2. Workday Adaptive Planning

Workday Adaptive Planning is a cloud-based financial planning solution for organizations to plan and predict future performance.
It offers specific solutions to cover financial planning, workforce planning, and sales planning. These financial tools promote collaboration across the enterprise without manual, error-prone spreadsheets or inflexible, clunky legacy systems.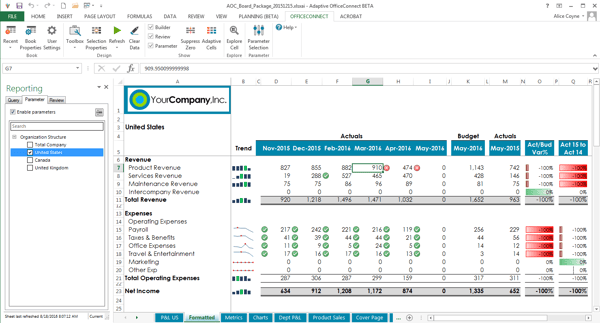 Adaptive Planning for finance is an enterprise performance management software solution.
Features & Benefits:
Real-time reporting and insights
Financial consolidation and reporting
Automated forecasting and budgeting
Customizable dashboards
Multi-dimensional planning
Pricing:
Workday Adaptive Planning does not provide pricing information on its website, but various sources estimate that pricing starts at $15,000.
3. ADP Workforce Now

ADP Workforce Now is an HR platform for small to medium-sized businesses. ADP Workforce Now provides companies with a central system to streamline payroll, labor management, tax filing, analytics, and performance management.
The platform's database enables data synchronization and integration with other HR and business applications. HR teams can utilize ADP Workforce Now to reduce administrative tasks.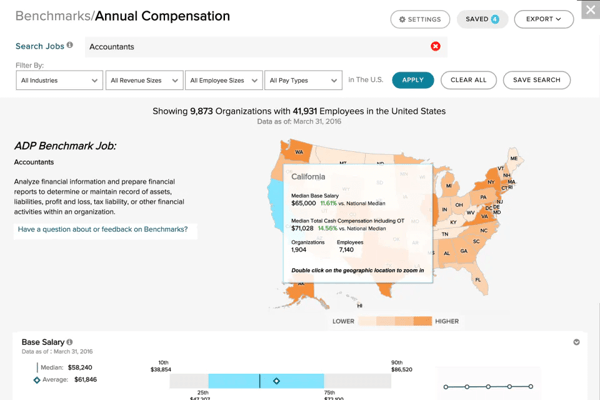 Features & Benefits:
Employee background screening
Peer/teammate feedback and review
Digital direct deposits into workers' account
Creation and distribution of W-2 tax forms to employees
Compliance and regulatory alerts
Pricing:
ADP Workforce Now offers three pricing levels:
Essential
Enhanced
Complete
HR Pro
Pricing is not available on the website but according to external sources, ADP Workforce Now starts from $62.00 per month.
4. Anaplan

Anaplan is a cloud-based business planning and performance management platform for business departments such as sales, finance, HR, and operations.
It allows businesses to model, plan, forecast, and analyze data so companies can streamline operations, reduce costs, and monitor performance across multiple dimensions.
Anaplan is powered by a Hyperblock engine that drives collaboration and strategy.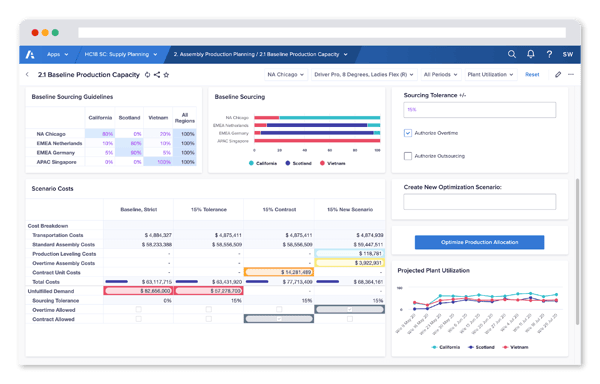 Features & Benefits:
Reporting and analytics
Multi-dimensional planning based on hierarchies
Real-time modeling and calculation
Central data repository
Application cataloging
Pricing:
Anaplan offers three tiers of pricing:
Basic
Professional
Enterprise
Though Anaplan does not share its pricing plans on its website, sources estimate between $30,000–$50,000 or higher depending on the scale of the project.
Also read: Anaplan vs Adaptive vs Planful vs Vena vs Datrails vs Cube
5. SAP Success Factors

SAP SuccessFactors HXM Suite is a Human Experience Management (HXM) solution that helps organizations with employee productivity throughout their entire workforce.
SAP Human Capital Management solutions help companies become more agile, flexible, and resilient by improving the employee experience that covers core HR processes such as payrolls, time management, talent management, and more. SAP SuccessFactors automates manual tasks through its cloud-based system so that businesses can focus on other activities.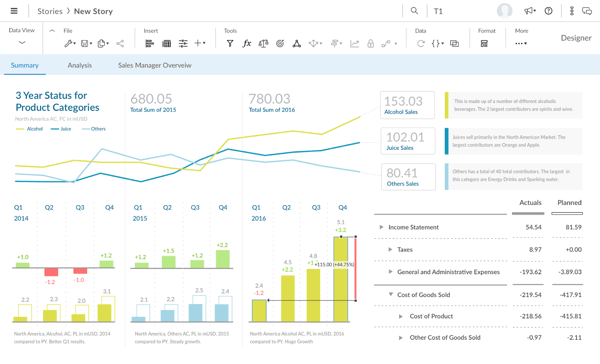 Features & Benefits:
Employee experience management
HR and payroll
Talent management
HR analytics
Pricing:
According to various sources, SAP Success Factors' starting price is estimated at $85 per year.
6. Projectworks

Projectworks is a cloud-based project management software that helps businesses manage an entire project lifecycle from ideation to finish. HR teams can monitor employees and contractors with timesheets, and finance teams can track costs, revenue, forecast, and compare budgets and invoices.
Projectworks allows administrators to customize and configure the portal to meet their needs. The platform integrates with other applications such as Xero and Quickbooks.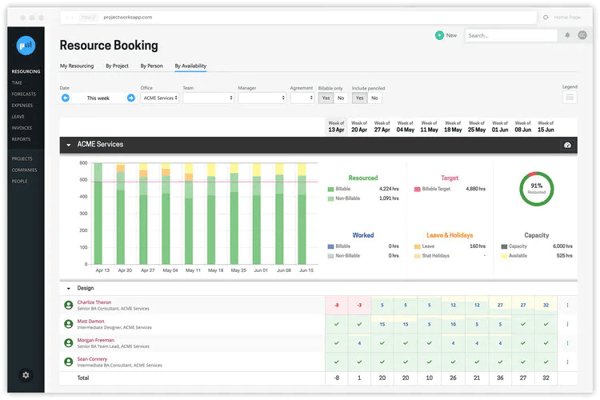 Features & Benefits:
Communication management
Risk assessment and management
Resource allocation
Progress tracking
Quality assurance
Pricing:
Projectworks offers 3 ways to build a project:
Budget level – Fee-based pricing
Timecode level – Fee-based pricing
Timecode level – Hourly-based pricing (hours x rate)
However, exact pricing is only available upon request.
7. NetSuite

NetSuite is a cloud accounting software that automates supplier invoice payment and processing. It automatically streamlines business processes such as account reconciliation, approvals, and transaction matching.
NetSuite offers a comprehensive system consisting of ERP, HR, inventory management, CRM, supply chain management, and more. It provides real-time business insights at a click of a button and uses business intelligence to help with forecasting and scenario planning.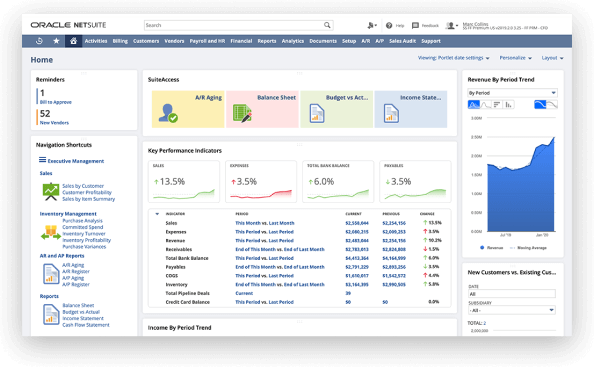 Features & Benefits:
Inventory and order management
Analytics and reporting
Manufacturing and supply chain management
Data integration
Time and expense tracking
Pricing:
Although NetSuite does not list its pricing, reviews show that a NetSuite license includes a $999/month fee and an additional $99/month fee for each user.
8. Sage Intacct

Sage Intacct is a cloud-based solution that offers companies automation, financial reporting, and operational insights. It supports time and expense management, revenue management, and project accounting functions.
Sage Intacct offers integration capabilities with different systems, such as CRM, payroll, POS, and ERP. Various industries, including SaaS, financial services, wholesale distribution, and nonprofits can use it.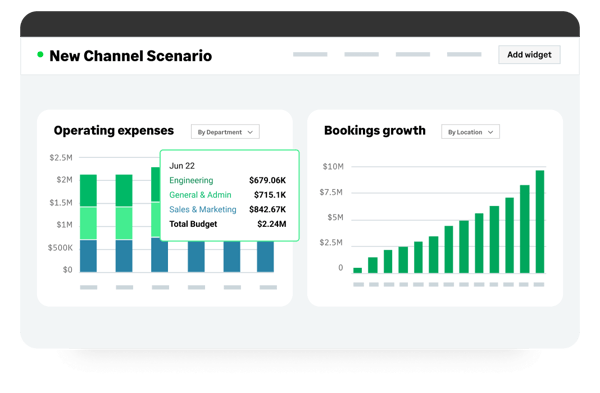 Features & Benefits:
Audit trails
Expense tracking
Billing and invoicing
Compliance management
Consolidation/roll-up
Pricing:
Sage Intacct does not publicly disclose pricing information on its website. But sources suggest pricing varies between $15,000 and $60,000 depending on the specific needs of the individual or organization.
9. Oracle HCM Cloud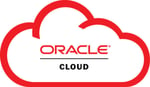 Oracle HCM Cloud is a complete WFM solution that connects human resource processes, including talent management, strategic workforce planning, workforce health and safety incidents, recruiting, benefits management, and more.
Oracle HCM is an all-in-one platform for all HR functionalities. It operates as a natively-built SaaS application that offers users a tailored user experience and multi-layered data security and privacy.
Features & Benefits:
Applicant tracking
Benefits management
Employee onboarding
Vacation and leave tracking
Payroll management
Pricing:
Help desk: $4.00 per employee per month
Talent management: $10.00 per employee per month
Global HR: $15.00 per employee per month
10. Rippling

Rippling is a central repository for HR, IT, and finance departments. It aggregates workforce management processes that could've been siloed and enables teams to work and communicate with each other.
Rippling offers automated payroll, benefits, and expense services that allow companies to digitize employee lifecycles in a single system. Businesses can onboard global employees and easily set up benefits, accounts, and necessary third-party apps.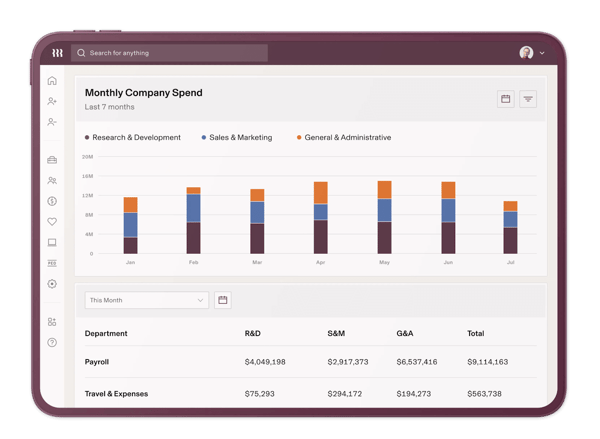 Features & Benefits:
Payroll and benefits management
Third-party integrations and APIs
Employee single sign-on systems
Time, attendance, and PTO
Employee onboarding
Pricing:
According to info on Rippling's website, pricing starts at $8 per user.
11. UKG

UKG is a collection of cloud HR tools on a unified platform that streamlines HR processes. UKG provides a visual interface for HR teams to handle stages from pre-hire to retirement.
UKG offers an interface that allows users to manage and track candidates and their data. The software also provides tools for managing payroll, benefits, performance reviews, scheduling, etc.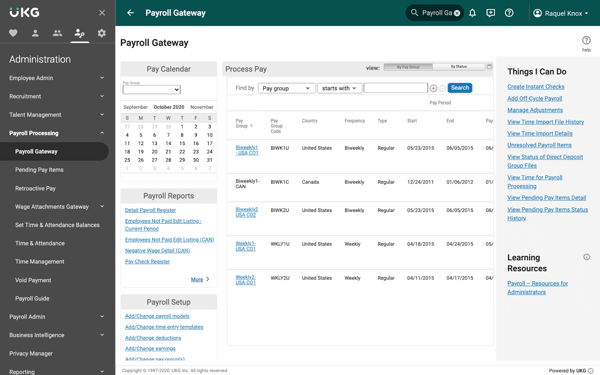 Features & Benefits:
Comprehensive, unified HR platform
Automated payroll processing
Robust analytics and reporting tools
Employee self-service portal
Real-time scheduling
Pricing:
According to sources, UKG's pricing model is on a per-employee-per-month basis, costing between $26-37 per employee per month. UKG also charges an implementation fee of 30-40% of the annual software fees.
Businesses looking to use UKG should contact UKG for a custom quote.
Conclusion: Improve your workforce management
For successful workforce management and improved financial health, businesses need software that combines finance, sales, marketing, and HR functionalities.
Enter Cube.
Cube is an all-in-one FP&A software that makes it easy to plan and execute your projects on time with advanced analytics and reporting capabilities.
Instead of transitioning to an entirely new platform, Cube integrates directly with Excel and Google Sheets. So WFM and finance teams can start gaining insights within two weeks of implementation.
Don't waste any more time with clunky and limited WFM solutions.
Upgrade to Cube and streamline your workforce management today.